Esh Group Eagles Newcastle finally get their 2018/19 season underway at Sport Central with a home game tipping off against Cheshire Phoenix at 7:30pm. It's a much-changed roster from last season when the Eagles failed to live up to the very high expectations and standards they set themselves.
Two returnees, three new faces and six players retained make up the roster that Head Coach and still Player Coach Fab Flournoy hopes can take the much-storied franchise back to the top of British Basketball. A position they'd love to return too in what is not only expected to be an exciting season but a historic one as well.
Newcastle will, shortly before Christmas, move in to their purpose-built new Eagles Community Arena just off the famous Scotswood Road in Elswick as they look to continue to make sporting history of their own. The hope is that the roster they've put together is one that can continue on The Club's and Flournoy's legacy.
From last season as well as Flournoy, veterans Darius Defoe and Drew Lasker return as well as young-gun Themba Yabantu and the Williams brothers Jamal and Kai return to the fold. The returnees are Geordie Eddie Matthew who came through the Eagles junior ranks and Rahmon Fletcher.
Fletcher a two-time BBL MVP from his previous three-year spell at Newcastle has a huge part to play as the Eagles' court general, especially with the Eagles bringing in two rookie professionals straight from USA Universities in Ahmad Thomas and Kyle Williams.
Which leaves the final piece in the jigsaw as Victor Moses who had a solitary BBL season back in 2013/14 was with tonight's opponents Cheshire. In that season the power forward averaged a massive 22.3 points and 12.5 rebounds a game.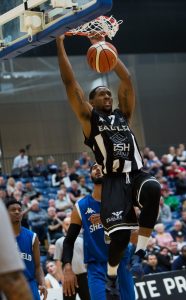 Numbers like that this campaign could make Moses the man to lead the Eagles back to the promised land and he's very much looking forward to tonight's game.
"I think it will be great to get back on the court and to be playing in The BBL again. I'm definitely looking forward to running out tonight as part of the Newcastle Eagles. The Eagles have a great history, they're a great team and organisation and I'm happy to be playing for them this season."
It's been a while since Moses played for Cheshire and many changes have been made across both clubs and The BBL since he played in the North West. Now switching to the North East he's concentrating on his role for his new Club.
"It's just another game for me but I am looking forward to seeing some familiar faces out there tonight. But once the game tips off I'll be looking to score when I can, get rebounds, play defence and just help the team anyway I can."
"We've had a long pre-season but we're getting a lot better day by day. It's going to take some time, it's a long season but I can see us progressing every day."
Moses is very much a man that does his talking out on court where he's hoping for a debut to remember. He's looking forward to playing his part in the famous "Eagles Nest" game-night atmosphere and being part of the Eagles family.
"I can't wait to see all the fans tonight and hearing them get behind the team. I'm hoping we can get off to a good start and give them all an opening night win to get us up and running."
Tickets are still available to book online and can also be purchased on the door. Sign-up to our newsletter for an instant offer in your inbox which you can use immediately to buy through the website or when you walk-up: