Returning to the Eagles' roster for the 2018/19 season is 5'10" point guard Themba Yabantu. The teenager who was a product of our Academy program was promoted to the senior side towards the end of last season.
The 2017 Academy Player of the Year had been training full-time with the senior squad throughout last season as well as playing for Eagles assistant coach Ian Macleod at Gateshead College.
When Eagles veteran Drew Lasker received a call-up to the England Commonwealth Games squad last term, the senior coaching staff decided the time was right in Yabantu's progressing career to reward his efforts with a promotion to the senior bench.
Yabantu did more than enough in the remaining weeks of the season for the coaching staff to see his obvious promise and all were in agreement to return him for his first full season as a professional in the BBL squad.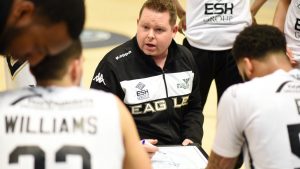 Coach Macleod explained the reasoning behind re-signing the emerging home-grown talent of the 19-year-old Yabantu.
"I'm very proud of Themba and the mature and determined approach he has shown over the last 3 years. He has a long way to go and it is important we are patient with his development, we are really only scratching the surface of what he can do."
"However, we were all agreed after the body of work he put in last year he deserved the chance to progress further. Another huge factor in that decision was the opportunity for him to learn from Rahmon Fletcher."
Having now graduated, Yabantu is not just moving on to the next stage of his basketball career but also his academic career. He will also play BUCS for Northumbria when he starts his Sports Development Bachelor's degree at the University as well as being a part of the Eagles' BBL roster.