Eddie Matthew has revealed that a desire to buy back into the ethos underpinning Esh Group Eagles Newcastle prompted a welcome return to Tyneside.
The club's youngest BBL star – the guard made his debut for the men in black aged 16 – returns to Sport Central after a three-year absence.
And 22-year-old Matthew made it clear that he is the right player at the right time as Fabulous Flournoy's men prepare to move into the brand new Eagles Community Arena.
"It's such a great feeling to be back in Newcastle," said a player who rose through Morpeth's ranks before joining the Eagles' Academy, then called the School of Excellence.
"Putting on that Eagles jersey is something I always had a feeling I would do again. Once a Geordie, always a Geordie. Or, as they say at the club, once an Eagle, always an Eagle.
"I decided to approach Newcastle's coaching staff this summer after reading an article outlining the direction the club wanted to take this season.
"Their desire to find the right people to buy into the Eagles' ethos on and off the court was something that caught my eye.
"Having spent three good years here gaining an understanding of how the club operates, I thought I'd be able to slot into place quite quickly.
"Everyone seemed to be on the same page and we agreed a deal would be good for both me and the club.
"I hope I can use some of the basketball and life experience I've gained whilst being away from Newcastle to benefit the team in whatever way I can. Howay the lads!"
Matthew will tip off his seventh BBL campaign against Cheshire Phoenix on September 21.
And following stints with Leeds Force and Plymouth Raiders the 6ft shooter can't wait to kickstart his career back on home turf.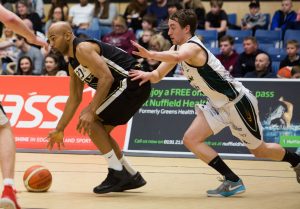 "It's good to have Eddie back," said Flournoy. "He has matured physically and mentally.
"We have always been excited by his potential and it's great that we get him back to see if we can help him fulfil that potential – particularly as a shooter."
Matthew becomes Newcastle's eighth signing of the summer with the full roster expected to be finalised before the club jets off to Belgium for back-to-back pre-season matches next weekend.
The Eagles host a Team USA Select side and then their fellow BBL club the DBL Sharks Sheffield on Monday 10 and Wednesday 12 September respectively. These two pre-season home games tip-off at 7:30pm at Sport Central and tickets are on sale now including a discount for purchasing both games and a further saving for season ticket holders.