One of the most familiar faces in North East sport has committed to another campaign on Tyneside as he goes in search of an unprecedented 25th national title.
In 2004 a little-known Londoner signed on the dotted line for Newcastle Eagles following a brief but life-changing conversation with the club's fast-rising player-coach, Fabulous Flournoy.
As a wide-eyed teenager taking his first tentative steps in professional basketball, Darius Defoe had no idea what the future might hold.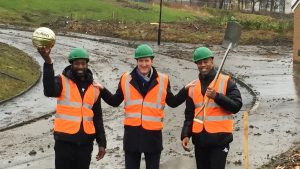 Fast forward 14 years and the 33-year-old has become one of the most dependable players in the BBL and remains Flournoy's most trusted on-court lieutenant.
Defoe committed himself to a 15thcampaign on Tyneside last night – joining returning hero Rahmon Fletcher on a roster that already screams proven top flight experience.
And at a time when transition is the keyword for a Newcastle squad readying itself for this winter's move to the brand new Eagles Community Arena, it's somewhat reassuring to know some things never change.
"I talked to my family in London and everyone agreed that staying in the North East for another year made perfect sense," said Defoe.
"I have enjoyed some amazing times in Newcastle and I've been fortunate enough to be part of so many winning teams.
"But I don't think anything has come close to the excitement that's building around moving into our new arena.
"How could I move on now? The club is about to play in its own home for the first time and I want to be a part of that."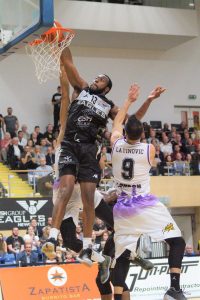 For the second successive season Defoe experienced a frustrating finale to his Eagles campaign as injury once again restricted his contribution down the stretch.
But he returns to Newcastle refocused and refreshed and looking to add to his 24 medals with the men in black.
Defoe passed 400 appearances for the Eagles in all competitions last season and added: "I am focused on the future.
"I don't think anyone can underestimate the importance of this club having its own home.
"For as long as I've been a part of the Eagles we've trained and played in different places.
"As a player knowing that where you train every day is also where you'll play is a huge bonus.
"And of course there's the chance to finally make a push for Europe. For anyone who's been at this club for any length of time that's another real positive."
Watch Darius Defoe in action with a huge tomahawk dunk:
With Defoe and Fletcher over the line, a flurry of signings is expected next month with the emphasis on a fusion of tried and tested BBL experience and exciting youth.
Flournoy has taken on board the lessons learnt from last season's barren campaign and, alongside assistants Dave Forrester and Ian Macleod, is moulding a roster marrying proven class with red hot potential.
"I've been talking to Fletch all year and both of us are incredibly excited to get back on court together," added Defoe.
"I've been lucky enough to play alongside so many incredibly talented players over the years but in Rahmon's case we are talking about a two-time league MVP.
"I would have to say he's one of the best players I've ever seen in an Eagles vest. Bringing him back is huge for the club and I'm looking forward to seeing what moves we make next."
It is understood Newcastle are close to returning at least one more Eagles legend as the club goes back to the future in a bid to restore the club's 'Invincibles' status.
But the club is also keen to develop the North East's best emerging talent with talks taking place to fill the bench with Defoe's heirs apparent.
Season tickets are on sale now with Newcastle set to tip off the new BBL Championship campaign against Cheshire Phoenix on Friday 21 September.
NEXT BBL HOME GAME