Chris Bunten has challenged Mante Kverderaviciute to become an even bigger threat in the WBBL and pile on the points in a black and white vest.
Newcastle Eagles' in-form Lithuanian posted back-to-back double doubles last weekend on her way to a deserved spot in the league's latest All Star 5.
But ahead of this afternoon's trip to Cardiff, Bunten insisted there's still much more to come from the free-scoring forward.
"Mante has a great all-round game and I guess it's not in her nature to be selfish on the ball," said Newcastle's playcaller.
"But I brought her here to score points and to win games.
"There are times when we need her to do what she does best – drain baskets from all over the floor.
"And by doing that it opens up opportunities for other players as the opposition cannot afford to take their eyes off Mante.
"I think the players have a far greater understanding of their roles now than they did a few weeks ago.
"And that understanding underpinned two big wins last weekend."
In the space of seven days the Eagles – who had been flying under the radar in the WBBL – have gone from an unknown quantity to title outsiders.
Back-to-back wins against Manchester and Sheffield forced rivals across the UK to sit up and take notice.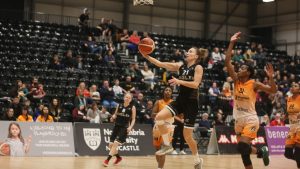 And mammoth hauls from Kverderaviciute and Georgia Ohrdorf have put targets on both players' backs.
Fast forward to the Cardiff clash and Newcastle have gone from supposed underdogs to red hot favourites as they prepare to tackle the league's bottom club.
"If I'm honest I prefer to be the underdog," admitted Bunten. "But I guess that change in status reflects how well we've been playing.
"And I'd like to think that it's a situation the players and I will have to get used to more often now.
"I don't think anybody expected us to win both games last weekend. But suddenly everyone thinks we'll be too strong for the Archers.
"As coach I just have to manage expectations and ensure that my players are mentally strong.
"But I have enormous faith in this group. Cardiff are not the team their league position suggests but of course we're going there full of confidence."
Bunten scaled down practice this week as he sought to rest those players involved in two competitive clashes within the space of 24 hours last weekend.
Many of the Newcastle team were involved in BUCS competition in Northumbria University vests on Wednesday.
And Bunten gave his roster a deserved day off on Thursday to host a Thanksgiving meal and team bonding session.
"In the back of my mind I'm thinking 'are we underprepared?'," he added.
"But I think I know the players well enough now to realise they'll benefit more from some down time than an extra practice.
"There is plenty of experience within the squad. The players know what they need to do this weekend and come tip-off against Cardiff they'll be ready."
Next weekend the Eagles WBBL team host Manchester in the Cup Quarter-Final at the ECA and tickets are on sale now: