| Date | Time | League | Season |
| --- | --- | --- | --- |
| February 12, 2021 | 6:00 pm | Men's Regular Season | 2020-21 |
Newcastle Eagles go into tonight's BBL Championship clash against Sheffield Sharks at the Eagles Community Arena on the back of a seven-match winning run. A run that includes a third victory of the season against tonight's opponents.
The Eagles have met Sheffield three times in competitive fixtures this season and won all three. Two in the BBL Cup and the last one down in Sheffield in the BBL Championship last month. It's a run they will be desperate to continue as they look to consolidate their title challenge.
A big part of Newcastle's wins over Sharks has been the contributions of centre Evan Maxwell. The 6'10" American has averaged 17 points and 9.7 rebounds over those games which are above his season's averages of 14 points and 7.5 rebounds.
The big man though was keen to point out how he felt the team and his teammates have been playing this season as he looked forward to the game.
"I think we've grown over the last two months. We've had ups and downs and I feel like we've been tested against a lot of good teams even some teams that we should be able to put away who come back and give us a fight."
"We've been in a lot off tough situations but that's shown us a lot about who we are and it's shown us a lot of areas where we need to grow. The best part is we're aware of those areas and working every day to get better. We're not comfortable yet but we're heading in a really good direction."
The Eagles have had a full week off since they beat Worcester last Friday at the ECA which in any other season would have been a normal week. That hasn't been the case this season with games packed in and Maxwell alluded to that.
"It's been a bit weird having so much time between games but it's also been refreshing to have a week to build up and concentrate on this game. We have a big week or so ahead as tonight's the start of five games in nine days so there's a lot to prepare for there."
"But being able to have a week just to get in the gym with the guys and work as a team to get better and not have any other distractions has been really nice."
Maxwell's own form has been consistent all season although he's found it a little tough and frustrating over the last few games as he's been in foul trouble which has disrupted his normal flow.
"I'm trying to stay focused and keep working. There are some things I have control over like sometimes picking up silly fouls but sometimes calls can be questionable and those things I can't control or get too worried about."
"The last few games I haven't been able to play as much or get into a rhythm but it's about not focusing on those things and controlling what I can control and making the most of the opportunities I get on court."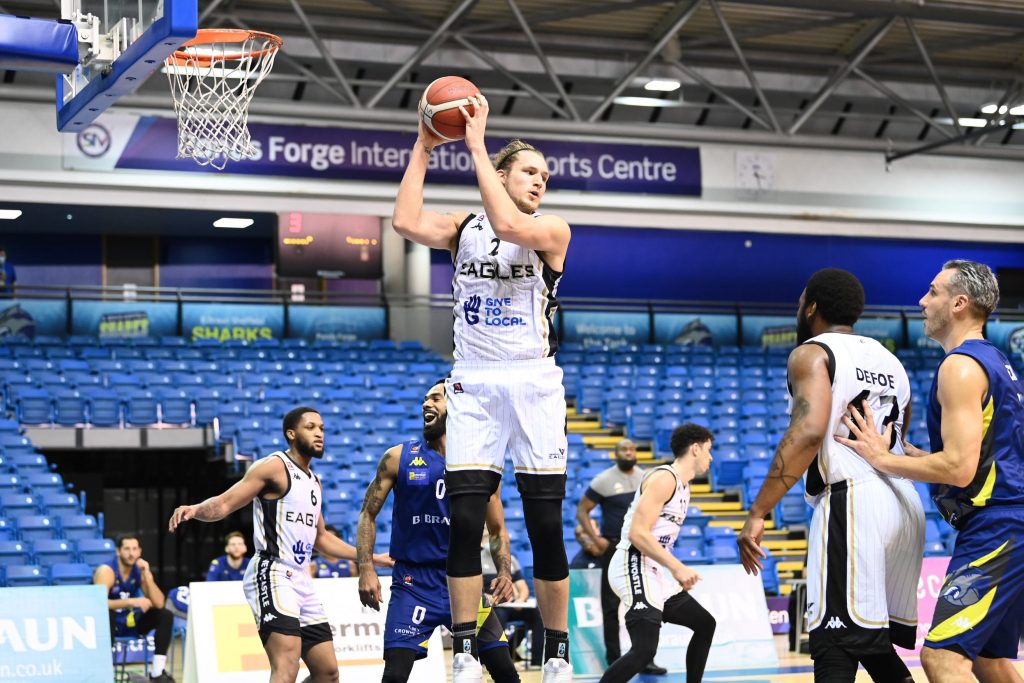 "When things don't go your way it's about turning towards my teammates and finding another way to have an impact by being a voice on the bench and giving encouragement. Of course, I'd rather do that on court and contribute that way but like I said it's about continuing to grow and controlling what I can."
The two sides will go into the game tonight knowing each other well with the Eagles holding the advantage but Maxwell explained that it's not easy to keep playing and winning against the same side every time out.
"It's tough to beat any team more than twice and with Sheffield we do know them pretty well and vice versa. We have beat them every time but it hasn't been easy. They're a really good steady team that plays the entire game."
"No matter if we have a lead or not we know they're going to keep coming at us so we have to be prepared for that and play the entire forty minutes."
"I think the game is about us. Being able to play together, play at a high pace, move the ball, and trust each other. The most important piece is our defence. When we're locked in, communicating and playing with energy and passion I think we can beat anybody."
The game is live on the BBL Player with tip-off at 6pm and coverage starting from 5:50pm. This home fixture is free for Newcastle Eagles BBL Season Ticket Holders.