| | | | | | | |
| --- | --- | --- | --- | --- | --- | --- |
| Sheffield Sharks | 20 | 17 | 14 | 33 | 84 | Loss |
| Eagles | 21 | 28 | 23 | 20 | 92 | Win |
Another satisfying night's work for the Newcastle Eagles cumulated in them taking an excellent road win at Sheffield in a battle of two in-form sides.
Sharks had come into the game having four of their last five whilst Newcastle's semi-final win at Leicester had only come on Tuesday.
Watch highlights of Eagles at Sheffield Sharks:
For long periods in the first half the sides were evenly matched but a superb burst from the Eagles to end the first half gave them the momentum to take into the second twenty minutes. They built on that run in the third period and at one point led by as many as
Once again, the Eagles were indebted to the fantastic back court pairing of mercurial captain Rahmon Fletcher and the super smooth silky Cortez Edwards. Fletcher ran riot in the first half and Edwards was excellent throughout.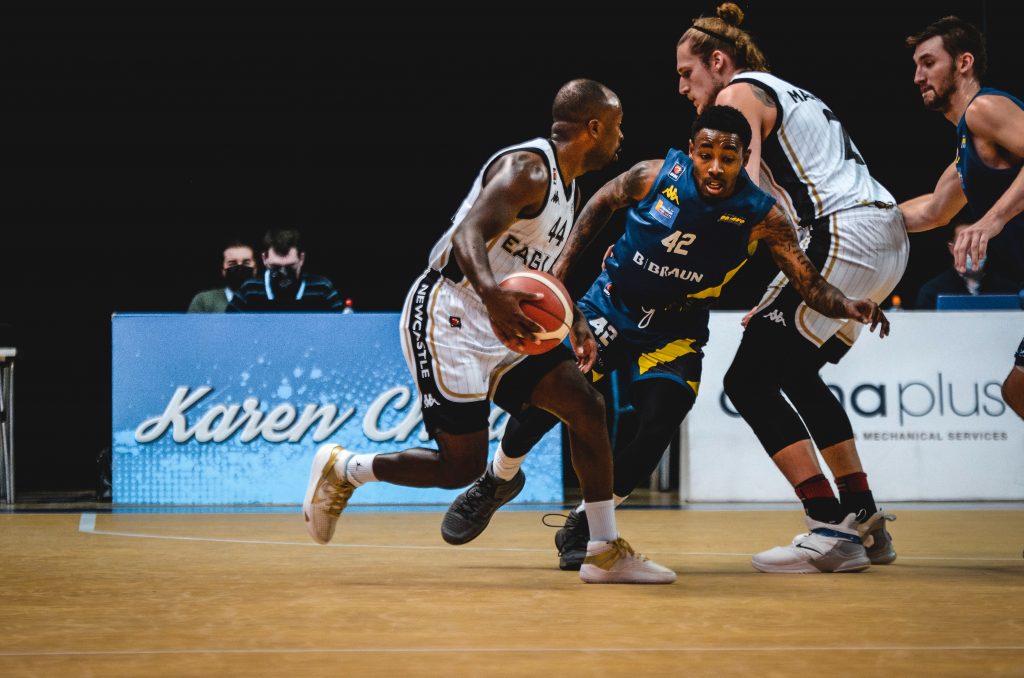 Not that these two were the only contributors. the Eagles showed their tremendous all-round team play with fellow starters Rex Pflueger, Evan Maxwell and in particular Justin Gordon adding good supporting roles.
Plus, with Maxwell struggling a bit in the first half, Newcastle got a fantastic contribution from veteran Darius Defoe who was very solid all night and also netted double figures to add to the Eagles cause.
It was The Eagles that jumped out early with Maxwell's and1 play getting the scoreboard ticking over and putting the visitors 3 – 0 in front. Newcastle continued to look strong early on and led 8 – 3 when Gordon's first thundering dunk added to Fletcher's early triple.
Sloppy turnovers though cost Coach MacLeod's team as Sheffield were able to turn the game around and six unanswered gave them their first lead of the night. They actually stretched it 16 – 11 as veteran Mike Tuck hit from beyond before the Eagles hit back in fine style.
A 10 – 4 finish to the first period capped by a superb Edwards triple as time expired enabled them to squeeze into the second period a point in front in what was a fast-flowing game with both sides playing aggressively.
The second quarter started well initially for Sheffield as Tuck continued to roll back the years with his battle against his nemesis over many a season Defoe a big part of the ten-minute spell. With the score at 37 – 39 Newcastle exploded to score ten points in a row to suddenly lead by twelve as the teams headed for the locker room.
From there it was pretty plain sailing for Newcastle as their fast-paced offence executed time after time capitalising on their excellent defensive display to smoothly stretch the lead up to at one point. Newcastle had the game won at the three-quarter stage taking a 72 – 51 lead into the final ten minutes.
The Sharks to their credit showed some pride in the final period and brought themselves back into the game with determined play. However, to be fair to Newcastle they stepped off the gas and rotated their bench a lot with no doubt one eye on Sunday's home game with Plymouth in mind.
It meant that the final score flattered Sheffield in some respects and Newcastle won't worry too much about that final period. They'll take the win which they earned in the middle stretch and now try and rest up before another tough encounter with Plymouth on Sunday afternoon at home in the ECA.
It's our GiveToLocal Super Sunday tomorrow with both our BBL and WBBL team in action. Both games can be watched live online with the women's game from 2pm on the Newcastle Eagles Box Office followed by the men on the BBL Player at 5:30pm.