Our Eagles have landed in the All-Star Fives for both the BBL and WBBL after last week's huge weekend of wins.
On Saturday against the odds our women's team pulled off an overtime victory at Oaklands Wolves and then on Sunday it was silverware number 26 for the men in the BBL Cup.
Firstly with our WBBL team, in recognition for her huge performance, Abby Lowe has received a play in the team of the week as they picked up their first win on the road this season.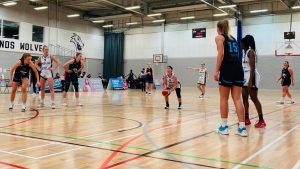 Lowe played all 45 minutes of our overtime 91-87 result at Oaklands Wolves with 20 points, nine rebounds and five steals.
The number 9 was scored six of Newcastle's 11 points in overtime to seal the win.
Alison Gorrell and Maddy McVicar also stood out in the stats and receive places on the bench in this week's WBBL All-Star line-up.
Sunday's BBL Cup Final saw one Eagle singled out for an exceptional effort at both ends of the court and game MVP Justin Gordon has received another accolade days after lifting both a silver trophy and golden basketball.
Gordon broke the rebounding record in a Cup Final with a 17 point and 15 rebound double-double, along with three assists and three blocks for his third All-Star Five appearance.
Decisive late plays by the American in the tense fourth quarter helped our Eagles to the win, first tying the game with a corner three before making a block at the other end, and then grabbing a key offensive board, the one that broke the record, to help make it a two possession game inside the last minute.
Rahmon Fletcher narrowly missed out on the MVP award, but is acknowledged through a place on the bench in this week 11 All-Star pick of the players.
Congratulations to all our Eagles on an incredible weekend of wins!