| | | | | | | | |
| --- | --- | --- | --- | --- | --- | --- | --- |
| Oaklands Wolves | 23 | 17 | 22 | 18 | 7 | 87 | Loss |
| Newcastle Eagles WBBL | 22 | 11 | 22 | 25 | 11 | 91 | Win |
Newcastle Eagles hauled themselves off the bottom of the WBBL Championship table with a heroic win against all the odds in St Albans.
Chris Bunten's under-pressure side snapped a four-game losing streak to clinch a spectacular victory in overtime.
And a first league win of the season tasted even sweeter against a backdrop of key injuries and last-minute withdrawals.
Watch the full game at Oaklands College:
Ali Gorrell, Maddy McVicar and Abby Lowe played all 45 minutes of an energy-sapping clash.
But a Herculean effort was worth every last drop of effort as the Eagles soared to one of the most famous wins in franchise history.
Newcastle travelled to Hertfordshire without star duo Mante Kvederaviciute and Lisa Koop after the experienced internationals secured lucrative moves to Germany less than 24 hours before tip-off.
The Northumbria University Masters students were keen to return to the continent with the coronavirus pandemic raging on.
And Bunten agreed to both players' requests to play in the DBBL — Germany's top division — prior to the Oaklands clash.
That meant an already weakened Newcastle roster headed south with a seven-player rotation.
But the Eagles did welcome back fit-again Jorjah Smith and the Aussie guard went straight into the starting five.
The visitors were determined to start well following a series of pedestrian first quarter performances in recent weeks.
And Bunten was keen to get WBBL rookie McVicar firing on all cylinders after the feisty guard was held scoreless by Leicester Riders last weekend.
Both pre-game targets were met as Newcastle raced out of the blocks on the back of McVicar's seven opening period points.
Only a point separated the two teams heading into the quarter break with bench players Millie Oates and Lowe stepping up to seize their chances in the starting five.
Lowe, in particular, looked up for the fight and the all-action forward player every minute of the first half in a fluid and fast-paced Eagles' line-up.
The former Barking Abbey favourite finished the half with eight points, six rebounds and three steals.
And it was her speed and aggression which underpinned a battling Newcastle display at the end of another disruptive week.
The Wolves led by seven at the half with starting guard Amari Carter notching 14 points in 14 minutes.
But Oaklands' new signing Tea Charlton endured a frustrating debut as the British centre picked up three early fouls.
The Eagles trailed by seven at half-time but a 12-7 burst to start the third period clearly panicked the hosts.
And rapid transition offence — mirroring that of Newcastle's BBL team — kept the worried Wolves on the back foot.
Twice the Tynesiders closed to within a score of their opponents as Bunten's side stole the quarter 23-22.
But Oaklands took a 62-56 lead into the final period as the hosts chased victory in their first league game of the season.
Three Wolves players were on four fouls heading into the decisive stanza with Carter, Charlton and Greeta Uprus walking a disciplinary tightrope.
McVicar, meanwhile, was back to her prolific best to lead all scorers on 20 points with 10 minutes to play.
Charlton capped a miserable afternoon by picking up a fifth foul with three and a half minutes on the clock.
And Newcastle refused to throw in the towel as skipper Ali Gorrell moved to a double double and Lowe continued to plague the tiring Oaklands defence.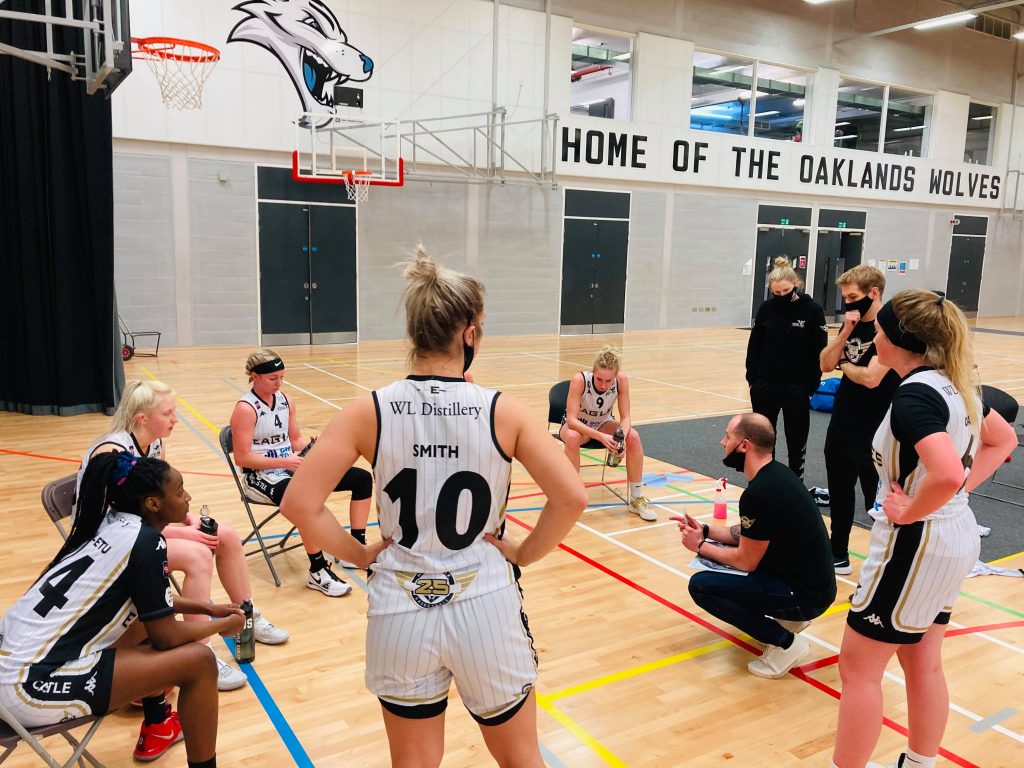 Smith landed an arcing triple with 110 seconds to play as the Eagles reduced the deficit to a point.
But the best was yet to come as McVicar, who finished with 31 points, and Gorrell combined for six from six from the bonus stripe to fire Newcastle into an 80-77 lead with 11 seconds remaining.
In a dramatic finale to a thrilling fourth quarter Lizzy Harrison hit a three-pointer to level the scores. But the Wolves' forward failed to convert a four-point play and a classic encounter rolled into overtime.
Lowe's back-to-back fast-break lay-ups opened up an 88-84 Eagles lead with 73 seconds remaining and the in-form forward added a coolly taken free throw.
Newcastle withstood more late pressure as Oaklands tried to force a second period of overtime but Bunten's side fully deserved a stunning win.