| Date | Time | League | Season |
| --- | --- | --- | --- |
| January 24, 2021 | 3:30 pm | BBL Cup | 2020-21 |
It's the BBL Cup Final Day down at the Morningside Arena in Leicester. The battle for the first piece of silverware of the BBL season and it's the league's top two sides battling it out, Newcastle Eagles and London Lions.
The two sides have clashed four times already this season, twice in the Cup Group Stages and twice in the Championship. The current score is 2 – 2 with both having won on each other's courts. This one though is at a neutral venue and that might make a difference to the game.
Last time they combatants met Lions took a big 109 – 89 win over Eagles and that game and result and the fact that the London outfit is currently top of the league makes them favourites in many eyes. Eagles Head Coach Ian MacLeod is looking forward to the game.
"It's what we work hard for to get to these occasions and with this being the first big final of the season we're all happy to be here. I think if you look back at the route we've taken to get to the final and you go back to the group games we've pretty much took the toughest one we could have to get here."
"What the previous games against Lions do is make you learn a lot. Whether it's a win against a very tough team or a loss against them you learn a lot as you go. I think it's going to be about whichever team makes adjustments on the fly but also whoever just executes better on the day."
"Hopefully all those battle tested games we've faced early and so far, this season hopefully will see us right."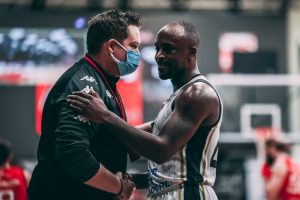 Sometimes when one team is favourites over the other it takes the pressure off the underdog a little bit. MacLeod though doesn't see it that way.
"We have the pressure of our own expectations that we try to live up too and not everyone else's. As comes with the job and the situation being with Newcastle expectations are always high. So, it doesn't really matter who we're playing our expectations don't change."
"They have some big players that may not have played in a BBL Cup Final but have played in some big games and leagues both in college and as professionals. But what is the pressure on a Finals day?"
"The pressure is playing in front of a big crowd and going into a big Arena like the Utilita Arena Birmingham but those things aren't happening. It's going to be behind closed doors and at a regular weekly arena that is used in The BBL so who knows what impact that will make."
The game is being played out at Leicester's Morningside Arena having been switched late on from The University of Worcester Arena which was affected by localised flooding and bad weather forecasts. But it is an Arena both teams are familiar with.
"It's a good Arena at Leicester and one I like. We've already won twice there this season against Leicester but London have also won there as well. So, it's not as if we're going to somewhere that the players don't know so the late change doesn't concern me and hasn't changed our preparations."
The Eagles go into the game in good form having won their last two games and having a full week of practice behind them following the home win over Plymouth last Sunday. Facts that MacLeod alluded too.
"I think it's going to be a hard-fought game. It's a game where we all have to be connected and on the same page. The team that can consistently have good cohesion throughout and make those adjustments on the fly may have the upper hand."
"It's going to be a game that ebbs and flows. It's not going to be the same thing for forty minutes. I think the team that handles those situations better will be the one that comes out with the win."
"We've had a really good week of practice and I'm very happy with where we are right now. We're ready for it. I think we've got the right mentality going into the game after having that good week of practice."
Tip-off is at 3:30pm this afternoon for a game live on Sky Sports Arena and the Sky Sports YouTube channel with coverage starting from 3pm.
The Eagles take the hopes of Tyneside into their tenth BBL Cup Final looking for their seventh win and another piece of silverware to add to their glittering collection.