Whilst Friday night's 77 – 72 loss at Worcester was a disappointing result, it was not disastrous for Newcastle Eagles in what looks increasingly like one of the closest BBL Championship races for some seasons.
There's no doubting a win on the road at the newly crowned BBL Cup winners would have been a statement win but Worcester are a real tough side this season shown by their win in The Cup Final a week ago.
Head Coach Ian MacLeod was philosophical in defeat and preferred to accentuate on the positives rather than look at the negativity of the result.
"Credit to the players for showing great fight and resilience throughout the game. We had opportunities to break the game open but just couldn't quite put Worcester away."
One of the plusses for Newcastle though was the debut of GB International Will Saunders. The 6' 7" forward has been snapped up after the demise of London City Royals and looks to be a quality signing for the club as MacLeod explained.
"Will can bring a lot of experience to this group and add great depth. Once he is acclimatised, I think he will be a great addition for us. We have been a little short with injuries and, of course, administration issues and when I knew Will was available it was a no brainier for us."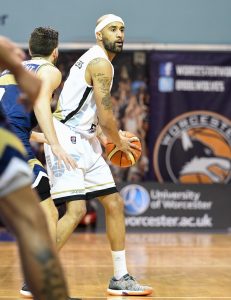 Saunders himself was happy to be on the court for the Eagles on Friday night although understandably he had hoped for his debut to have gone better although in truth signing on the day of the game and with only one practise session behind him it was always going to be a tough ask.
"It wasn't the result we wanted but there were some positives to take from the game. We had an eight-point lead in the first half and led a lot of the way through the game against a side that are always tough especially on their own court. I think we just didn't have enough in the legs at the end."
Saunders himself had 5 points and 4 rebounds in almost 12 minutes of action but he knows there is more to come when he can get his match fitness. Owing to previous injuries this was only his second competitive game since December 2018.
"I've had a tough time with injuries but thank god I'm almost there now and I can get back to doing what I can do. There's nothing like playing in games to get your fitness and touch back. When I get my wind back and game time in my legs, I'll be fine."
"I appreciate the Coach integrating me slowly and hopefully with a week's practice coming up and getting to know the guys that bit better I can get to where we all want me to be sooner rather than later."
"I've come from a situation that wasn't ideal to a professional organisation and I'm happy to have done that. From what I've seen so far, I'm loving it. It's great to be wanted by a coaching staff and management that has such a great tradition and culture of excellence."
"I just want to be part of that add to that legacy. My hopes are to be at the O2 in May and obviously we're in the semi-finals of the Trophy so it would be good to get to a final and my and our goals is to get those two championships this year."
"I hope to be able to bring a competitive edge. I'm not the nicest guy on the court and I use that to my advantage. I play hard and I'll bring that little chip on my shoulder to help us win some games and add a bit of toughness to the team."
"As for my attributes? I can shoot the ball pretty well, I can stretch the floor, I can rebound the ball well, I can attack mismatches and I'm a bit of a match-up nightmare as I can guard a few positions."
"I can bring experience as I've played at a pretty high level across Europe so hopefully, I can bring some of those keys to the club and repay the faith they've shown in me."
Saunders will make his home debut this Friday against the reigning BBL Champions London Lions who boast ex-Love Island inhabitant Ovie Soko in their ranks. He can't wait for that game.
"I've actually got a lot of good mates on the Lions team and it's going to be great to go up against them in my first game in Newcastle and let's hope we can get that win."
Tickets are almost all sold out for Friday's Lions tip-off so hurry to grab one now while you still can: