A dreadful Newcastle Eagles performance saw them crash to a woeful 18-point defeat at home to Bristol Flyers, ending their recent BBL revival.
Just a week after back-to-back wins over a previously unbeaten London Lions team and a triple-overtime thriller at Cheshire Phoenix, t'was a nightmare before Christmas at the Vertu Motors Arena.
Watch highlights of Eagles vs Flyers:
Ian MacLeod's men failed to play to anything like their potential in their final home game before the festive break and posted their lowest score of a difficult season.
Dominated on the boards all evening, Newcastle were outfought and out-thought by a Bristol team that were flying high after their first-ever win on Tyneside.
Having bounced back from a disappointing defeat against Sheffield Sharks a fortnight ago, now they must do the same again they are to have any hope of fighting for the BBL Championship.
Duke Shelton spoke in midweek about the value of smart plays and the Eagles had a few early on as they raced into a 15-5-point lead with less than five-and-a-half minutes played.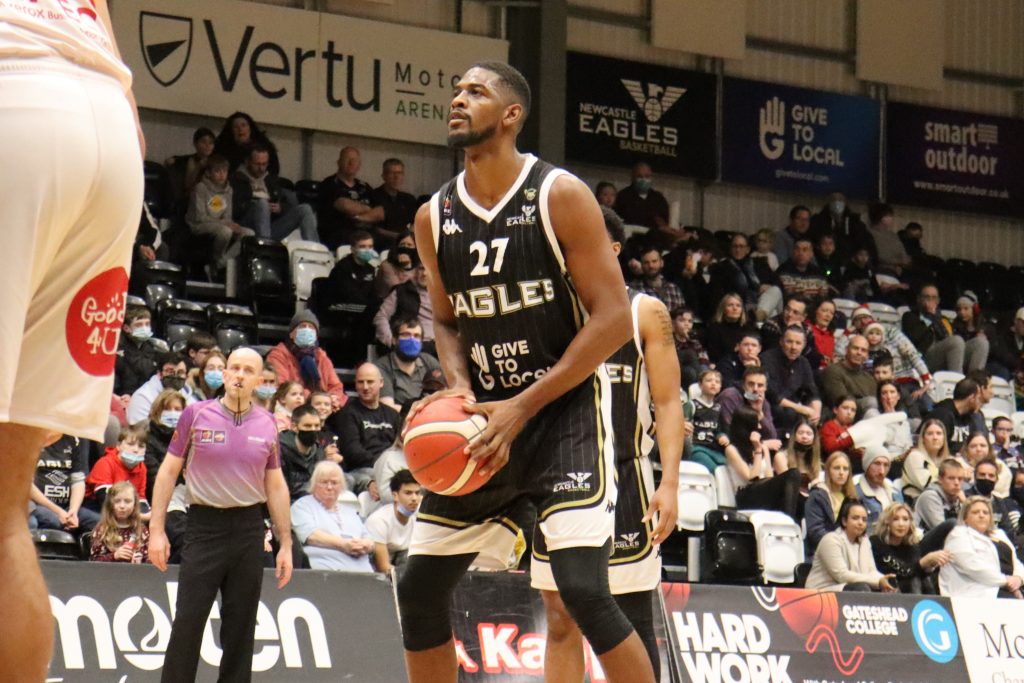 But similar to last week, another stunning evening was in store – this time for the wrong reasons – as they seemed intent on making life difficult for themselves.
Simple passes went astray, easy shots were missed and as panic set in, breakdowns in communication did too.
That gave Bristol a chance to get their high-flying big men off the ground. Just as quickly as Newcastle went in front, the trio of Trejon Jacob, Shane Walker and Zach Simmons turned the game around.
It meant the unpredictable Eagles ended the first quarter 24-18 behind, struggling to make any shots offensively and failing to get to grips with the visitors defensively.
Things didn't get any better in the second period as Bristol swiftly extended their advantage to 13 points. Perhaps mercifully for Newcastle, the Flyers allowed the same offensive sloppiness to temporarily – permeate into their game.
The contest was scrappy and at times the battles for tipped balls resembled a rabble in the Bigg Market bumbling after a loose tenner at the end of a Christmas party, neither side troubling the scoreboard a great deal.
American duo Shelton and Brandon Peel showed signs of adding a bit of much-needed steel and savvy defensively but an anaemic quarter ended with Bristol only 35-29 ahead – both sides adding just 11 apiece in the 10 minutes.
Instead of Newcastle coming out reinvigorated, it was more of the same. Canadian sharpshooter Corey Johnson was firing blanks and Peel missed a number of easy opportunities but the handling errors were equally damaging.
What's more, Bristol danger man Malcolm Delpeche was starting to come into his own as the Flyers turned the screw.
When Johnson turned the ball over by dribbling it off his own leg, allowing Thomas-Edwards to coast in for a dunk – making it 49-31 in the process – it seemed the game was getting away from the Eagles in more ways than one.
The gap soon widened to 55-33 points and at that point, the home players started to get frenzied, with even talismanic point guard Rahmon Fletcher unable to turn the tide.
With 10 minutes to play, the Eagles had a 15-point deficit to make up but such was their desperation, the turnover count worsened and the Flyers were afforded the freedom of the court at times.
There were just five minutes left when MacLeod's men finally reached their half-century and the frustration was visible on the faces of serial winners Darius Defoe and Fletcher. The Flyers out-rebounded their hosts by a whopping 58-39 but it's hard to recall a more disjointed Newcastle performance.
Things don't get any easier for the Eagles as they travel to table-toppers Leicester Riders, who last night won in London to maintain their unbeaten BBL Championship start.