As Storm Arwen raged across the North East, Newcastle Eagles' fans were desperately hoping for the winds of change.
A near fully-fit roster and back-to-back wins meant a familiar air of optimism filled a sold-out Vertu Motors Arena prior to tip-off.
But two hours later and Newcastle had been blown away by fierce rivals Sheffield Sharks — dampening the spirits of a frustrated home support.
That Atiba Lyons' men controlled the game from tip to buzzer will be of serious concern to Newcastle head coach Ian MacLeod and his coaching staff.
And it seems a near three-week break from top flight action has done little to reignite a campaign in serious need of a new direction.
In normal circumstances Newcastle need no incentive when it comes to battling arch rivals Sheffield for valuable BBL points.
But surely the sight of Rodney Glasgow Jr donning a Sharks vest must have given the men in black extra motivation.
The US guard chose to ditch Tyneside for Iceland in the summer of 2020 following a Covid-interrupted campaign with the Eagles.
And his controversial decision raised eyebrows within the VMA after Newcastle bosses fought tooth and nail to secure the British passport Glasgow Jr craved.
It is understood the well-travelled British Virgin Islander had harboured hopes of a return to the North East this season…and a chance to make amends.
But the Eagles' move for Brandon Peel meant Glasgow Jr headed to South Yorkshire — setting up last night's potentially tense match-up with his former team-mates.
Peel, of course, has taken no time at all to settle into his new role with Newcastle and the former London Lion was named in the starting five for the first time.
After bagging a combined 24 points and 17 boards off the bench in his previous two run-outs, the versatile forward deserved his opportunity from the tip.
And although Peel opened his account with a smoothly taken two in the third minute, the initially ragged Eagles were already playing catch up.
Sheffield hit 18 points in the first four-and-a-half minutes, shooting 88% from the floor, to force a much-needed MacLeod time out.
And that sluggish start hastened the early introduction of veteran Darius Defoe, shooter Wesley Person Jr and fit-again Kyle Williams.
An exasperated MacLeod tried anything and everything during a flat first quarter from the unconvincing hosts.
But it appeared that 19 days without a competitive clash was costing Newcastle any sense of rhythm, cohesion or quality.
Swiftly circling for a third successive win of the season against their northern rivals, the slick Sharks fully deserved their 29-15 lead after the opening 10 minutes.
And the Eagles needed to muster a spirited — and speedy — second period response or risk Sheffield accelerating out of sight.
Williams, back in action after a six-week lay-off with a hand injury, and skipper Rahmon Fletcher did attempt to spark a homecourt comeback.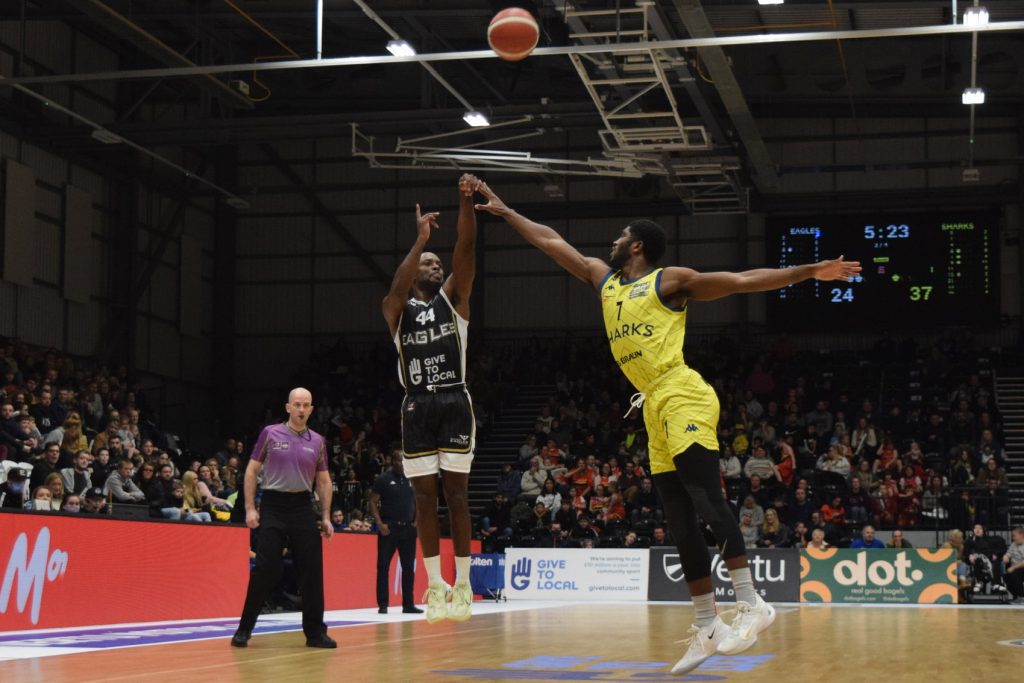 But Glasgow Jr was being gifted far too many open looks at the other end as he coasted through his Vertu Motors Arena comeback unscathed.
And in spite of Peel's last second conversion under the basket, Lyons' men were still in control as they took a six-point lead into the locker room.
Had it not been for the in-form Duke Shelton things could have been far worse for nervy Newcastle.
Steering clear of foul trouble and frequently finding himself in the right place at the right time, the fans' favourite added 11 boards to his 10 first half points.
But Shelton couldn't maintain his momentum during period three as Sheffield restored their double-digit advantage on the back of a Glasgow Jr triple.
And it took some faultless free throw shooting from Person Jr, added to a fadeaway triple from Corey Johnson and a huge dunk from Defoe, to keep the hosts in the hunt.
Disappointingly Jordan Ratinho, the outstanding player on the night, aced an unopposed three-pointer on the third quarter buzzer to fire the Sharks eight points ahead with 10 minutes to play.
But a lack of pressure on Sheffield's star performer summed up the Eagles' alarmingly lax approach to defence.
Far from being locked down on his return to the North East, Glasgow Jr had been granted the freedom of Newcastle.
And despite Defoe's final period charge, a lack of intensity across all four quarters allowed the Sharks to register an all too comfortable victory against last season's disappointed double winners.