It's not often that 3rd versus 9th in a division can be looked upon as a vital game but such is the competitive nature of the British Basketball League, that is exactly what tonight's game at the Eagles Community Arena is.
Fab Flournoy's Esh Group Eagles Newcastle have found their winning formula at their superb new home in recent outings, winning their last two. But a surprise defeat down in Manchester in their last game has left them further adrift of the top two, London Lions and Leicester.
Meanwhile, after a terrific start to the season which saw tonight's opponents Bristol Flyers briefly top the league, times have been tougher and they have lost eight of their last nine as they look to make it back inside the top eight play-off places.
So, the Eagles desperately want to win to keep them in touch with the league leaders whilst Bristol are determined to get back on play-off track and extend their season as far as they can. It makes for an intriguing and exciting match-up tonight.
The Eagles know that Bristol under England's Commonwealth Games Coach Andreas Kapoulas are well-drilled and organised with a very solid and deep roster which all contributes. They will be tough opponents and Newcastle have to be ready and prepared for them tonight from the first tip.
Newcastle also go in to the game with revenge on the agenda. Last season it was Bristol who somewhat surprisingly ended the Eagles season prematurely when they knocked them out of the end of season play-offs at the quarter-final stage.
Add in a loss earlier in the season down in Bristol by 86 – 73 back in November of last year and it's clear to see that Flournoy and his Eagles will be very much looking to right some wrongs tonight and at the same time square the season series between the two sides.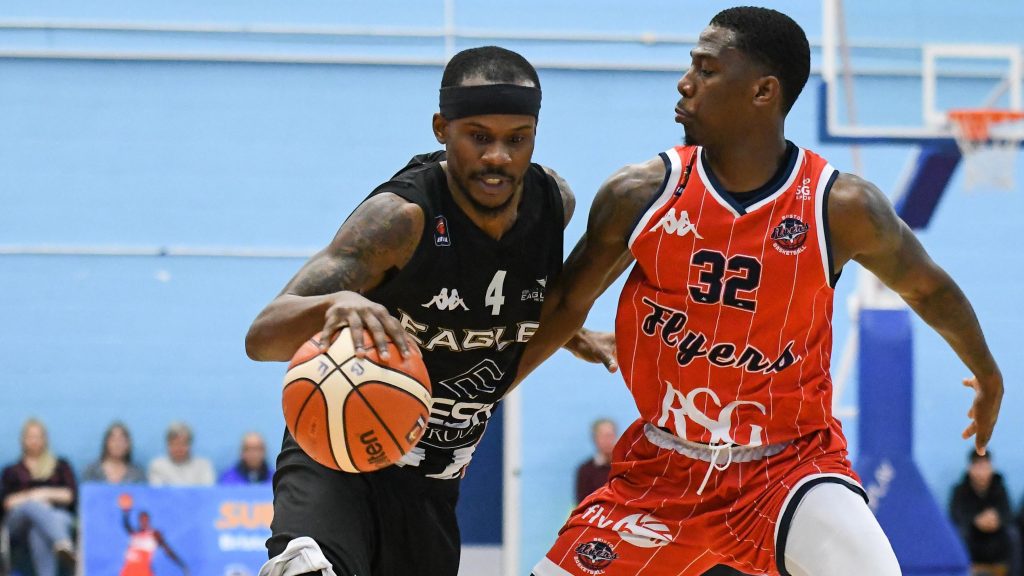 Flournoy spoke after the Manchester defeat of his disappointment to losing to Manchester right at the end, feeling that even thought he was without two of his biggest hitters Rahmon Fletcher and Victor Moses, it was a game that the Eagles should have won.
Especially after the great effort against The Rocks on the Friday before when again they had been without Moses. That had been some game and one where the atmosphere had their new arena rocking. Not one for normally making excuses, Flournoy did admit that not having two of his starters certainly made a difference.
It was not the way he and his players had wanted to go in to an enforced International break. It has though given them a chance to recharge the batteries, sort out some niggles and look to get healthy again. Something they really need as they head in to the end of season run-in and the games to come.
The Eagles will be boosted tonight by having the crucial and significant presence of both Moses and Fletcher back in their line-up for tonight's game. The latter having recovered from his injury and the former back to full health following a bout of sickness.
The action as always at the Eagles Community Arena gets underway at the usual tip-off time of 7:30pm and will take place in front of another packed and expectant partisan home crowd that will be hoping for a third home win in a row.