| | | | | | | |
| --- | --- | --- | --- | --- | --- | --- |
| Bristol Flyers | 29 | 21 | 19 | 17 | 86 | Win |
| Eagles | 18 | 18 | 21 | 16 | 73 | Loss |
Esh Group Eagles Newcastle were looking to bounce back in Bristol last night after a disappointing loss at home to Leicester Riders on Friday. However, they were thwarted by a Flyers side that is off to their best ever start in The BBL and who leap-frogged the Eagles at the top of the table.
It completed a bad weekend for Fab Flournoy's side who were shorn of Drew Lasker from their ranks with injury making a tough proposition even harder. Jeremy Smith having to step up in to the starting five. It meant a weaker bench for Newcastle and when they lost Victor Moses to injury in the third it made it a mountain just too steep to climb.
The first quarter was a typical BBL back and forth affair as both teams made runs during the opening ten minutes of high-speed action. The first of these bursts came from the home side after an even opening to the game. They produced a six-point run that gave them an early five-point lead.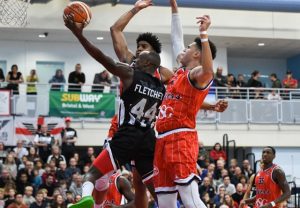 Newcastle hit back immediately with an "and-1" from Rahmon Fletcher and a triple from Kai Williams reversing the lead and they were three points up. But the home side were not to be denied and showed the strength that has impressed many this season, Fred Thomas's triple ending the quarter and taking Bristol in to a double-digit advantage at 29 – 18.
Eagles had looked rocky in that period but started the second in fine fashion with Moses and Darius Defoe getting going inside they pounded Flyers hard and came back to within two points at 31 – 29. But Flyers re-adjusted their sights and with Thomas in superb shooting form stormed back to clip the Eagles wings again.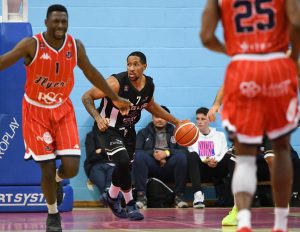 Moses was suddenly a lone figure and trying unsuccessfully to keep his side in the game. Bristol's confidence was high and they surged on to lead 50 – 36 at the half leaving Flournoy and his coaching staff with much work to do in the locker room before the final twenty minutes of the game.
Whatever was said and planned looked to be working as Newcastle came out strong netting a 7 – 2 start to force the home side in to an early time-out. At this stage it was Moses and Smith who were doing the majority of the damage for the visitors but, Bristol's time-out was very timely and they steadied their ship.
So much so that they were able to restore their double figure advantage and although they lost the period by two overall, they still held a 12-point lead going in to the final ten minutes. Just as importantly in what was a devastating blow for Newcastle, Moses had obviously picked up a knock and was unable to play any part in that last stanza.
Fletcher in typical style drove his side on in the early going of the final quarter and his efforts supported by Defoe and Smith, saw the Eagles get back to within five points at 74 – 69 with Flyers needing a time-out to stem Newcastle's run.
With the Eagles now chasing the clock as well as the score line, the home side showed great composure coming out of that final time-out and finished the game in great style with a 12 – 4 run. Newcastle had no answers, only questions left to be answered as a second consecutive Championship defeat in 24 hours has put a different and worrying slant on their season.