| Date | Time | League | Season |
| --- | --- | --- | --- |
| January 8, 2021 | 7:00 pm | Men's Regular Season | 2020-21 |
Newcastle Eagles were given a huge double morale boost as they prepare for the first game of 2021 down in London tonight.
The Eagles had ending 2020 in a terrific style with five wins out of six in the BBL Championship to take them to the top of the league as well as making the semi-final stage of The BBL Cup.
Results and performances which saw head coach Ian MacLeod take a well-deserved Coach of the Month award for December which was doubled up by silky smooth USA guard Cortez Edwards scooping the league's Player of the Month award.
Both will be hoping that it's not a curse as they head into a fourth clash of the season against a tough London outfit. The two teams split their Cup group games before the Eagles won the opening league game of the 2020-21 season at the ECA in front of the Sky Sports cameras to kick-start their fabulous December.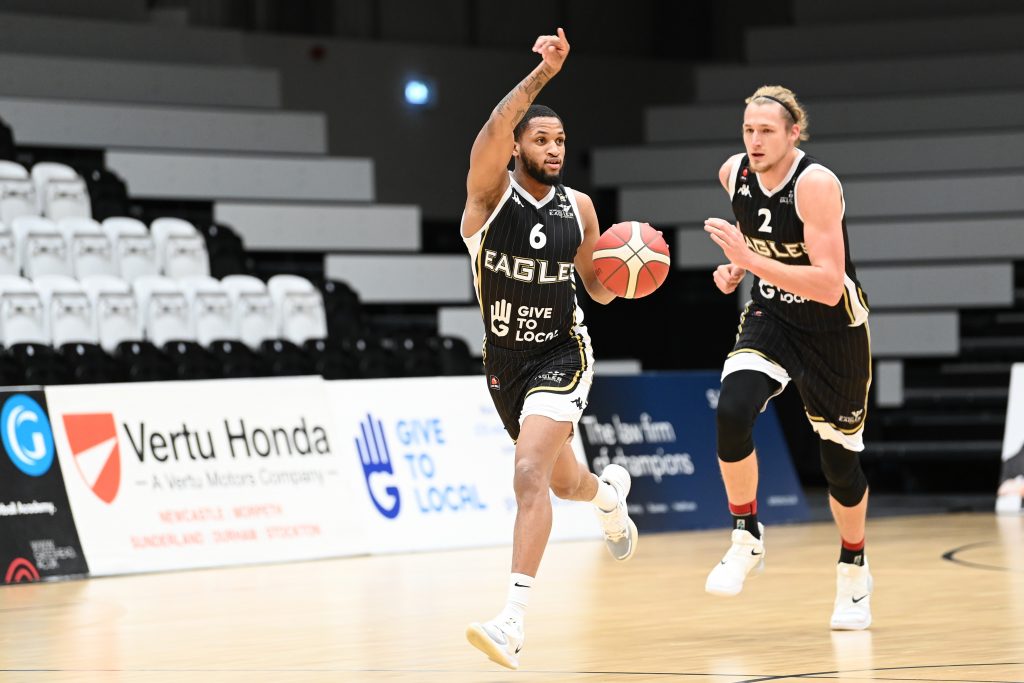 Edwards reflected on the month as he previewed tonight's huge clash at the London 2012 Olympic Copper Box Arena.
"We had a great month. We reeled off five wins in a row to finish top of the league and make the cup semi-finals. The only game we lost was at Plymouth and we should have won that one as well. But it was a great month."
"We locked in. We had four games in seven days during that period but we just locked in and got through all those games successfully and healthy and it brought it's rewards."
The Eagles though haven't played since beating Glasgow 105 – 93 in Scotland on December 27th as their home clash with Manchester scheduled for the 29th fell victim to their opponents COVID outbreak. Edwards though feels the rest has benefitted the team.
"It gave everyone the chance to decompress, relax a little and take their minds off the game, get healthy and enjoy the holidays. We're coming back with a great spirit to get ready for the next part of the season."
"We're very familiar with London at this point and it definitely will be a competitive game. We've been preparing well for it all week and we're both up there at the top of the league so it's a very important game. We just need to be focused and ready to go."
"It's a tough return and we've got Leicester coming up in the Cup semi-final and we play Sheffield soon as well who are in fourth. We have had a long break and time to recharge. These next few weeks are going to be tough so we've just got to be ready."
"I feel like we've come together well but we're still scratching the surface. We haven't really blown anyone out and had that statement game yet. We're all right but I feel we need to have that statement game to make teams really fear us."
"Right now, though we're happy to take the wins and we know London's going to be a tough one. They have the same expectations as us. It's a home game for them so they'll be looking to protect their home court."
"Guys look to shoot better at home and have a lot more confidence in their home gym and it's a long trip. We've got all that working against us. We've just got to stay together. We know there's going to be ups and downs but we're just looking to stay together and keep our run going."
The Eagles also know who their first opponents will be in The BBL Trophy this season. A trip to Bristol awaits them as they look to defend the Trophy, they won in dramatic style in what turned out to be the last game of the curtailed season. But first it's London tonight and it should be some game.
The game is live to watch on the BBL Player tonight with coverage from 7:20pm.