Newcastle Eagles WBBL are one game away from a cup final appearance that could help to transform women's basketball in the North East. Owner Paul Blake outlined his long-term vision for the sport ahead of Saturday's semi-final at the Vertu Motors Arena.
When Grace Rae and Sophie Hawkins combined for 34 points at women's basketball powerhouse Sheffield Hatters last weekend, those Newcastle fans in the know got an exciting glimpse of what the future might hold.
The Under 14 Academy side, run by the Eagles Community Foundation, beat the traffic and one of the strongest teams in the country on their way to an impressive 73-55 win in the Steel City.
And for Newcastle's owner and managing director Paul Blake, an assured performance from the region's rising stars reinforced his commitment to a tried and tested plan designed to secure the long-term future of the women's game.
"Our vision for women's basketball is to build the audience for WBBL games to 500-plus and grow a sustainable model moving forward that includes a successful development programme," he said.
"We want the next generation to benefit from a pathway into the senior game and to do that we need to continue to promote and develop the sport at the top level.
"We've targeted our WBBL game against Caledonia Pride next March as a focus fixture to get an idea of how far we can go. It will be heavily promoted, played on a Friday night and the set-up will be identical to a BBL fixture."
Newcastle's senior women grabbed international headlines in May when, against all the odds, they fought their way into the 2021 WBBL Playoff final.
On Saturday, Chris Bunten's side has a golden opportunity to gatecrash a second showpiece fixture when they take on Leicester Riders in the semi-final of the WBBL Cup.
Small steps that could reap big rewards.
"Ultimately we're three seasons in as far as running the WBBL programme is concerned and half of that time has been affected by a global pandemic," added Blake.
"So for a long time we couldn't maximise any commercial opportunities or build our season ticket base.
"The wider picture is that, as with most women's team sports, basketball has been ignored by the mainstream for far too long. That's absolutely wrong.
"A lack of commercialisation and media profile is common to the majority of women's sports in this country but we're starting at a local level and growing from there.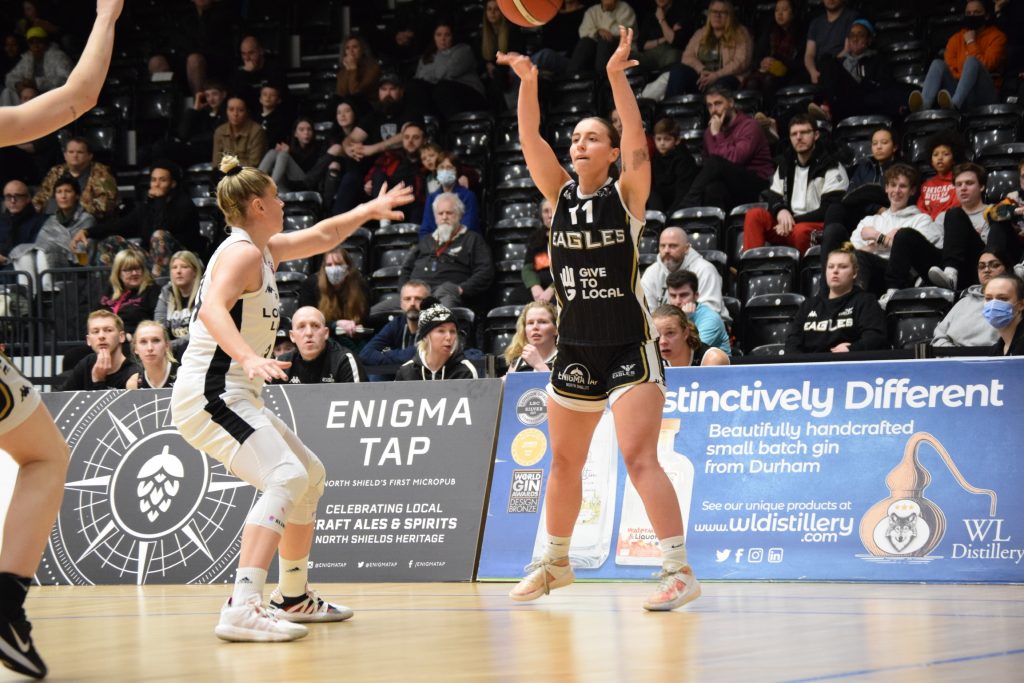 "The support for the WBBL that we get from the local and regional media is on a different level to where it was five or 10 years ago.
"The WBBL finals are live on Sky Sports now and sponsors are recognising new opportunities. In addition, a team like London Lions is taking the game to a whole new level at home and abroad."
Blake couldn't help but admire the star-studded London side that defeated Newcastle 100-45 at the Vertu Motors Arena last weekend.
The Lions, starring on the European stage this season, moved to 6-0 in the league as the Eagles became the latest victims of the capital's basketball juggernaut.
But Newcastle's women — and the programme behind them — won't be knocked off course by one isolated result.
"The bottom line is that, as a club, we're set up very differently to London," explained Blake. "They're an investor-led organisation's that's looking to grow the men's and women's programme on the international stage.
"Our proposition from 1999 onwards has been that we're not investor-led. We've always said we'll build a base from the bottom up and we'll only spend what we can generate.
"That's not to say we won't rule out investment in the future but we'd be more likely to take a hybrid approach.
"Our principle has always been to build a firm base without debt which, of course, is a slow process. The benefit of that long-term approach is that we've found our way into our own building and we've built a sustainable organisation.
"The woman's programme is following those principles and following the pattern of the men's programme which has shown sustainable growth. We're not against the investment model but I still believe there's a balance to be struck.
"We have a very good relationship with the investors in London. We get on very well and they're an organisation that loves it basketball.
"They're in it for the long haul and putting both the men's and women's teams into Europe can only be good for the profile of our leagues. They're pushing the envelope with both programmes."
Blake, of course, is no stranger to pushing the envelope when it comes to developing basketball in the region. And, so far, few could argue against the calm and cautious approach that's laid the foundation for 27 BBL trophies in 17 seasons.
"In terms of taking both our women's and men's programmes to the next level I think we could do the same as London one day," he added.
"When I spoke to the Greek journalists, who were here for the World Cup qualifier last week, they were amazed at the standard of the Vertu Motors Arena and couldn't understand why we didn't play in Europe regularly.
"We'd love to but there's a huge cost involved and we're trying to build our BBL and WBBL programmes in what we perceive to be the right way. There's clearly room for a blended model of sustainability and investment.
"With the WBBL team we're making giant strides. We're trying to build an audience base and build the number of season ticket holders. That's the first step.
"We know from the men's model that the club can't grow without a committed season ticket base.
"We had a record crowd for women's basketball a few weeks back and Saturday's game against Leicester is a great opportunity for people to find out what all the fuss is about as far as our WBBL team is concerned.
"They're a new team and an exciting team and this weekend's semi-final could go either way!"
Tickets for Saturday's WBBL Cup semi-final at the Vertu Motors Arena with a 7pm tip are on sale now from the box office.