| | | | | | | |
| --- | --- | --- | --- | --- | --- | --- |
| London Lions WBBL | 21 | 24 | 24 | 24 | 93 | Win |
| Newcastle Eagles WBBL | 16 | 21 | 18 | 16 | 71 | Loss |
Beaten but unbowed Chris Bunten has promised Newcastle Eagles WBBL will look back on their battling post-season with pride in the days to come.
But the dejected playcaller lamented the below-par defensive display that brought sport's latest Cinderella story to a sad end in Leicester.
Watch highlights of Eagles WBBL vs London Lions in the May Madness Play-Offs Final:
And Bunten insisted his come-from-behind specialists could have launched one final recovery given a greater focus when it mattered most.
"It still feels too raw right now and it's a shame that the fairytale had to end this way," said Bunten, after his giant-killers were finally brought back down to earth in the 2021 WBBL Playoff final.
"But of course we'll look back on the last couple of weeks with a great deal of pride when we think about what we've achieved against all of the odds.
"Right now, I'm just disappointed that we didn't do better defensively. To score 71 points against London is a fantastic effort but you can't concede 93 in a final.
"Maybe we took some bad shots and maybe we could have done some things differently.
"I'll have to look back at the tape to work out where it ultimately went wrong.
"I'm disappointed as I know we can do better. And what can I say about Ali Gorrell?
"She doesn't deserve to score 30 points and end up on the losing side. She's an awesome player and an awesome person and I feel for her too right now."
Newcastle went into the Playoff final as every neutral's favourite having captured the hearts and imagination of the nation.
But the fact remained that the WBBL's enduring underdogs had it all to do against a talented Lions roster running 12 players deep.
Bunten's side had failed to win three games on the bounce all season and breaking that duck against London always looked like a tough ask.
So it proved.
Newcastle had beaten every team bar the Lions in the run-up to the final and another energy-sapping clash against the fast-rising capital franchise proved to be one game too far at the end of a testing campaign.
If the Eagles did a fantastic job in shutting down London's leading scorer Cassie Breen, then there was simply no stopping Kennedy Leonard and MVP Shanice Beckford-Norton.
GB international Leonard, schooled in hoops in her native Chicago at the latter end of Michael Jordan's Bulls career, claimed an outstanding triple double of 20 points, 10 rebounds and 12 assists.
But it was Beckford-Norton who destroyed Newcastle's hopes by adding eight boards, four assists and three steals to a record-equalling Playoff haul of 30 points.
And London coach Mark Clark admitted: "Shanice set the tone at both ends of the court.
"She leads the way for us defensively but in the final she finished things off at the other end too.
"She carried our team at both ends of the floor and it was fantastic to see."
On any other day Eagles captain Gorrell would have grabbed the post-match plaudits with another outstanding individual display.
The US star matched Beckford-Norton's 30 points and fell one rebound short of yet another double double.
But Gorrell's typically unflinching performance wasn't enough as this season's page-turner of a Cinderella story lacked the fairytale finish fans everywhere had dreamed of.
Following confidence boosting wins against league champions Sevenoaks Suns and Leicester Riders, Bunten's side started well against hot favourites London.
Newcastle led 6-2 on the back of a beautiful Gorrell spin move but the Lions hit back immediately — Clark's side launching an eye-catching 9-2 tear to seize the advantage.
The Londoners led by five after the first quarter of the day's opening Lions-Eagles Playoff final double.
But the Eagles finally found their range from beyond the arc during a free-flowing second period with Maddy McVicar, who finished her first final in a Newcastle vest with 19 points and five three-pointers, looking increasingly dangerous.
Leonard and Beckford-Norton kept the Lions in front but it was McVicar's former college team-mate Chantel Charles who hit the buzzer-beating two that opened up an eight-point London lead at the half.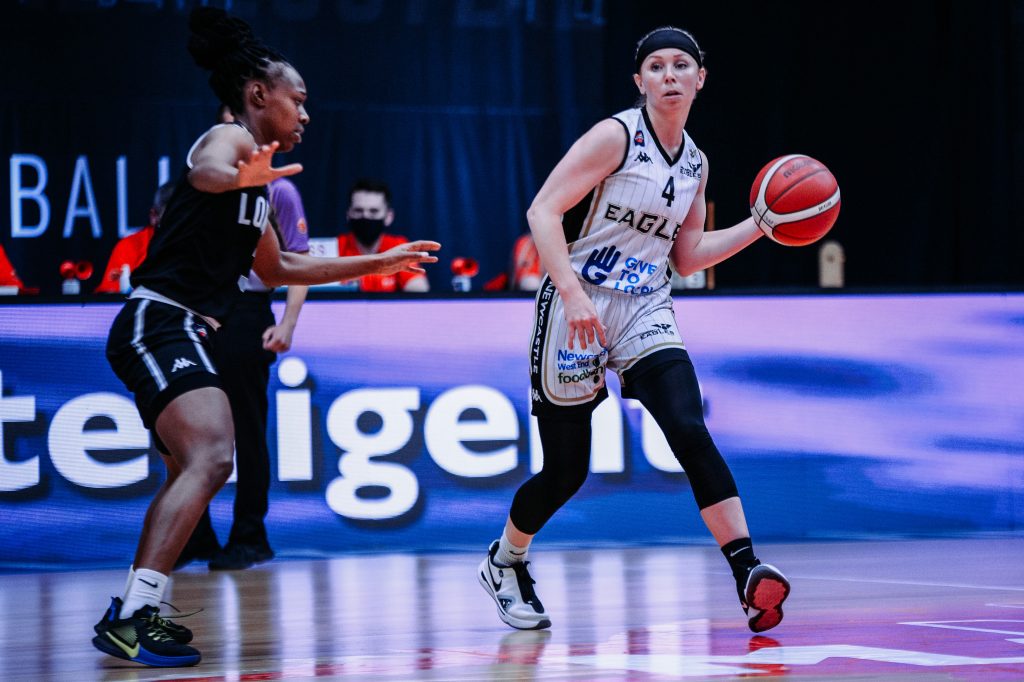 Not for the first time this season Bunten's side had it all to do but just as it seemed as if the Eagles were finished there was one final, glorious fightback.
A Gorrell three-point play tied the scores at 51 apiece and suddenly the impossible seemed possible…again.
But that was as good as it got for fast-tiring Newcastle as the Lions closed the quarter with the 13-0 run that laid the foundation for an ultimately comfortable victory.
And the Eagles team that dared to dream left Leicester's Morningside Arena empty handed but with their heads held high following a heroic finish to a memorable campaign.