Javion Hamlet insists the BBL can be the perfect springboard for his explosive skills and winning mentality.
The former North Texas point guard joined Newcastle Eagles this week determined to make his mark on British hoops.
But Hamlet revealed he still harbours ambitions to star on the biggest stage of them all as the former G League favourite dreams of an NBA future.
"I'm a fun and exciting player and I'm going to bring the winning habit back to Newcastle," insisted the 24-year-old.
"My game is all about winning Championships.
"I won back-to-back titles with North Texas and I know how to be successful."
Earlier this year Hamlet signed with the Texas Legends — the minor league affiliate of NBA giants Dallas Mavericks.
And the Memphis-born player's brief spell with the Frisco-based franchise opened his eyes to what's required at the highest level.
"I learnt a lot during my time with the Legends in the G League," added Hamlet.
"I soaked up a lot of knowledge from the coaching staff and gained a lot from the other guys.
"It taught me where I need to be to reach my goal of playing in the NBA and I feel like I'm getting closer every year."
Hamlet arrives on Tyneside with big shoes to fill following the departure of long-serving point guard Rahmon Fletcher earlier this summer.
But nothing fazes the two-time Conference USA Championship winner and Marc Steutel's latest signing can't wait to get started at the Vertu Motors Arena.
"Javion Hamlet is a really dynamic and welcome addition to our roster", Steutel said.
"Javion is extremely hungry for this opportunity and I know he is committed to ensuring we are as competitive as possible on all fronts.
"His willingness to win really stood out to me and this coupled with his excellent ability to create scoring opportunities for his teammates and himself makes his signing an exciting prospect.
"As a former conference USA tournament MVP he helped North Texas to unprecedented heights for their programme.
"We cannot wait to see him in an Eagles uniform."
And Hamlet will suit-up in black for the first time early next month when fans will get chance to see him in a soon to be announced packed pre-season schedule.
"I'm coming to Newcastle to win trophies and to play my part in the next chapter of this great club," added Hamlet.
"Coach Steutel is a new coach and he was keen to recruit me as one of his first point guards.
"That meant a lot and I feel as if he believes in me and in my potential."
Although the BBL is new to Hamlet, his former college has strong ties with the league.
Bristol Flyers trio Zach Simons, Mike Miller and Thomas Bell all came out of North Texas after making their name with the Mean Green.
And Hamlet is focused on following in their footsteps as he readies himself for a rookie season in the UK.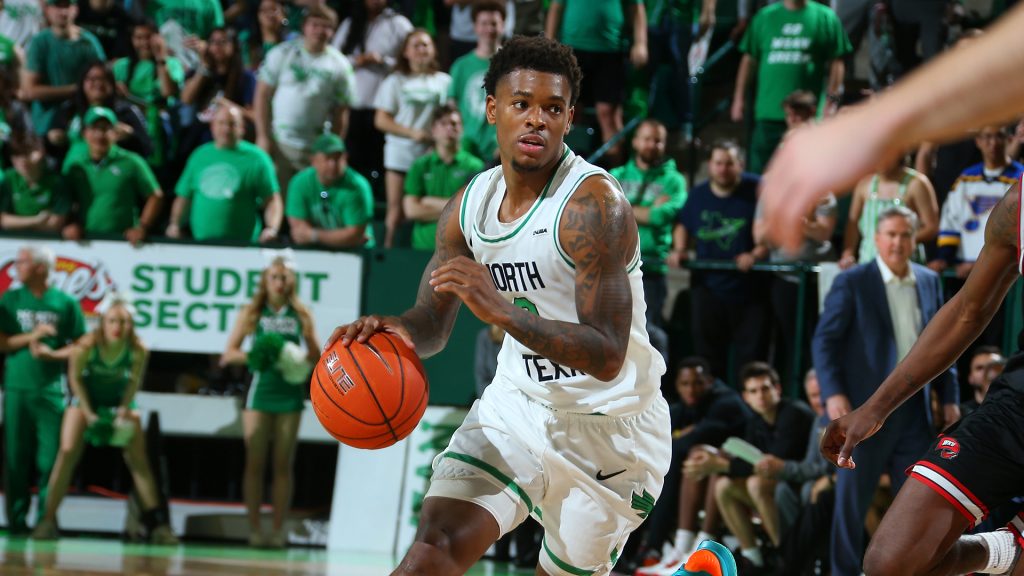 "Bristol Flyers have close links with North Texas so I know a bit about the BBL through those guys," he added.
"But I'm coming here to learn and to make my own mark.
"I've heard the BBL is a fast paced, physical league and that's my game all over."
Hamlet was named first team All-Conference and the Conference USA Men's Basketball Player of the Year during a stellar two-year stint with the Mean Green.
The 6ft 4in playmaker started all 59 matches for North Texas between 2019 and 2021, averaging 15 points, four assists and three rebounds per game.
And Hamlet's eye-catching NCAA Division One form earned him a first professional contract with Bnei Herzliya of the Israeli Premier League.
Three months later Newcastle's newest recruit inked a deal with ALM Evreux Basket in French basketball's second tier.
But the chance to try his luck with the Legends saw Hamlet head home and continue his hoops education in the coveted G League.
"This is going to be another big year for me," he added.
"My first son is due in November and so this is going to be a huge few months for me on and off the court.
"I'm a big family man and everything I do is to make them proud."