Fan favourite Rahmon Fletcher will spearhead Newcastle Eagles' quest for silverware this season after the two-time BBL MVP committed his future to the club.
Last week player-coach Fabulous Flournoy revealed he will return to Tyneside following two months embedded with NBA champions Toronto Raptors.
And Fletcher adds to a wealth of experience at the Eagles Community Arena as the club seeks to return to winning ways following a barren 2018/19 campaign.
"Rahmon is one of the best guards to play in this country and it was a major priority to have him return," said Flournoy.
"He is a mature leader who knows the league and the competition and I'm sure everyone will be delighted he is back."
Fletcher, who lead the BBL in assists last season with an impressive 8.9 per game, is in his second spell with the Eagles.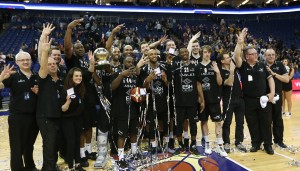 This will be his fifth season in Newcastle and his eighth as a professional.
"Re-signing was the right move for me in my career," said Fletcher. "The rebuild of the team is a major focus but it is also about the effort and support that I want to give to the club and the new arena.
"We want Newcastle Eagles to be the very best in the BBL whether it's our facility or the professional basketball culture that we have created."
Fletcher averaged more than 33 minutes and 16.4 points per game last season as Newcastle's go-to on court leader.
But he added: "There's also an element of unfinished business and everyone that's a part of the Eagles organisation feels that way.
"There's a lot of room for growth and I want to be a part of that process and see the finished product.
"It feels good to be back and take the next step of what can be something special not only on the court but off it as well.
"My message to the fans is get ready for a fun and hardworking team and a roster that gets back to what made us so strong in the past.
"We want to bring back the intensity and grit that our culture was built on – as well as hoping everybody has a fun and entertaining season!"
Our season tickets are on sale now and tickets for our opening game of the season will be available soon. The Eagles tip off their BBL Cup campaign at the Eagles Community Arena on Friday 20 September when Cheshire Phoenix travel to Tyneside.
You can see a full list of fixtures and read about the new format of the 2019-20 BBL season here on our website.