Sidelined for an agonising 16 months, one of North East basketball's most talked about imports is finally feeling her way back onto court. Simon Rushworth caught up with US star Courtney Clasen.
During the most mentally testing of times 12 months ago, a downbeat Courtney Clasen wondered whether she'd ever again experience the unique buzz of a competitive basketball game.
The talented forward craved that familiar feeling of going coast to coast and sinking a contested lay-up under pressure. And Clasen longed to be back in the locker room, talking trash with her team-mates and talking tactics with her coach before tip-off.
"They were dark days," admitted the 25-year-old as she looked back on the most challenging period of her short career. "I've had a few of them.
"But throughout the last year and a half I've been able to rely on the support of the Newcastle Eagles organisation.
"This group of players is like family to me. Honestly. I think they have so much faith in me — sometimes more than I have in myself — and that helps me during those dark days.
"They always make me feel like I haven't been gone that long when, in reality, it's been a long, long time without basketball. They really help me to keep my head up and keep chugging."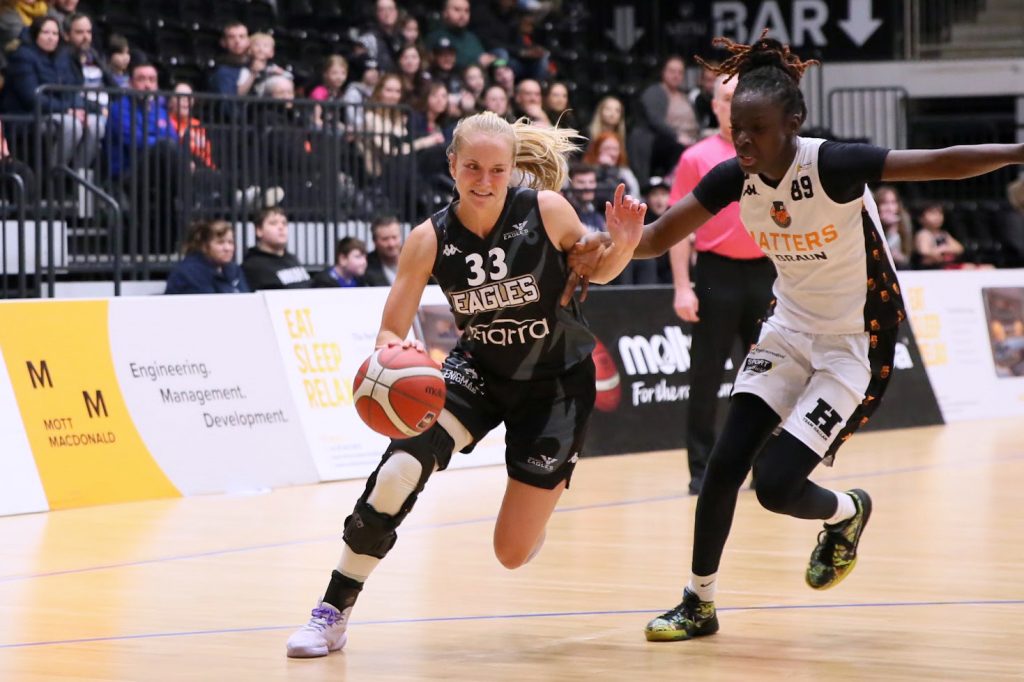 And it has been an exceptionally long time since Clasen has been able to declare herself fully fit and fully confident ahead of gameday.
Originally signed in the summer of 2021, Newcastle Eagles had identified the former Merrimack College favourite as a future leader and breakout star of the WBBL.
Clasen, who grew up 70 miles from New York City in the village of Shoreham, Suffolk County, was fresh out of school and with the world at her feet.
And she headed into a keenly anticipated professional debut against Caledonia Pride determined to make her mark with the women in black.
"So far it's been a super-smooth transition and I don't think it could have gone much better," said Clasen during her first interview as an Eagles player in September 2021.
"Off the court I've moved into my new apartment and on the court we've had some really positive practices.
"It's starting to feel like home already and it feels like I've made a commitment to a new city and new club. For the first time in a while I don't have a plan for the future — this is where I belong now."
Sixteen months down the line and Newcastle's Vertu Motors Arena is still where Clasen belongs. But the positivity of those early days soon turned to despair as a season-ending injury halted a promising career in its tracks.
Clasen lasted just 13 minutes of her Eagles debut after falling awkwardly during the club's curtain raiser against the Pride. What looked like an innocuous twist at the time was later diagnosed as a serious knee injury: cue a painful and often isolated road to recovery.
"It's a weird feeling knowing that I've been gone a while but also that another day has passed back on court," added Clasen as she looked back on last weekend's win against Manchester Mystics.
In only her third appearance in a Newcastle jersey, wearing a knee brace for added protection, the US star came off the bench to claim two points, three boards, two assists and a steal.
If it was hardly a stacked stat line then, right now, the numbers really don't matter.
"I just try to get into that zone but there are certain movements that remind me where I've been and where I've come from," added Clasen.
"I get a lot of reps in every week so I think it's just the game speed and the pressure of the game that I need to deal with now.
"I would say confidence does play a big part and things do get into my head — I miss one shot and start to feel myself spiralling down so it's just a case of working through those moments.
"My tactic is that if it's not falling outside the arc then I see if it can go in some other way and that's always been more my style of play.
"But with my injury I've been more hesitant to play aggressively. I think it's a case of slowly working my way back into things and trusting myself."
That Newcastle have a two-week break between fixtures is both a blessing and a curse for a player finally back in the swing of competitive basketball.
Another fortnight locked in the gym will do wonders for Clasen's body but her mind is set on playing more minutes and improving her match fitness.
"The next two weeks will be about getting back in the gym, doing my reps and building my confidence," she added.
"In my position, confidence comes from the reps. I'm very diligent with making sure I'm lifting and keeping up my strength but it's also important that I'm getting on court and doing the things I'm still hesitant about doing. Hopefully that will all come together with time."
Clasen had returned to Tyneside in the close-season seemingly set to play a key role in head coach Noelia Cacheiro's first full campaign at the Eagles helm.
But a series of physical setbacks and crises of confidence delayed a long-awaited comeback before the forward finally started against Sheffield Hatters last month.
"I'm very, very happy that Courtney is back," said Spanish playcaller Cacheiro. "Now we're starting to look down the bench and we can use different rotations and different options and that allows us to play with different fives and change what we do within a game. 
"Courtney has been out for a very long time but she's getting there and she's gaining her confidence on defence.
"She does need to consolidate what she does on defence to then step up on the offensive side. The main thing I've told Courtney is 'don't think about what you're going to do before you've done it'.
"I just want her to let it go and play with the flow. She'll get there."