| | | | | | | |
| --- | --- | --- | --- | --- | --- | --- |
| Newcastle Eagles Women | 14 | 10 | 26 | 25 | 75 | Win |
| Sheffield Hatters | 14 | 13 | 13 | 13 | 53 | Loss |
Was this the game and moment when the Eagles season turned? Time and future games will answer that question. But what is in no doubt is that Newcastle sent a resounding message to the rest of the WBBL that they could be a force to be reckoned with.
Coming into the game Hatters had a 7 – 2 record. Their only defeats coming at the hands of powerhouses London Lions and Leicester Riders. They had also beaten Newcastle 89 – 52 back in October when the two sides last met.
Watch highlights of Eagles vs Hatters:
It all pointed to a tough night for an Eagles who were coming into the game on the back of an 80-point loss against London just a week previous. However, this was a different looking Newcastle roster that stepped onto court.
Abby Lowe returned to an Eagles vest, Zoe Willis was back from injury and there was the heart-warming sight of Courtney Clasen not only finally fit to play but also in the starting five. Clasen first signed for Newcastle prior to the 2021-22 season.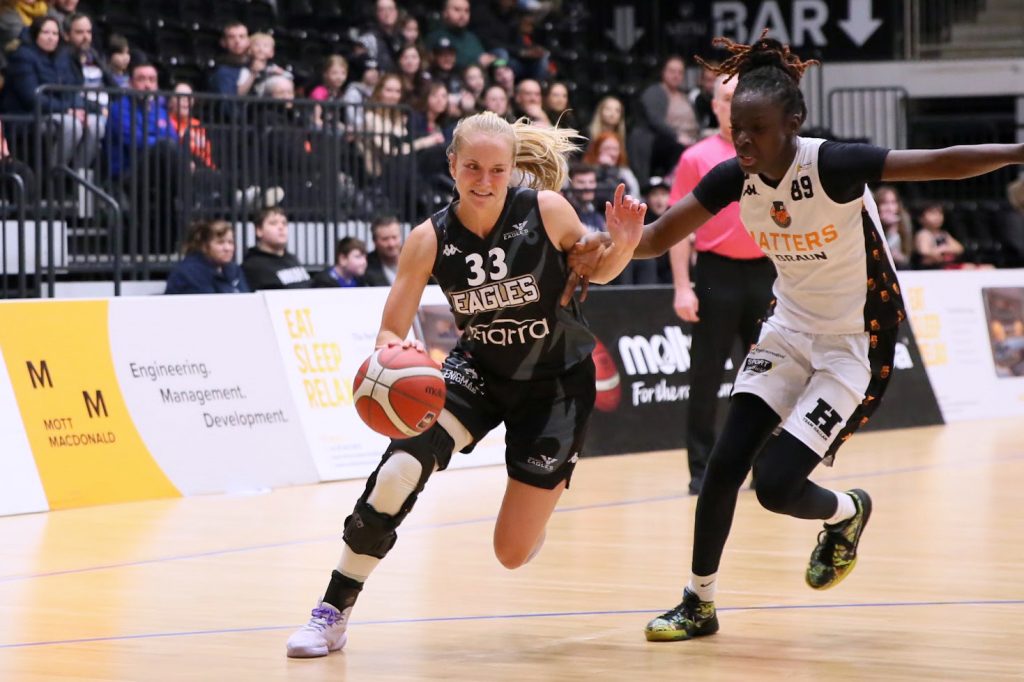 Unfortunately she sustained a season ending injury before the campaign got underway. Undaunted and believing in her ability the franchise brought her back for this campaign. Amazingly she suffered another serious injury before the current season got underway.
There were question marks as to whether she could get back but back she came and was rewarded with a starting berth filling the void created by the continuing absence through injury of captain Marina Fernandez.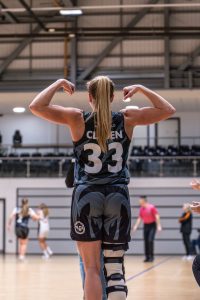 There's no doubting that the energy created by the arrival of Lowe and Clasen helped Newcastle enormously. Neither had spectacular scoring games although Lowe did net 12 points, 10 of which came from the free-line and Clasen pulled down 7 rebounds.
The biggest factor though was that they were able to play sustained spells which enabled the likes of Nette Lewis, Katie Nolan, Maggie Justinak and Chloe Gaynor to have periods of rest on the bench. A luxury Head Coach Noelia Cacheiro hasn't had as an option this season thus far.
Hatters will probably never quite now what hit them. They got into horrendous foul trouble continually incurring the wrath of the three court officials. Eagles actually went to the free-throw line 34 times making 26 of their charity stripe shots.
Influential players for Sheffield like Georgia Gayle, Nicolette Fairley and Karly Murphy particularly restricted by more time spent on the bench than their Head Coach Vanessa Ellis would have liked.
It would though however by churlish to suggest that the referring accounted for the Hatters loss. They simply didn't learn lessons throughout the game and constantly put themselves in difficult situations.
The Eagles were able to take full advantage especially in a stunning second half display that no-one could have seen coming after a tepid offensive display from both sides in the first half where both sides dominated defensively.
Eagles did lead early by four points but Sheffield came back into it and took their first lead of the game at 12 – 11. Newcastle pulling back to level at 14 – 14 by the end of the first ten minutes.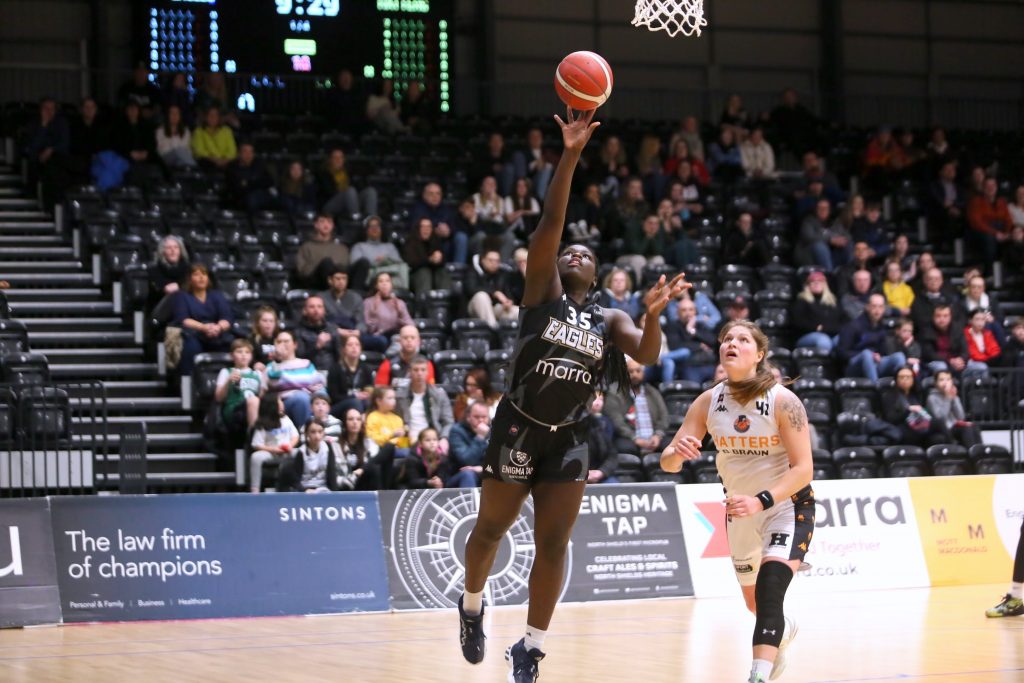 The second saw Sheffield net the first five points to take a lead they held throughout the quarter although there was never much between the two sides. Offences spluttered, defences were intense and a war of attrition saw Hatters lead 27 – 24 at the half.
Even in the early going in the third period Sheffield managed to hold on to the lead. With 4:21 to go in the third they lead 38 – 37. But Lewis and Nolan were starting to be a presence inside and Gaynor was having a big game from the bench.
A 9 – 0 run from the Eagles broke the game open and even when Sheffield finally stopped that burst Newcastle countered with the final four points of the period to take a double-digit lead at 50 – 40 into the final ten minutes.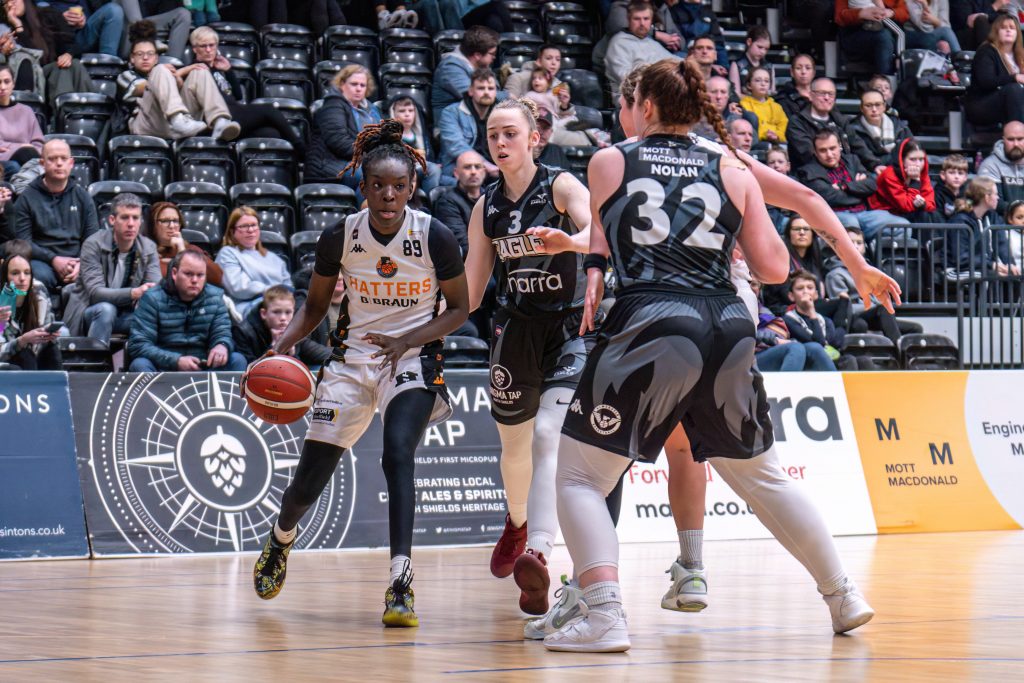 A four-point start in what at that time was a low-scoring game meant a 14-point gap and suddenly one side had immense energy and the other slumped. Newcastle just got stronger and stronger and nudged further and further ahead.
From the bench rookie Alex Campbell came on and netted for the Eagles to peak the lead at 75 – 51 and a frustrated and ill-disciplined Hatters side were in the end glad to hear the final buzzer.
Lewis was outstanding for Newcastle with 19 points, 16 rebounds, 4 assists and 4 steals and she was superbly supported by Gaynor with 16 points and 7 rebounds, Nolan with 12 points and 7 rebounds, Lowe with 12 points and Justinak with 10 points and 4 assists.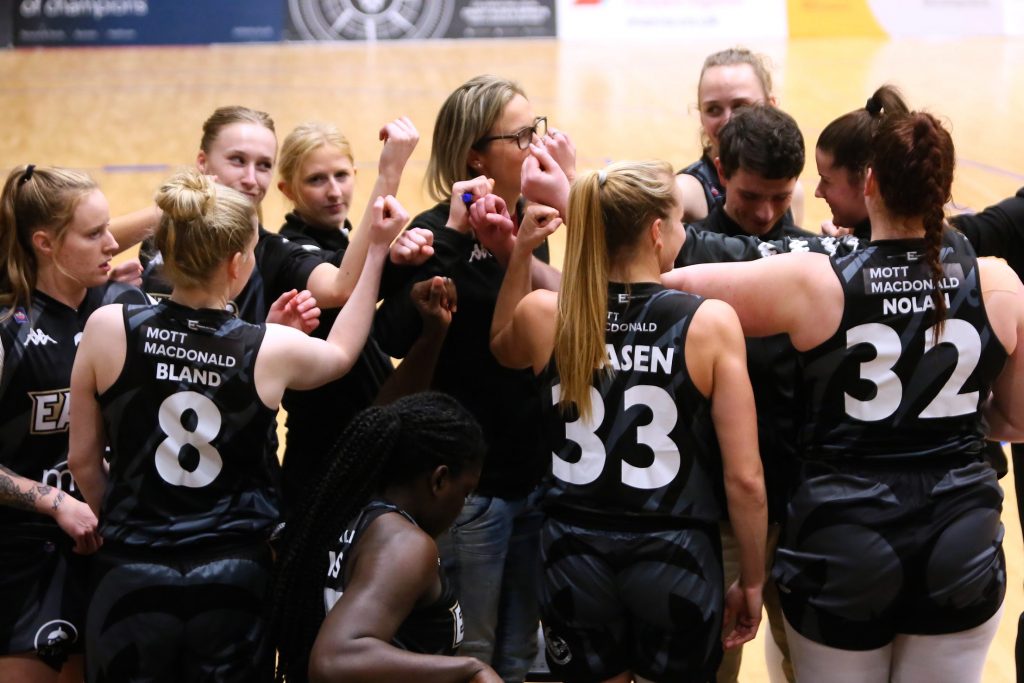 Sheffield had little answer with Lena Niang netting 12 points and 8 rebounds, Helen Naylor 10 points and 5 rebounds and Fairley with 10 points but Gayle and Murphy well restricted by Newcastle and way below their best.
Eagles had 30 points from their bench, outrebounded their opponents 54 – 45 and scored 42 points in the paint to 24. But perhaps the biggest statistic was the total dominance in the second half which they took 51 – 26.
An incredible win over a highly rated and powerful team is exactly what Cacheiro needed and wanted with very winnable games lying ahead. Confidence will be high as perhaps the Eagles have finally landed in 2023.
Tickets are now available for next Saturday's tip-off against the Manchester Met Mystics. Book now from the box office to get the best seats for the action.