For the first time in almost 5 years, Esh Group Eagles Newcastle have lost three home games in a row following Friday night's 100 – 83 defeat by BBL Cup holders Cheshire Phoenix, writes Jeff King.
The latest loss coupled with Leicester Riders incredible double-overtime victory on the same night at Sheffield just about extinguishes any flickering flame of hope The Eagles had of lifting The BBL Championship.
But, perhaps, much more damaging than the defeat was the manner of the performance with Fab Flournoy's men looking lack lustre particularly on the defensive end and seemingly resigned to defeat long before the final buzzer.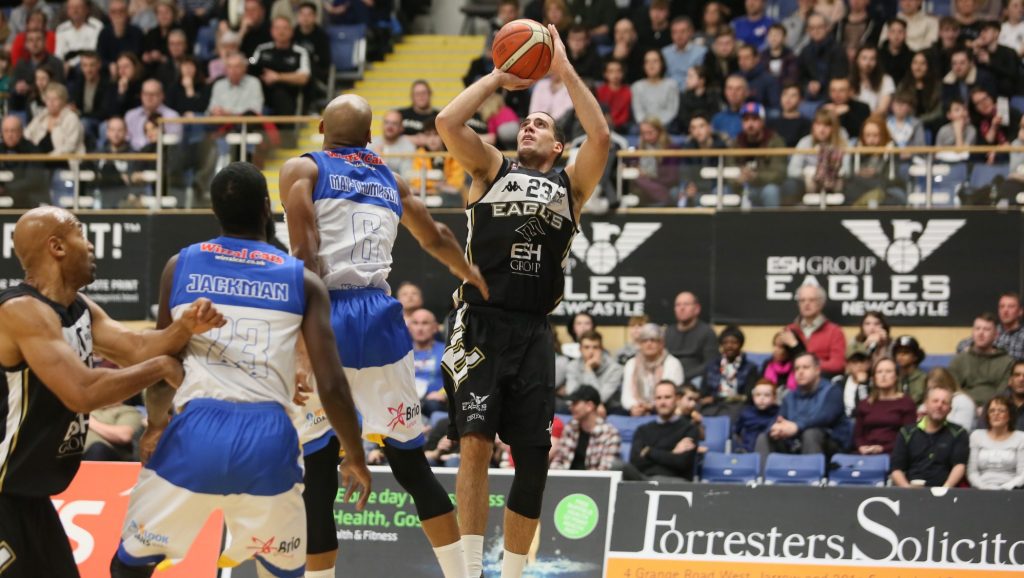 That is not The Eagles way and in what is becoming a more frustrating and disappointing season at ever turn it is difficult to see what direction Newcastle go in next. But, where's there's games there's hope and forward Kai Williams was in reflective mood after the game.
"It wasn't good news at all and this is definitely not how we want to spend our Friday nights in Newcastle. But, there's a lot of things we can work on and review for the next stretch. We have five games in a row at home now."
"If we can go on a bit of a run it'll be good but obviously it starts with a film session to review tonight, learn the lessons and look to putting them right in practice before our next match-up"
"It was a bit of a shock to the system"
The previous two losses against Sheffield in The Trophy and the previous Friday against London were close games that The Eagles could certainly and perhaps should have won. Friday night's defeat was nowhere close to that as Cheshire dominated the game.
"It was a bit of a shock to the system but all credit to them, they played well tonight and obviously deserved to win. For us there were few things that we weren't doing too well offensively so hopefully we can correct those wrongs and our shooting percentage probably best reflected that."
Williams has been one of the Eagles most productive shooters this season despite not always being fully utilised by his team-mates. That changed on Friday as they got him more open looks than normal, but he was unable to convert at his normal rate.
"I had a lot of good looks, in fact a lot of the guys had a lot of good looks but were unable to knock them down. Hopefully we can have a good week or so in practice, get some good reps in, get a little bit more continuity, a little bit more chemistry in our offence and hopefully turn things around."
In a sport and game dominated by statistics the most telling one was what Williams eluded to. Newcastle too 88 shots in the game converting only 37% of them. Cheshire meanwhile too 63 shots and converted at 53%. That was the ball game right there.
"We have two weeks before our next game. We'll be able to have two good weeks of practice. Guys will be able to heal any little niggling injuries they have and things like that so hopefully we can come out of the next two weeks ready to go again."
"We're not ready to throw the towel in yet. It's a long season. Obviously, we've had some frustrating defeats, but crazy things happen in the league and teams can go on winning runs. We just have to believe that ours is about to come."