First of all, a belated Happy New Year to you all. I wish you health, happiness and prosperity in 2018 and all that you'd wish for yourself. A blog probably has been a bit overdue so let's go!
Discretion being the better part of valour I decided to forgo the long road trip to Bristol on Saturday for the sanctuary of my bed as I fought off the onset of a cold that I didn't want to pass on to those team members far more important than me.
I did though drag myself out of my sick bed and thanks to the wonderful livebasketball.tv managed to watch our competent away performance at Bristol which ended with us being 100% for the year 2018.
Yes, I know it's only one game but it's still nice to say it though! I also want to give a big shout out to the Bristol guys doing the commentary. Good job I thought, and you know it must have been when you get to the end of the game and haven't felt like it was difficult to listen to them.
The other good job of course goes to the guys. I think the final score-line probably flattered The Flyers a wee bit as once again after going up big, 19 points this time, we allowed a team to come right back at us. Still never felt worried as I watched the game unfold.
In fact, it was like the feeling I had last week at Sheffield when they mounted their comeback. The Sharks actually got a lot closer at times, but I still never felt that, nor the Bristol result was in doubt.
Saturday was crucial, it seems as if every game is now. Perhaps though it was even more so as those pesky Riders completed a double-winning weekend with two victories against two teams that could easily have turned them over.
Rob and his boys do seem to be finding a way to keep on winning no matter what the circumstances and you must give them an awful lot of credit for that. Their win over Wolves was impressive given that Bernadini didn't play and apparently Thomson and Douse were on one leg each!
All makes for a tasty little encounter this coming Friday at Northumbria University Sport Central. I hope those of you reading this that aren't season ticket holders have bought your tickets for that one, it's going to be awesome.
NEXT BBL HOME GAME
It is a game we just cannot afford to lose. If we did we'd lose the head-to-head against Leicester and have 4 losses to their 1. If we do win though it'll take the series to 1 – 1 and mean, it's two losses against three. Not hard then to see who needs the win more.
Both teams have come back strong from their Christmas breaks and both teams once again look like the obstacle any other team needs to climb if they want to break through in The BBL. Like I say, it's going to be a cracker.
Back then though first to Sheffield and then to Bristol. The third quarter was instrumental at Sheffield with an emphatic 28 – 6 ten-minute period that turned the game around. Terry was the catalyst in that turnaround and went on to have his best night in an Eagles vest.
In the end it was a Hail Mary triple from Zach Gachette on the final buzzer that made the final score-line look closer than it actually was as we completed an excellent and solid road win. That performance earned Terry a start against Bristol.
Some say it's dangerous to tamper with your starting five unless you have too. But, with Jure out with a twisted ankle picked up in training, Drew struggling with a calf injury and AJ having a bad back it was a move that looked well calculated.
No, whether the change disrupted the guys or whether they just hadn't shaken that long journey out of their legs, we didn't make a great start but when The Williams boys came on things started to turn around.
Jamal taking advantage of Jure not being available had his best effort so far for us and showed that he can and will be an important player down the stretch and Kai provided much needed emphasis when it was required.
Once we got rolling we did what we needed to do. Nims and Jaysean didn't have their greatest shooting nights but did more than enough with Jaysean in particular staying ice-cool down the stretch.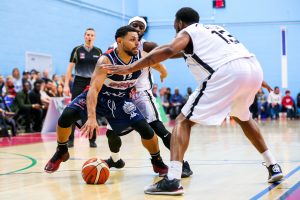 Captain Darius was immense. His New Year's Eve wedding celebrations were obviously well out of his system as he led by example and put up a superb double-double to really play a Captain's role.
Terry got better as the game went on, Zarko got in to foul trouble again but still made some telling contributions, Drew's calf did get the better of him and Fab was Fab playing great D when we needed some and spurring the troops on from the bench.
All-in-all another W that we can chalk up and tick off and another head-to-head secured after only two games. There's no doubting when this team plays D it's very, very effective as that gives plenty of openings at the other end and we all know what firepower we have.
So, that's it. A big week of preparation is now about to commence on and off the court. Friday against Leicester is huge and we ALL, players, coaches, team management, office staff, volunteers, loyal noisy supporters, Old Uncle Tom Cobley and all need to be ready.
We know Rob will have his team ready, Fab, Dave and Ian will do likewise what could well tip the balance in our favour is our wonderful home support so get your tickets and be ready to make some noise as we return home on Friday for "judgement day."