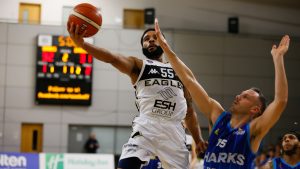 After three successive BBL Championship defeats, Esh Group Eagles Newcastle went to Sheffield on Friday night knowing a win was essential to get their season back on track, writes Jeff King.
That they did get the much-needed win, 81 – 77, was a testament to their determination, grit and togetherness as they produced a good all-round team performance with one man in particular putting himself forward as the game's MVP.
Leading scorer Jaysean Paige had 19 points and 6 assists, Captain Darius Defoe produced a mighty effort of 17 points and 9 rebounds whilst point guard Saah Nimley had an impressive line of 9 points, 8 rebounds and 13 assists, all as Eagles would expect.
But, it was forward Terry Martin that proved the difference. Martín has not perhaps had the impact Head Coach Fab Flournoy and his coaching staff would have liked since his arrival in the summer but on Friday night came to the party in great style with 21 points and 5 rebounds.
It included 10 points in the crucial third quarter when he made two triples and a dunk helping his side turn a 4-point half-time deficit in to an 18-point lead going in to the final period where they held off a Sharks comeback to take an excellent and deserved road win.
"After the break we took some time to clear our minds, re-focus and get back to work."
That was Martin's initial assessment after the game where he acknowledged the part that third quarter played in the win both individually and as a team.
"The team, they trusted in me, they saw that the work that we'd all been putting in during and after the break and I just kind of got going early and they just kept going to me and it worked."
As well as The Eagles and Martin did, particularly in that third quarter, it was the defensive effort that made the difference as they held the home side to just three points in that period.
"Defence is always the key and its always the emphasis for us. We've really been harping on about it in watching film and being attentative to our scouting report so it's always a focus and always something that we want to get right."
During the fourth quarter, much like earlier in the season in The Eagles win over the same opposition at home, Sheffield produced a big comeback but not enough to tip the balance in their favour.
"We had enough to be able to hold on. We still made some little mistakes that we need to correct and I'm sure the coaching staff will focus on that and have us looking at those in film this week to make sure we don't make them again."
The Christmas break and getting away from basketball can often turn a player's season around and there's no doubting in Martin's case, Friday night was by far his best effort in an Eagles vest, but he knows one swallow does not a summer make.
"It's the first step. It's not about what you do it's about what you do consistently. Today I enjoyed it and as a team we're going to enjoy this win but when we get back we're going to start focusing on the next task which will be another tough road trip.
That road trip Martin mentioned is Newcastle's next fixture and is next Saturday night with the long haul down to Bristol to take on The Flyers in another game The Eagles will be setting their sights on.