Size is everything in basketball. Only nobody bothered to tell Saah Nimley. Simon Rushworth caught up with one of the biggest names on Newcastle's new-look roster as the Eagles officially launched the 2017/18 campaign.
Let's address the elephant in the room. Saah Nimley is not the tallest of basketball players. In all honesty, he's one of the smallest. At just 5ft 8in, the bearded playmaker is dwarfed by every one of his team-mates and even veteran guard Drew Lasker looks like a giant in Nimley's company. It's been a topic of conversation ever since the Eagles' hierarchy swooped to sign the 2015 Big South Player Of The Year. But Nimley sighs when talk turns to size.
"Plenty of people told me that I wouldn't make it as a professional baller," said the 24-year-old. "Just look at me! I'm 5ft 8in. Coming out of High School I only had two offers from Division One colleges. Players my size simply don't pass the eye test.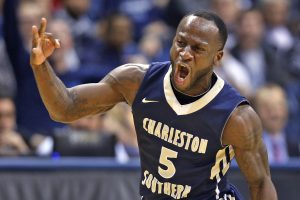 "Every team I go to, the rest of the guys look me up and down and wonder what's happening. It's like a little hump I have to get over each time I join a new group.
"But I don't feel as if I have to prove anyone wrong. And I don't hold grudges. Look, if I was the general manager of a basketball team even I'd take one look at me and sign someone else!"
In fact Newcastle player-coach Fab Flournoy and scrupulous assistant Dave Forrester – a man for whom attention to detail is a daily mantra – took more than one look at Nimley. What they saw was a quick-thinking on-court general with fast hands and an even faster mind.
A player very much in the mould of Eagles' Hall Of Famer TJ Walker. And a player perfectly suited to running riot in the British Basketball League.
"This is the nicest city I've ever played my basketball in"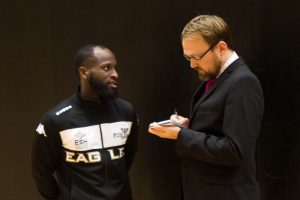 Nimley might be short but his game is sweet. And the Liberian-born schemer believes he's landed on his feet. "This is the nicest city I've ever played my basketball in," he added. "It's my third year as a professional and from what I've seen this is the place to be.
"There's always so much going on in and around Newcastle and I'm already enjoying my time here. The only thing I can't get used to is the rain. It just comes out of nowhere. Where I'm from in Atlanta, Georgia we just don't get rain like it."
Perhaps it's just as well Nimley plies his trade under a roof. The rain apart, three weeks on Tyneside have whetted the appetite of a player hungry to taste success.
"Growing up I was like any other kid," he added. "I wanted to go to the NBA. As I got older my dreams turned to reality. I set my mind on making it in Europe – that's what I worked towards.
"It's always been basketball for me. I've never had time for anything else off the court. I eat, sleep and drink basketball. Nothing else interests me. From a young age it's always been basketball and I wouldn't have it any other way."
Having set his sights on a career in the land of the giants, nimble-footed Nimley has never had it easy. But he's always had the desire and the determination to prove small can be beautiful.
"I played baseball for a year but I was pretty bad," he added. "I quit that after 12 months.
"Basketball is really big in Atlanta and I fell in love with the game. If it wasn't seven days a week then I was playing ball at least six days a week – every week.
"It was such a big part of my life for so long and I'm so lucky that's still the situation.
"At college I played with a bunch of guys who've gone on to play professionally in Europe. We came through the Charleston Southern system together and we're all making our living from the sport we love.
"I have friends playing in Italy, Spain and Bulgaria. But they're all bigger than me. I guess nobody expected to see me playing professionally!"
"It's an arcade-style version of the game"
Nimley and Newcastle head to London this weekend to take part in the inaugural Betway British Basketball All-Stars event – the sport's user-friendly take on Twenty20 cricket bankrolled by Barry Hearn. Newcastle's point guard has no idea what to expect at London's O2 Arena.
London Lions

26 - 25

Newcastle Eagles

The O2 Arena

British Basketball All-Stars Championship
"All I know is that it's an arcade-style version of the game," added Nimley. "It's not basketball as we know it but we're going down there to win. That's the same whatever competition Newcastle Eagles enter.
"It's an attack-focused format and we boast a lot of offensive weapons. From day one I was surprised just how much raw talent there is in this team and all of the guys love scoring."
The Betway British Basketball All-Stars Championship event is live on Sky Sports from 12:45pm on Sunday and make sure you have a read of our guide to the rule changes.
Closer to home our Eagles' first home game is against our old rivals the Glasgow Rocks on Friday 6th October. Season tickets are still on sale for the 2017-18 BBL campaign and single game tickets are available online or by calling our box office on 0191 245 3880: