Newcastle Eagles got their home WBBL season off and running last night at the Vertu Motors Arena looking to open their winning account after a heavy loss up in Scotland last weekend against Caledonia Gladiators.
Nottingham on the other hand were playing their first game after having had their opening game wiped off the schedule with the sad withdrawal of the Gloucester City Queens from the league.
Would it be the Eagles or would it be the Wildcats? Well, after a pulsating 40 minutes of hard-nosed committed basketball from both sides it was in the end Newcastle that prevailed showing some great defence as Nottingham's off deserted them.
It allowed the Eagles to climb into the game and they had outstanding contributions from new American Katie Nolan, Chloe Gaynor and Zoe Willis who all had massive double-doubles with Captain Marina Fernandez also in double figures.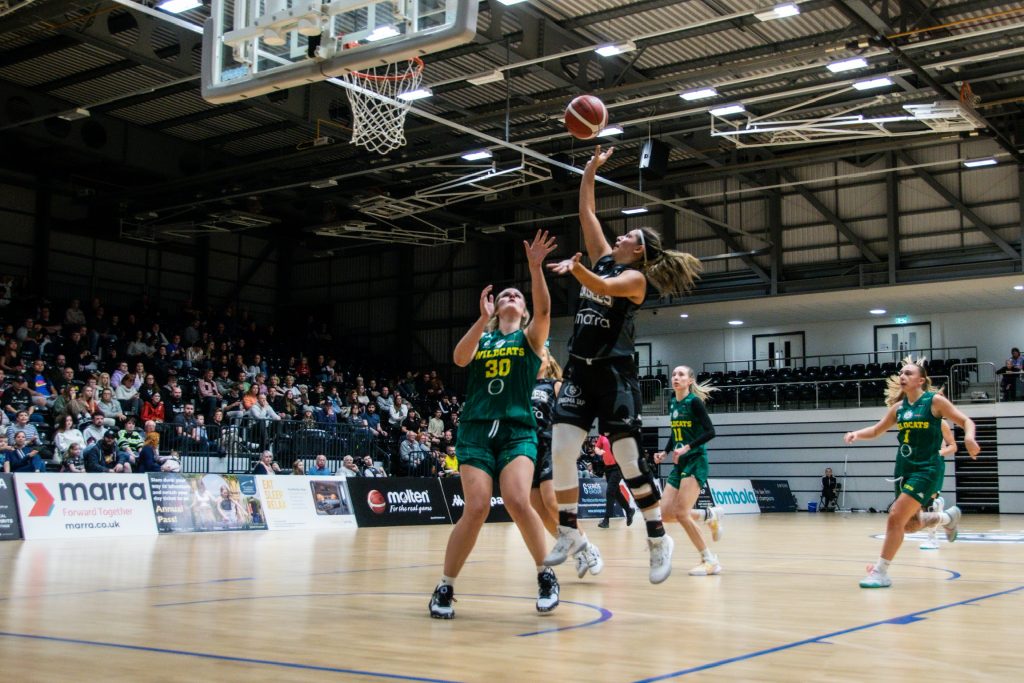 What a scorching start to the game we had as well. Both teams opening brightly, running hard executing on offence and playing tough defence. After a fairly even start it was the Wildcats that made the first breakthrough.
New American shooting guard Kayla Shaw looking a real prospect hitting her first four 3-point attempts to give Nottingham an early advantage. Marl Stewart and last season's top WBBL rebounder Kennedy Nicolas were at this stage dominating the boards.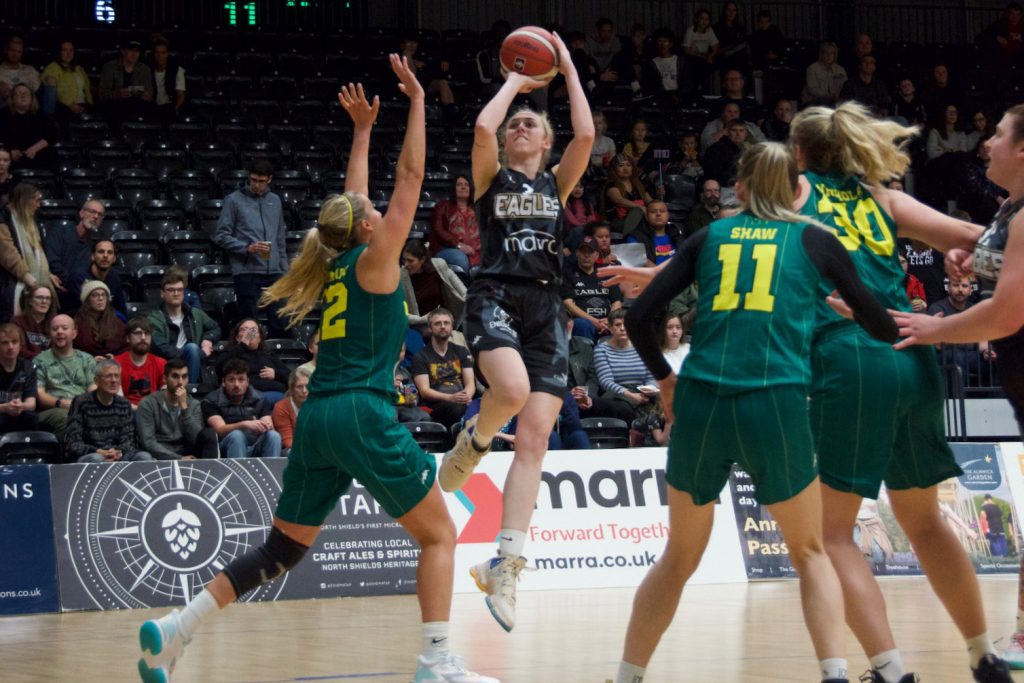 It all meant Nottingham deservedly took the first quarter by 25 – 17 to establish an early advantage and actually led by thirteen at one stage. But it would be the last quarter the visitor's would win as Newcastle took the final three all by slim margins to get home by the end.
Eagles five-point advantage in the second pulled them back into the game and the sides went to the locker rooms with Nottingham just ahead by two points.
A tactical switch by Eagles Head Coach Noelia Cacheiro was the catalyst for her side to make an excellent surge in the third quarter. Willis became the ball-handler allowing Fernandez to concentrate on spacing and with Nolan and Gaynor dominating the boards it was all Newcastle.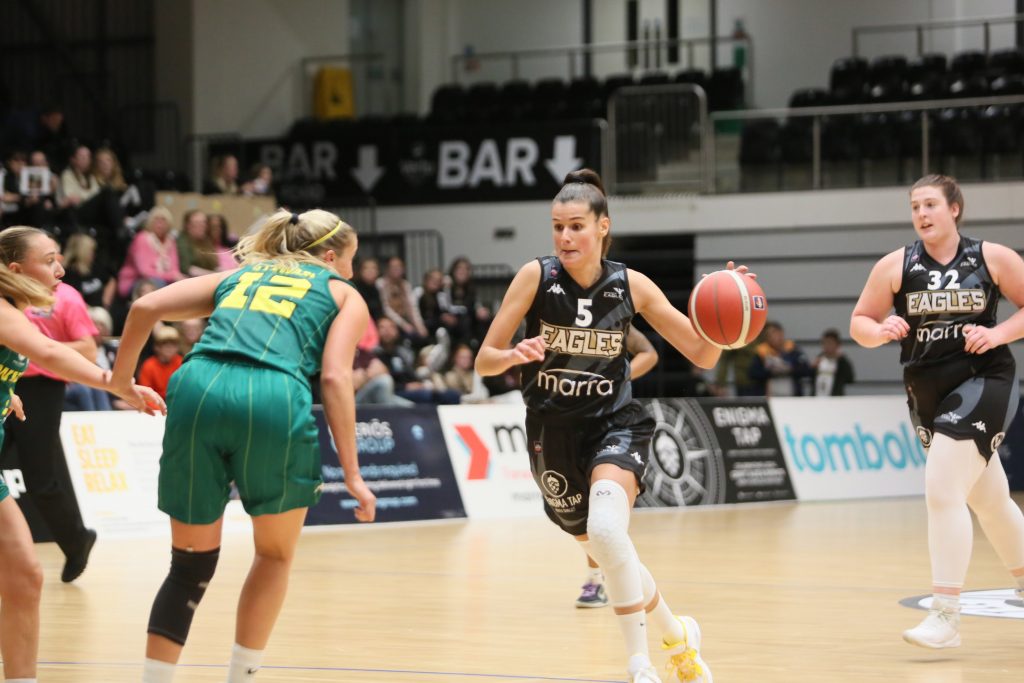 They turned the game around really well and actually led by eight at one stage but Wildcats wouldn't go away and came back once again meaning it was a mere two point gap but this time in favour of the hosts as they went into the final stanza.
What a quarter of basketball that was with Nottingham giving everything to come back level. But Newcastle held their composure down the stretch and almost fittingly the game as iced by local girl and veteran Rachael Brand who netted the two final free throws that meant there was no way back for a plucky Wildcats side.
For Cacheiro this was a great win. The Eagles play caller has players sitting out injured and some players still to arrive as final pieces of her jigsaw. If those coming in can give as much heart and commitment as those currently on court the this could be a very exciting season ahead for the Lasses of Tyneside.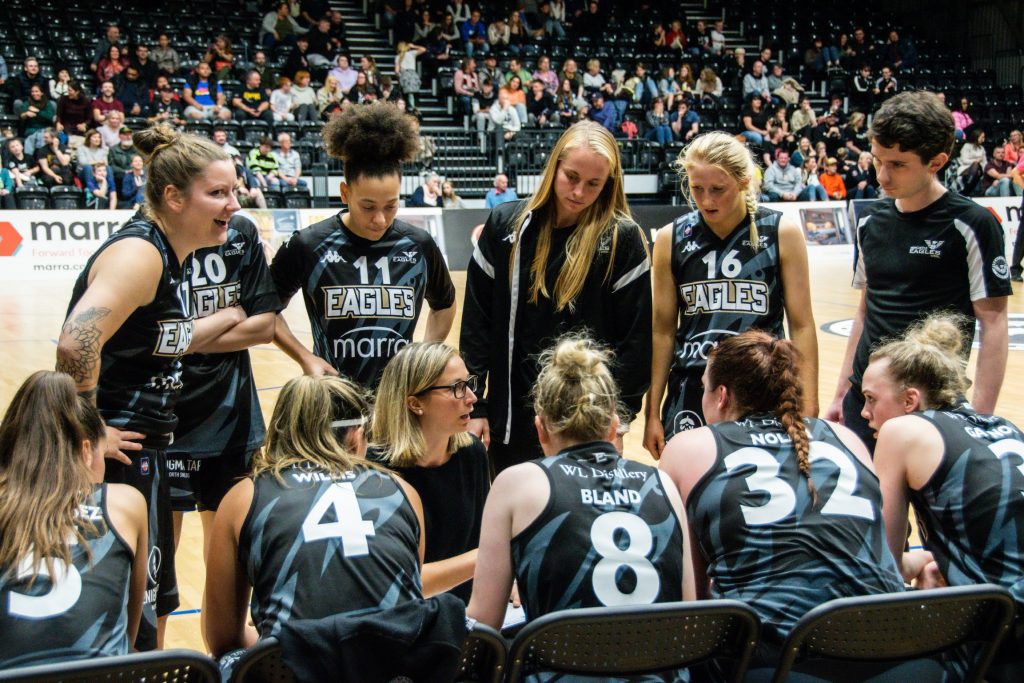 One of those Lasses is Katie Nolan and on the evidence of this performance, a second double-double in as many games she'll be getting her Geordie passport stamped very soon as she appears to be an excellent pickup for The Eagles.
Add in the arrival of Willis and Newcastle's future is certainly looking a lot rosier after an excellent and well-deserved first win of the season that had the Vertu Motors Arena rocking.