Newcastle Eagles WBBL will be boosted by the return of Euro stars Mante Kvederaviciute and Lisa Koop as elite women's basketball returns to Tyneside tonight.
The experienced internationals missed the club's long-awaited comeback earlier this month as Chris Bunten's side slipped to defeat in Nottingham.
But the return of two of the WBBL's biggest names has been tempered by a double injury blow ahead of Newcastle's clash with Manchester Mystics in the WBBL Cup.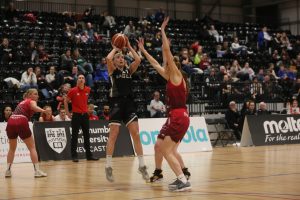 "It's been a week of highs and lows," admitted Bunten as he prepared to take on a Manchester side stacked with familiar faces.
"Of course it's fantastic to have Mante and Lisa back in the fold. They've trained really well all week and it's just about getting them game time now.
"But we've lost Marina Fernandez and Sarah Birkett and both players will miss the remainder of the season.
"It's been tough to take for the whole group and exceptionally difficult for Marina and Sarah.
"Marina had a superb debut against Nottingham only to snap her Achilles tendon in the dying stages.
"And Sarah has gone home for surgery on her knee — I was so looking forward to working with her again and she's so disappointed.
"But we'll pick ourselves up and go again. It's been far too long since we ran out at the Eagles Community Arena and everyone's excited to be back home again."
Newcastle took plenty of positives from defeat at the Wildcats — not least sparkling debuts from Fernandez and Maddie McVicar.
And while the former will be a miss for the women in black, the latter has already made a big impression on Bunten.
"Maddie is one of the most level-headed players and people I've ever had the pleasure to work with," he added.
"Nothing fazes her and nothing rattles her. She's such a hard worker and extremely aggressive in a professional sense.
"I'm really excited to see her develop into one to watch in the WBBL."
The return of Kvederaviciute and Koop is well timed as Mystics bigs Hannah Shaw and Dominique Allen return to Tyneside.
Both had spells with Team Northumbria and the latter is the god daughter of former Newcastle playcaller Fabulous Flournoy.
Add into the mix fellow TN alumna Nicolette Fong Lyew Quee and tonight's clash is rich in fascinating sub plots.
"There's a lot of history there," agreed Bunten.
"Hannah and Dom are very experienced in this league and everyone knows how much I rate Nicollette.
"Add Georgia Jones and Rheanne Bailey to the mix and it's clear Manchester have plenty of options this season.
"I'm not reading anything into their defeat at Leicester earlier this month. They won't shoot the ball that poorly again.
"Both teams will see this weekend's match as an opportunity to bounce back and we'll just have to ensure we make home advantage count."
Newcastle will run out at the ECA with a main shirt sponsor for the first time in the team's history after community sport service GiveToLocal extended their sponsorship of the Eagles' BBL team to include Bunten's roster.
"It's great to have GiveToLocal on board and we're very grateful to all of our sponsors," added Bunten.
"It's been a tough time for everyone these past few months and their support has been invaluable."
Newcastle Eagles are streaming the clash from 5.30pm and virtual tickets can be purchased from the box office for just £2.99, reduced to £1.99 for our BBL season ticket holders.