| | | | | | | |
| --- | --- | --- | --- | --- | --- | --- |
| Nottingham Wildcats | 14 | 17 | 16 | 17 | 64 | Win |
| Newcastle Eagles WBBL | 16 | 16 | 9 | 10 | 51 | Loss |
Below-strength Newcastle Eagles surrendered a first half lead as Nottingham Wildcats opened up their WBBL Cup campaign with a comfortable 64-51 win.
The North Group tie was too close to call after the opening 20 minutes with the visitors edging ahead 32-31.
But a Newcastle roster missing five front line players tired badly after the break to hand a powerful Nottingham side the initiative.
There has been much talk about the Eagles' clear potential as trophy challengers following a summer of smart recruitment by playcaller Chris Bunten.
Watch highlights from the Wildcats Arena:
And hopes are high that a side which finished last season's truncated campaign in fine form can follow up with silverware in 2021.
But Newcastle tipped off without Mante Kvederaviciute, Lisa Koop, Jorjah Smith, Ruth Thornley and Mollie Arnold.
And although a battling first half display kept the short-handed visitors in contention, it was inevitable that fatigue would play a factor late on.
Aside from a late appearance off the bench by Yemisi Mefful, Bunten was forced to run a seven-player offence throughout.
And backcourt pairing Maddie McVicar and Marina Fernandez played more than 39 minutes apiece in what proved to be a WBBL baptism of fire for the Newcastle rookies.
Both players impressed during an evenly contested first half — the latter sinking a buzzer-beating three-pointer to earn the Eagles a deserved 16-14 first quarter lead.
The hosts hit back to lead 26-23 midway through the second period but Newcastle regrouped to take a one-point lead into the break.
Without Koop and Kvederaviciute the Eagles always looked too short against a towering Nottingham line-up.
But Wildcats centre Jasmine Joyner was one of three home players on three fouls heading into the second half.
And Bunten had successfully managed to counter height with pace during a fascinating clash of styles during the opening 20 minutes.
Any hopes that the visitors could continue to cause problems for Nottingham quickly evaporated as Kenrick Liburd's side launched a decisive 11-0 third quarter tear.
That impressive scoring burst put Newcastle on the back foot but an arcing McVicar triple with 17 seconds to play in the quarter reduced the deficit to four points.
Bunten must have hoped he could squeeze one final effort out of his fast-tiring players but the Wildcats surged into a 15-point lead with seven minutes remaining.
And although the Eagles — led by inspirational co-captain Rachael Bland — refused to throw in the towel there was no coming back down the stretch.
Returning favourite Ali Gorrell joined McVicar and Fernandez in claiming double figures but this was a story of stretched resources and a lack of size.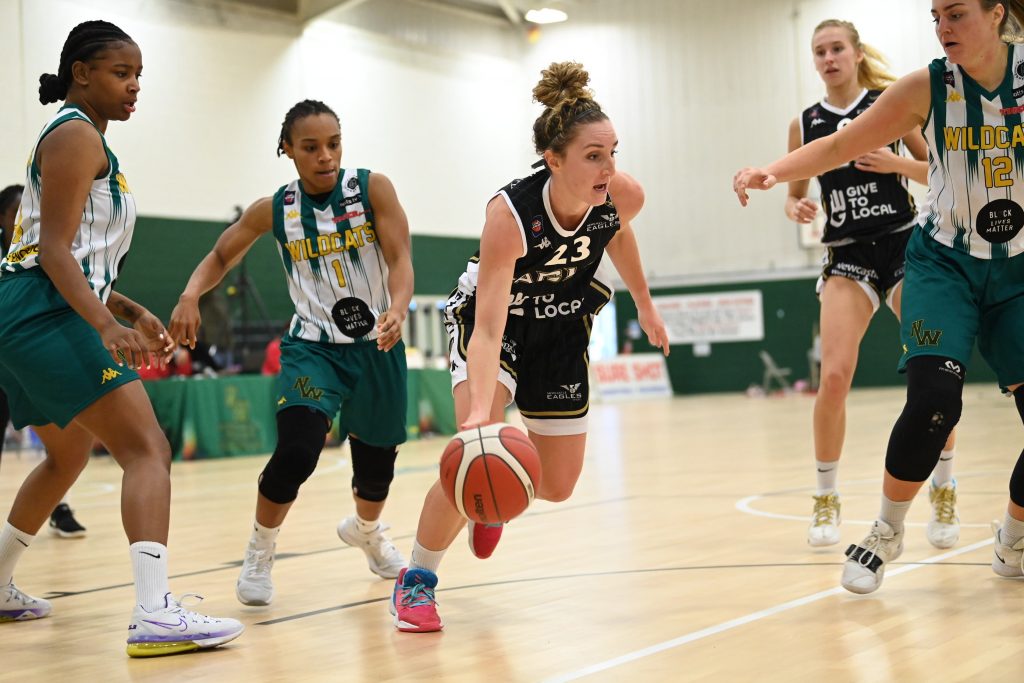 It would be wrong to read too much into a first competitive clash for eight months and Newcastle have plenty of talent in reserve.
But Bunten set up his side to make life difficult for Nottingham and some wayward shooting had the opposite effect.
McVicar's 18 points, three rebounds and three assists represented an impressive return on debut but this was a day to forget for the visitors.
Newcastle are back in action in two weeks' time when Manchester Mystics — defeated 65-44 by Leicester Riders in yesterday's earlier North Group tie — visit the Eagles Community Arena.