Diana Voynova was devasted to learn of Northumbria University's shock decision to ditch top flight women's basketball this summer.
And the Bulgarian international revealed she pleaded with Newcastle Eagles bosses to save the club she loves as Team Northumbria's future hung in the balance.
Voynova studied at the university, played for TN and worked for Northumbria's sport department during two celebrated spells on Tyneside.
And she returns to Sport Central with the BA London Lions ahead of this afternoon's Cup clash relieved that her former club lived to fight another day as the rebranded Newcastle Eagles WBBL.
"I was absolutely gutted at Northumbria's decision to end its association with top-flight women's basketball," said veteran forward Voynova.
"The idea that there might not be a team in the city was just horrible. It's a club with so much history and it's always been one of the best clubs in the league. From a personal point of view it's where I had my biggest successes and my best time on and off the court.
"Newcastle and Sport Central is always going to be home for me. I couldn't believe what I was reading about Northumbria – to potentially not have a WBBL club was too much to stomach.
"I know how much it means to the players and everyone who's been involved down the years. When I was back in the North East in the summer I pleaded with Paul and Sam Blake at Newcastle Eagles to do everything they could to save the club. It would have been such a shame to see it go after all of these years."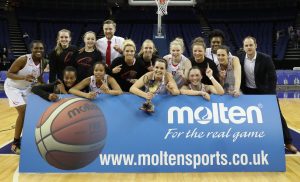 Voynova was part of TN's 2016 playoff Championship winning side at a time when Northumbria University was riding the crest of a wave following years of focused investment in performance sport.
"It's still a home from home for me."
But the decision to change tack during the summer – with university bosses favouring a move towards participation as part of a cost-cutting exercise – wiped out Northumbria's proud legacy of sporting success on the national and international stage.
"In the end the women's basketball team was lucky," added Voynova. "The same can't be said for the successful men's team or the volleyball teams – the best in Britain.
"Northumbria University has always been one of the biggest sporting universities in the UK and I loved playing there, studying there and working there. On the court and off it there was a fantastic atmosphere around the place and I'll always value my time there. Things might have changed but it's still a home from home for me."
Voynova made the WBBL's team of the week on her return to top flight hoops earlier this month. And despite a self-confessed lack of match fitness she will pose a significant threat to Chris Bunten's Eagles this afternoon.
"It will be bittersweet coming back," she added. "To be on the other side will be very strange. I never thought I would pull on a different jersey in the WBBL.
"In my mind I'd decided I would only ever play for Team Northumbria. It will be strange but it's also exciting and I can't wait to get back up there. Sport Central is a special place for me."
Fans will be excited to see Voynova square up against old foe Kara Bonenberger after the pair enjoyed a number of bruising BUCS battles down the years.
"Kara and I know each other well and we both enjoyed those matches," added the former TN favourite. "I know she's very physical, very strong and a good post player. She looks as if she's at peak match fitness right now and that's the only disappointment – I'm not quite there. But I'm looking forward to what should be a good match-up this weekend."
Newcastle Eagles and London Lions tip off at 4pm. Tickets are on sale on the door and entry is free for all our BBL season ticket holders.