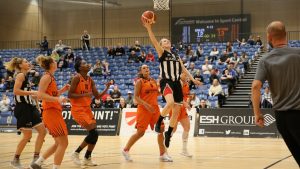 As a thank you for all the support our BBL fans have given to our WBBL team since their first home game earlier this month, we are pleased to be give all BBL season ticket holders FREE ENTRY into all the women's remaining games at Sport Central.
This Saturday our WBBL team are back in action against the Barking Abbey Basketball London Lions in the first round of the Cup.
Get to the game and support our women this weekend at Sport Central!
Tickets can be purchased for just £5 per person for any non-season-ticket-holders below:
Season tickets covering all the WBBL fixtures across their games at Sport Central and in our new Eagles Community Arena in the new year can be purchased for just £50 or at the reduced price of £25 for BBL season ticket holders.
PURCHASE WBBL SEASON TICKETS
Thanks again for all your support and we look forward to seeing you at their game on Saturday, straight after the Friday night BBL game against Surrey Scorchers.