| Date | Time | League | Season |
| --- | --- | --- | --- |
| December 18, 2020 | 7:30 pm | Men's Championship | 2020-21 |
48 hours after shooting down the Flyers from Bristol, the Newcastle Eagles return to the court at the ECA tonight hunting down the Wolves from Worcester.
The Tynesiders will be looking to follow up their Cup win over Bristol with another two Championship points as they continue to build their identity in a season, despite being in December, is still in its early stages.
Wednesday's win took the most storied franchise in British basketball history into yet another Cup semi-final berth, They'll actually discover their opponents in that two-legged tie during the course of tonight's clash.
With yet another game to come this weekend on the road at Cheshire on Sunday, Head Coach Ian MacLeod's men will want to keep their momentum going as they head into another tough double-header.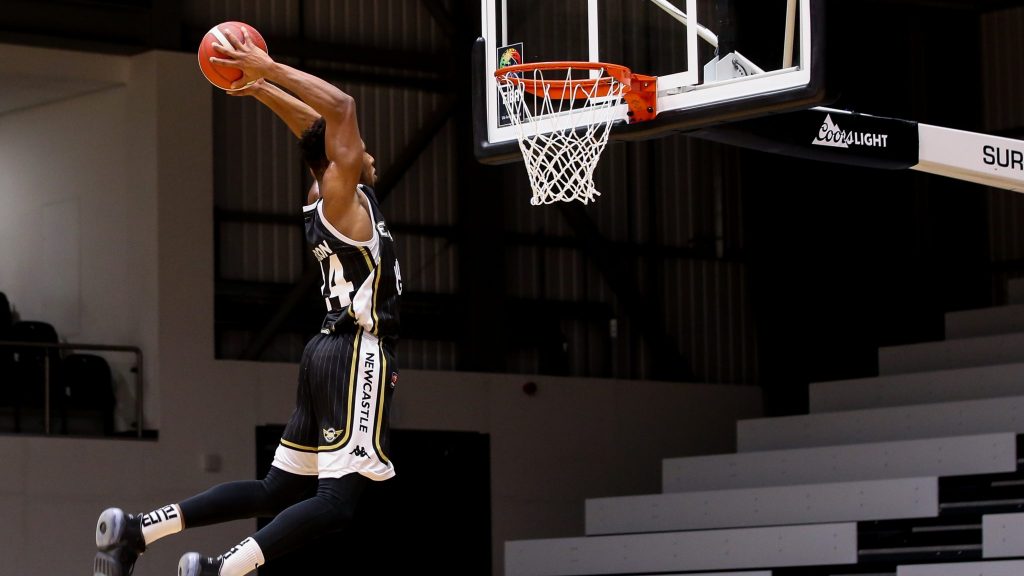 Tonight's match-up is especially poignant for Eagles' Cortez Edwards who lines up against the team he helped to BBL Cup Final success last season down in Worcester. The silky-smooth guard has been in sensational form for Newcastle this season and the Bristol win was no exception.
15 points, 11 rebounds and 8 assists gave Edwards MVP billing on Wednesday and he was pleased with both his own performance and the team's result as he looked forward to facing his former team.
"We're happy even though we didn't play as well we wanted to but we came out with the win and we made it to the next step so we're just trying to move on. There's a history of success at Newcastle. They've won multiple cups and championships so we know how to get there."
Edwards assessment was so honest and correct. A 72 – 64 score line probably doesn't tell the tale of what was in reality a comfortable win for the home side. The second and third quarters were decisive in letting them pull away so they could save some energy in the final period.
Energy they will need going into their third game in six days but Edwards felt the final period was more about their game management than looking to conserve.
"We just got out of synch a little bit but we managed to find a way to make it work and make sure we saw the job through."
Turning his thoughts to tonight's game Edwards and facing up to his old club he has slightly mixed feelings.
"It'll be kind of weird playing against them because we won the Cup together last season. But it'll be fun though and I'm really looking forward to it. I just hope I can have another good game and help my teammates get another win."
Edwards' backcourt partnership with Eagles Captain and Point Guard Rahmon Fletcher is the talk of the league with many saying it's the best in the BBL. They certainly seem to have gelled very quickly together.
Highlight Play from Cortez Edwards with Rahmon Fletcher and Justin Gordon
"They were a little bit out of position which meant me and Fletch could control the game the way we like too and make it easier for everybody. We'll be looking to do that on Friday as well. Worcester are a side that really runs their sets and offences good and play together well."
"They play through their bigs so we've got to be ready for a physical match-up. We're ready to play fast and speed them up to establish our game. We're a little bit sore and the games are coming up fast but in these times you're just happy to be playing and doing what we do."
Worcester didn't qualify for the Cup Quarter Finals and have a 1 – 1 record in the league. They have been running with a shorthanded squad as their summer import signings have yet to play a game for the club so far.
That might change tonight as it's rumoured that they might well have arrived in time to suit up for the game. If they do it will make the Eagles task that little bit more difficult facing a different Wolves side to the one that has been treading the hardwood so far this season.
The BBL Championship clash will be live to watch on the BBL Player with updates across the Eagles social media channels and website throughout the game.