| Date | Time | League | Season |
| --- | --- | --- | --- |
| October 24, 2021 | 5:30 pm | BBL Cup Group Stage | 2021-22 |
In what is fast becoming one of the most difficult starts Newcastle Eagles have had to a season in living memory, it was another tough night in the Vertu Motors Arena on Friday.
The Eagles 111 – 73 loss to Manchester Giants in the BBL Cup North Group game means they will no longer be able to retain a trophy they won in January of last season against London Lions.
It may come as a surprise to many that Newcastle have finished bottom of the five-team group with still a game to play, they go to Cheshire this afternoon. But given all the negative circumstances surrounding their start to the season it is more understandable than expected.
Visa and passport complications meant late arrivals to the UK and Head Coach Ian MacLeod had virtually no time to organise his roster into a system and get them game ready. They've been further hit by COVID-19 protocols and injuries to key players.
It all adds up to a one win six defeats record that has condemned them to elimination and whilst they do have to travel to Cheshire this afternoon for one final group game, all thoughts are already turning to the Championship campaign opener in front of the Sky Sports cameras at Leicester Riders this coming Friday.
But, as said, the Eagles go to Cheshire this afternoon and they will almost certainly still be without five senior players including stalwarts Captain Rahmon Fletcher and veteran forward Darius Defoe.
But in the gloom you have to search for the light and one player who is benefiting from the difficult start is local youngster Themba Yabantu who is taking the opportunity afforded to him by MacLeod to play extended minutes and run the team in the absence of Fletcher.
"Despite the results and the circumstances, I've enjoyed it. I always enjoy playing basketball especially when I get a lot of minutes. I've played a lot for Team Newcastle in EBL Division 1 but the BBL is a step-up."
"I think I've showed people I can play in the BBL. Obviously not forty minutes every game but when we get people back I think I've showed that I can help the team in some way when called upon."
"I think it's also helping my confidence as well. I always feel confident anyway in myself but being able to go out and show it on court against professional players does help my confidence grow."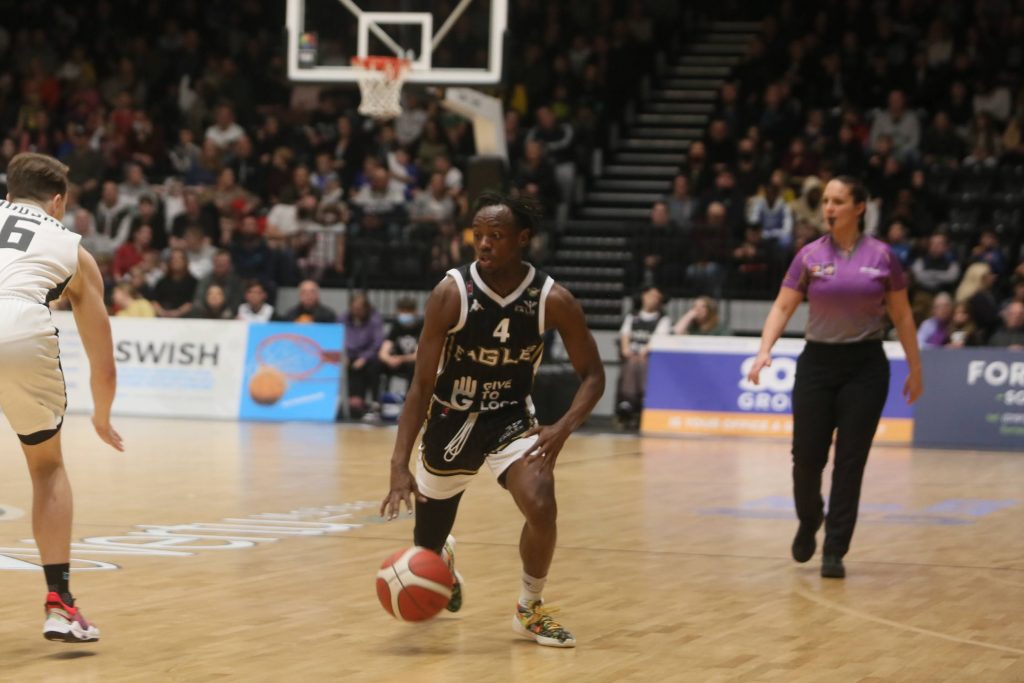 "Getting big minutes for Team Newcastle against teams like Hemel, Worthing, Solent and the standard they play at helps but it's definitely a different level in The BBL but I now feel ready for that competition."
Yabantu played a full forty minutes last Sunday against Glasgow in a narrow defeat where the Eagles were in the game right up to the final stages before fatigue set in and on Friday he logged another thirty-plus minutes as he continues his development.
"I think what one or two of us have done in the recent games is shown that the other guys when they're back know they can have confidence in us to help them out and it should help us all when everyone's back and ready to go."
"I've got to continue that progress and show that I can be relied upon to come into the game and give our main players a rest whilst not jeopardising the game situation or altering our position."
Yabantu is almost certainly going to be given another opportunity to show his worth to the roster at Cheshire this afternoon. With qualification for the next stage now no longer possible there seems no need for MacLeod to rush any senior players back. Yabantu should have the reins for his coach again.
"We'll go into the game with the same mindset we always have and that's to try and win. We're probably going to be short on senior bodies again but we just have to put in a performance we can build on."
"Then it's about preparing for the Leicester game which is going to be a big game. Hopefully, we should have some of our senior players back for that one."
The game is free to watch on the BBL Player and tip-off is at 5:30pm.