This weekend sees Esh Group Eagles Newcastle take a break from BBL Championship action as they fly down to London to take part in the Annual All-Stars Basketball Tournament at The Copper Box Arena, London tomorrow afternoon.
The competition which will be shown live on Sky Sports from 1:00pm, is in its second year and The Eagles will be looking to go one better than they did last year when they finished runners-up to inaugural Champions, London Lions.
The tournament is the sport's version of cricket's T20 with 12-minute running clock games, a five-point shooting line, a golden buzzer that when pushed inside the first ten minutes of a game doubles any points you score in the next two minutes.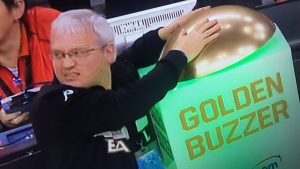 It's a challenge for all involved on the court and those running things on the side lines. It relies on players being switched on from the start and Eagles' shooting forward Kai Williams is looking forward to his second tilt at landing the All-Stars crown as his side begin their campaign against Glasgow Rocks.
"It's a unique event and I think it's good for the fans to have so many of the league in one venue in one afternoon. It's a very cool opportunity for us to promote our league and the different abilities and levels of players in our league."
"It's a strange event to be having a few weeks in to the season but it gives us a chance to play together in a different environment and bond and gel on and off the court. I definitely see it as a positive, it's just a bit different and kind of weird to get used too but for basketball it's a positive."
The Eagles go in to the event in great form and full of confidence. In some eyes they might even be one of the favourites but, Williams is not so sure.
"Everybody's feeling good and we've got off to a good start. But to be honest I don't think it matters how well you've been playing in the league because of the different rules. It really depends who adapts the quickest and capitalise on things like the golden buzzer which can really flip a game."
"I think everybody competing should have confidence going in to the tournament with the way the rules are. I don't think you can say one team's an underdog or anyone's heavily favoured. I honestly think anyone can win any game in any given 12 minutes with these types of rules."
A lot of pundit's experts believe its teams with high percentage long-range shooting that may be favoured. In Kai Williams, the Eagles certainly have a player that can hit from deep.
"I'm just looking forward to being out there with the guys and anyway I can contribute and help the team in the 12 minutes or however long I play then I will. It seems like it's a very offensive type game but 12 minutes is still a long time and defence will play a part too."
"Hey, if I'm on the court and that golden buzzer goes off I'll definitely be looking to put them up although I'm not sure I'll be going for the five-point shots that might be a bit out of my range."
London Lions are defending their crown on their own court and that may seem to give them an advantage, Williams agrees with that but still believes it's anyone's competition with a lot of guys from the competing teams playing for the first time.
"Lions probably may be people's favourites but with only 12 minutes a game and so many things that could happen I think a lot of the guys playing for the first time are going to get some big surprises. There are some teams that have shown they have some firepower this year and I think it's going to come down to who can make the big plays at the crucial times."