This Sunday it's the return of the British Basketball All-Stars Championship at London's Copper Box and with so many rules changes in a very different format of games to the BBL we've pulled together the low-down for you to follow the action.
The games take place across a five-hour session the eight teams playing in a double elimination format: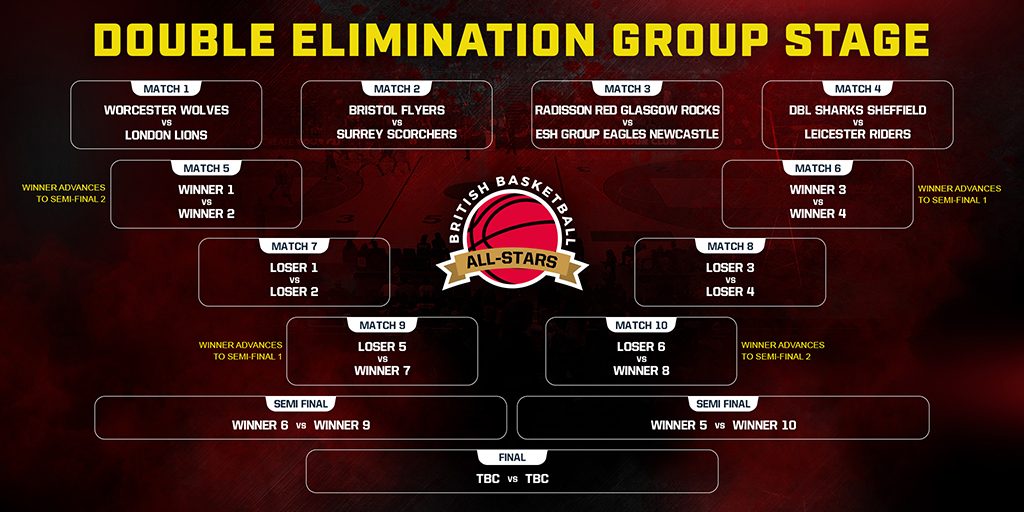 Two wins puts the team will straight through to the semi finals whereas two losses will result in being knocked out of the tournament.
Teams who win one and lose one of their opening matches will then play a deciding match for a place in the semi-finals.
All games are on a 12-minute running game clock with no breaks in play and a 20-second shot clock. Timeouts are different too with only one available per team per match lasting only 30-seconds.
Each team will also have the ability to double their points scored inside a 2-minute power play, but they must conclude during the first 10 minutes of the game and cannot be used while the opposing team's is in motion – so it's a fight for the golden buzzer!
Theres a five point line – which of our Eagles will be hitting some 'fives'?

Substitutions are rolling, which means a change can be made at any stage during the game – no need to wait for a break in play.
Thats the bulk of it, but you can get a full round-up of the rules on the All-Stars website.
Last year the London Lions won the first British Basketball All-Stars Championship, beating our Eagles 26-25 in an enthralling final.
Talking ahead of this weekend's event, our player/coach Fab Flournoy said: "It was a real showcase for The BBL and I'm pleased to see it back again this year."
"Hopefully we can go one better than we did last year as well", he added.
The game will be broadcast live throughout on Sky Sports Arena and Sky Sports Mix in the UK and Ireland, with coverage beginning at 1pm and concluding at 6pm. The coverage can also be watched around the globe on a number so check out the All-Stars website for more details.