Basketball. But not as we know it.
The last time Newcastle Eagles stepped out on court it was against the backdrop of a thrilling BBL Trophy final in Glasgow.
You can now watch the game in full for free:
A raucous crowd, raw emotion and the razzamatazz of a game founded on pure entertainment combined to create a special atmosphere prior to lockdown.
Fast forward six months and the contrast could hardly be more marked.
This pre-season friendly was meant to be the first step on the road to competitive indoor sport with crowds.
The Eagles Community Arena was set to welcome 800 fans in a pilot for BBL fixtures moving forward.
And a hotly anticipated clash between two fierce rivals should have been cause for genuine optimism within the UK's increasingly frustrated basketball community.
Instead the match was moved behind closed doors at less than 48 hours' notice and the North East finds itself under fresh measures designed to limit the spread of Covid-19.
But if hopes that sport can return to normal anytime soon have all but evaporated, it's not all doom and gloom within the Eagles' camp.
Ian MacLeod deservedly shed his 'interim' tag during the summer and Newcastle's ambitious head coach has assembled a roster with pace and precision at its heart.
New signings Evan Maxwell, Justin Gordon, Rex Pflueger, Louis Sayers and Cortez Edwards have arrived on Tyneside with a point to prove.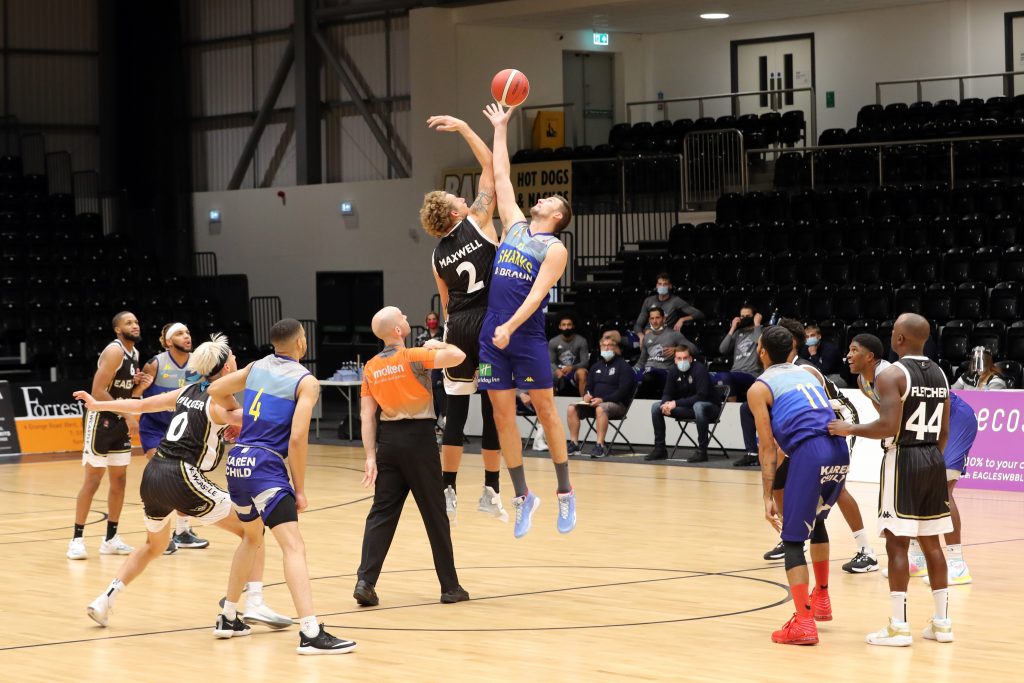 And behind the scenes the Eagles have entered into a partnership with national sport organisation GiveToLocal which looks set to reap rewards on and off the court.
Of course, a bouncing ECA crowd backing MacLeod's new-look roster would be the icing on the cake.
But after half a year without BBL competition, any kind of senior basketball action is surely a blessing.
And Newcastle and Sheffield rarely disappoint such is the history of this storied rivalry.
To describe this traditionally feisty match-up as a 'friendly' would be disingenuous in the extreme.
The two teams shared six fouls inside the opening two minutes and Sharks playcaller Atiba Lyons was fortunate to escape a first quarter technical with tensions rising.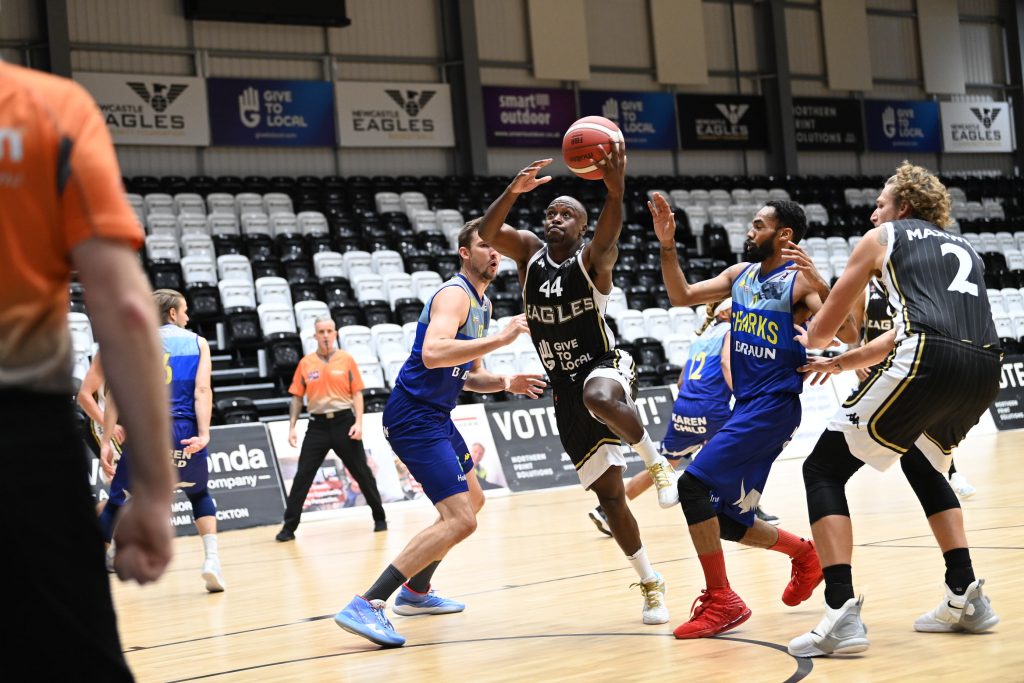 The Eagles led 24-18 after the opening period with Sheffield's classy Nick Lewis responsible for 13 of his team's total.
Newcastle had eight scorers inside the first 10 minutes – compared to Sharks' three – and MacLeod must have been delighted with his team's ability to share the offensive load.
Four days after his complete roster trained together for the first time there were already positive signs underpinned by some pretty plays.
But for all their offensive fluidity there was a significant drop in the Eagles' defensive intensity during a disjointed second period.
And the visitors recovered from 34-20 to level things up at 43-43 at the half.
Gordon would have had home fans off their seats – had there been any in the house – on the back of some dazzling footwork in the paint to fire Newcastle 55-48 in front.
And the athletic forward showcased his all-round game moments later by dropping an arcing three right in front of the onlooking Lyons.
Of all the Eagles new boys, the former Wofford University Terrier was making the biggest noise on an eerily quiet night.
But Edwards and Maxwell got in on the act with two minutes to play in the third – the former setting up Newcastle's busy centre for a sumptuous dunk.
The hosts led by 16 heading into the final quarter and never looked in danger of letting a big lead slip for a second time.
British basketball might still be feeling its way back but this was business as usual for the impressive Eagles.