Seriös Group Newcastle Eagles is the new name for a new era of professional basketball in the North East after the BBL's most successful franchise sealed a bold new partnership.
Tyneside-based Seriös Group will shape the identity of both the men's and women's franchises after securing naming rights for the new season.
The rapidly expanding data and test solutions provider will also take its place front and centre on Marc Steutel's new-look BBL team's jerseys while retaining its striking on-court hoops branding.
"Last season Seriös Group came on board as our Official Analytics Partner and we've been able to do some fantastic work together," explained Paul Blake, Managing Director of Newcastle Eagles.
"The relationship has grown stronger and stronger to the point where both sides can see the value in growing together.
"The club has been looking for the perfect naming rights partner for some time and Seriös Group ticks all of the right boxes."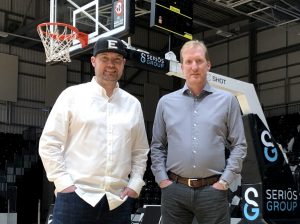 Seriös Group has been working alongside the Eagles since September 2022 and the ambitious firm has moved to rubber-stamp its relationship with the club at every level.
"We're fortunate to have met many of their staff on game nights and they've been welcomed into our wider business network with open arms," added Blake.
"This is an exciting development for the club and the Eagles Community Foundation as we look to secure the future of men's and women's basketball in the North East."
Following the firm's move into new premises in Newcastle's Hoults Yard and the expansion of their workforce, Seriös Group's CEO Lee Rorison is predicting big things on and off the court.
"We are incredibly proud and excited to be both the club's naming rights partner and BBL team's main sponsor for the forthcoming season," said Rorison.
"Following on from our hoops sponsorship last season, where we gained exposure that generated new business, we felt this was the natural next step to strengthen our partnership with the most successful British basketball team of all time.
"As well as gaining brand exposure through the new partnership, it also provides us with a fantastic platform to showcase our best in breed data analytics technology, Seriös One, at the Vertu Motors Arena.
"We're already working with Paul and the team to collect many data points and help with energy reduction and sustainability.
"Myself, my management team and all of our people could not be more excited for this new era and we can't wait for the new season to begin. Let's go Eagles!"
Seriös Group was formed in 2020 with a remit to provide quality and competitively priced data and test solutions.
The firm already boasts a varied roster of regional, national and international clients and is recruiting now to bolster its Newcastle headquartered operation.
New product Seriös One launched earlier this year, offering businesses the opportunity to fully unlock the full potential of their data.
And Marc Steutel, head Coach of Newcastle Eagles, added: "Everyone involved with the club and Foundation recognises the value of this partnership.
"The people at Seriös Group are hands-on when it comes to supporting everything we do and from day one they've been keen to extend that support to game nights.
"The players and the staff appreciate that support and it's great to know we'll be working together more closely in the future."
The club is expected to reveal its 2023-24 season BBL team kit next month as Steutel's new roster takes shape this summer.