For the first time in 14 years Newcastle Eagles have failed to make the semi-finals of either of the BBL Cup or the BBL Trophy. Simon Rushworth asked owner Paul Blake whether the bubble has finally burst – or whether this season's inconsistency is simply an inevitable bump in the road.
For any other franchise second place in the league and back-to-back wins against title rivals Leicester Riders and Cheshire Phoenix would represent the strongest of starts to 2018. But Newcastle Eagles are not – and never will be – 'any other franchise'.
The club's phenomenal record demands the highest standards and winning 24 trophies in 13 seasons brings its own pressures. Expectations soar and minimum standards must be met: Newcastle have made at least one knockout semi-final every season since the 2004/05 campaign. Until now.
Consequently, last Friday's failure to reach the semi-final of the BBL Trophy, hot on the heels of a BBL Cup exit at the quarter-final stage, prompted the inevitable inquest and intense scrutiny.
That a painful defeat at the hands of Sheffield Sharks was sandwiched between impressive league victories against Leicester and Cheshire suggests it's too early to press the panic button. However, Eagles' owner Paul Blake accepts these are relatively tough times for a franchise in transition.
"This is the reason we need a new building," said the visionary head of an ambitious organisation. "Just as other teams are improving we need something to kick on and improve our position financially. The new venue will make us a better club on and off the court."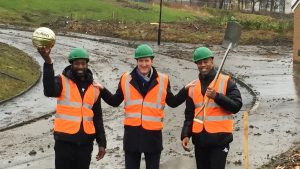 The construction of that new venue – the state-of-the-art Eagles Community Arena – gathers pace this week. Blake's job, in tandem with trusted coaches Fabulous Flournoy, Dave Forrester and Ian Macleod, is to ensure the on-court product matches the off-court facilities. And that the Newcastle team of the future matches up to the storied line-ups of the club's glittering past.
"The knockout losses are tough to take for everyone at the club," he added. "The kudos that comes with reaching a final, the day itself and the experience that players gain are all things we'll miss this season. The new guys will only fully understand that once they reach their first final. After that they'll want to go back again and again. It's addictive.
"Where we are right now is absolutely down to the fact that we have a new group of players who need time to adjust. We're now realising what an exceptional group of players we had over a long period of time with some really special talents. You can't replace that group overnight.
"That's not to say that we haven't got talent now – of course we have. But there's a lack of experience when it comes to playing in the BBL, playing under Fab and buying into his ethos of total team basketball. It's no surprise. We were ready for this."
In fact both Blake and Flournoy remain surprisingly pragmatic when pressed on an atypically inconsistent campaign to date. Where Newcastle teams in the past have been built on stifling defence and total team basketball, the current group is more likely to win games by outscoring the opposition and relying on individual bursts of brilliance as evidenced by the wildly exciting backcourt pairing of Jaysean Page and Saah Nimley.
"The fact is we are only five months in to trying to gel a new and talented group of players after years of consistency and continuity," added Blake. "It takes time. The new guys aren't going out there to lose games and, in fact, they're winning some pretty big matches week in, week out.
"When you look at our league position then we're still in it. Other teams will look at where we are – after league wins against Leicester and Cheshire – and wonder what all the fuss is about.
"To bounce back from the Sheffield loss and go down to Cheshire and win tells me a lot about the mentality and determination within the current group. There are plenty of trophy winning Eagles' teams who have gone down to Cheshire over the years and come back on the wrong end of a heavy loss. It's not easy to go there and win."
And it's not easy to win trophy after trophy, season after season, decade after decade. Even the greatest sporting dynasties experience a dip during periods of inevitable change and Newcastle are not immune to the odd high-profile defeat. Most recently the Eagles have been unable to avoid a post-Christmas slump.
"For the last two seasons – as we've been switching out the old guard – we've enjoyed blistering starts to the season and rather less blistering finishes," agreed Blake. "The challenge now is making sure that doesn't happen again.
"But as in previous seasons our opponents have had plenty of time to do their homework and work us out – it's now down to us to step up again. Unless we do that then we're at risk of history repeating itself."
In our next home game we host London Lions at Sport Central on Friday 2 February and tickets are still available. Get a discount now by joining our email newsletter: