Following our huge win over third-placed DBL Sharks Sheffield last night in front of a fantastic crowd supporting us at Northumbria University Sport Central, our Esh Group Eagles Newcastle threw their support behind fellow North East sports team Sunderland AFC's fundraising campaign 'For Bradley' to create a holiday home for sick children and their families.
The 'For Bradley' initiative honours the memory of six-year-old Sunderland fan Bradley Lowery, the Blackhall youngster, who captured the hearts of sports fans around the world as he bravely battled neuroblastoma.
The Bradley Lowery Foundation aim to build 'Bradley's Place', a holiday home to provide families an opportunity to spend time together, something which was so important to the Lowery family.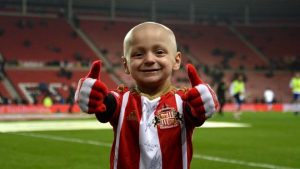 Eagles forward Kai Williams was joined on court for our team by his brother Jamal for the first time last night and between signing autographs for our fans after our eighth straight league victory on Friday the brothers stopped to support 'For Bradley' by doing Bradley's famous double thumbs-up.
The club is asking fans to share pictures or videos of themselves giving a double thumbs-up using the #ForBradley hashtag on Twitter and Instagram.
Good luck to the Bradley Lowery Foundation with their campaign to build 'Bradley's Place' from everyone at the Eagles.