Esh Group Eagles Newcastle have taken the opportunity to strength their roster further and to address any potential issues in the future by signing 6' 5" forward Jamal Williams.
If the name's familiar so will be the face as it's none other than current Eagles player, Kai Williams' brother who played alongside Kai for London Lions last season before picking up a season ending in November.
Jamal who has fully recovered from his injury will go straight in to training to be considered for the game against Sheffield on Friday. Like his brother, Jamal holds dual-Canadian/British citizenship and his signing is quite a coup for The Eagles.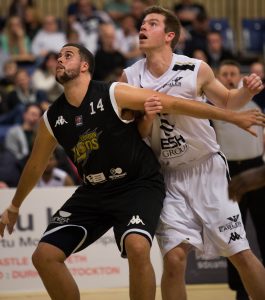 "We spoke to Jamal in the summer and were aware of his rehabilitation schedule. Now that he's been given the all-clear to get back in to training and play again we felt we had a space on our roster and could fit him in to our plans," commented Head Coach Fab Flournoy.
"This is a year when our squad is going to be tested by international callups in both FIBA competitions and potentially The Commonwealth Games, as well as injuries. When we became aware that Jamal was interested in playing here it made a lot of sense for us to bring him in."
Williams, who has played his whole professional career in The BBL since signing for Mersey Tigers in 2010/11 will make Newcastle his 5thstop in The BBL after also having spells with Plymouth and Worcester.
At Worcester in 2013/14 and in the last two seasons at London he's also played alongside his brother and is excited to be not only linking up with him again but also signing for The Eagles.
"Kai and I love playing together, it's safe to say we are a package deal."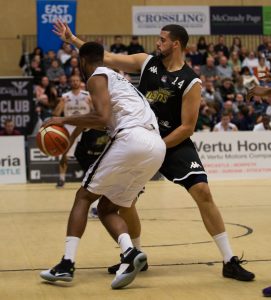 "Since my injury, I have maintained a good level of fitness. I have recovered ahead of schedule.  It has been a year since I have played in a BBL game, but the past 4 months I have been playing in a local league in Canada."
"Along with, practicing with the University team. It is not the same skill level as the BBL, but it has been beneficial to my game and keeping a rhythm. I am very excited to be back in the league, I'm ready and very confident in my abilities."
"I have always admired Newcastle's level of professionalism, since I entered The BBL. They look after their players and have great fan support. I am looking forward to playing for Fab and his coaching staff. I have enjoyed playing against the Eagles, I know playing for the Eagles will be a nice change."
"Kai and I love playing together, it's safe to say we are a package deal. I have followed the Eagles closely and have talked to Kai throughout the season. Kai is very happy with his decision to play in Newcastle and thinks it's a great fit for me as well."
"The Eagles already have a great roster. I hope to fill in wherever needed, with my versatile skill set and BBL experience."
Jamal who has his 31st birthday on the 26th of this month is known as a rugged competitor who brings a hard-nosed blue-collar work ethic to every practice or game, attributes that will serve him well under Flournoy and with The Eagles.
The Williams brothers will be reunited as team mates when Jamal makes his debut as an Eagle this Friday to take on the DBL Sharks Sheffield and tickets to be in Sport Central for this huge game are still available.