With the sponsorship of GiveToLocal all confirmed, the Newcastle Eagles have gone local to further stock their 2020-21 line-up.
Two of the rising local stars return to the roster for this coming season and they are joined by a new face on the bench for his rookie BBL season.
The three players have all been through the Eagles Academy programme, flourished in the local college scene and will continue to "double-up" next season as well as being part of the Eagles set-up this forthcoming campaign.
Point Guard Themba Yabantu returns for his third BBL season and will also play for Team Newcastle in the NBL Division 1.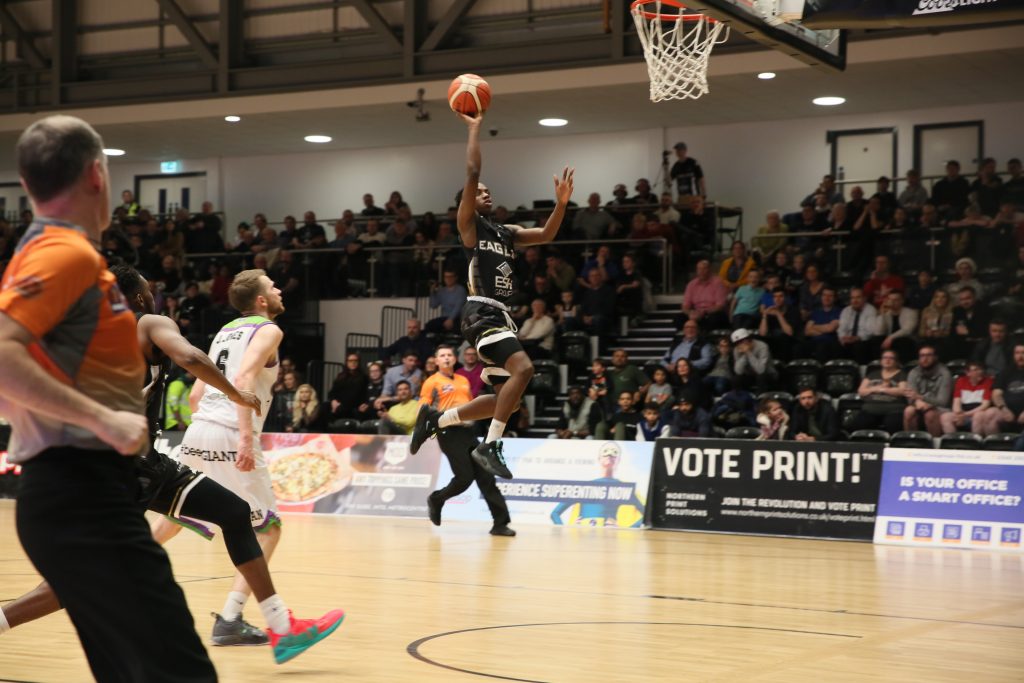 Sauveur Kande begins his second season with the senior side and will combine those duties with also being part of the Eagles EABL U19 and NBL U23 set-up.
The rookie is Sean Murphy who has been under the previous tutelage of Eagles head coach Ian MacLeod when he was at Gateshead College will also feature for Team Newcastle in NBL Division 1.
MacLeod is happy to add three "Geordies" to his squad and in the hope that being around senior professionals can help the local talent to grow and progress.
"Themba is in his 3rd season now and is showing positive signs regarding his development", he said.
"It is a testimony to our performance pathway that he continues to receive exposure to a pro-environment while playing the bulk of his game time with our NBL1 nursery team Team Newcastle.
"He will continue to be a main part of coach Mark Elderkin's side to aid his development."
Themba appeared in six Eagles games last season the highlight of which was his 8-points, 4 rebounds and 3 assists in 19 minutes against Manchester Giants at home in a 131 – 63 win.
Small forward Sauveur appeared four times in an Eagles game last season as well as earning a call-up to the Basketball England U18 squad and forced his way on to the Eagles roster last term with some fine performances in pre-season.
"It is important we do not rush Sauveur in his development. At 18 there are a lot more steps for him to take before becoming a full-time pro," MacLeod told us.
"He has worked hard this summer and I look forward to him playing a key role in our u19 and u23 squads while with us he will fill the 'development player' role and continue to learn from the senior players."
The rookie being called-up to the senior squad is Sean Murphy a 6'4" wing player that MacLeod knows well.
"Sean will play with our feeder team 'Team Newcastle' in NBL1 and will also be part of our squad. Sean played in our u23 team last year and performed admirably", added the BBL team's head coach.
"I worked with Sean for 3 years at Gateshead College Academy – along with Themba – and he is a real competitor that I have a lot of belief in.
"He can score at all 3 levels, this is a big opportunity for him. I won't put too much pressure on him as he needs time to develop but NBL1 should see him gain the bulk of his playing experience."
The latest announcements mean that the Eagles roster is almost complete but there are still more irons in MacLeod's fire which will hopefully be confirmed soon.