Fabulous Flournoy went against the best advice of Newcastle's medical team in a last-gasp bid to bolster an injury-ravaged Eagles roster.
And the veteran New Yorker could pay a heavy price for his unexpected return as he faces a race against time to be fit for Friday's homecourt clash against Manchester Giants.
Flournoy and Darius Defoe were the surprise names on Newcastle's bench last Friday following news that leading scorer Jaysean Paige had been ruled out.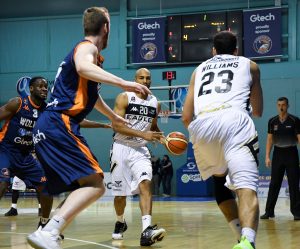 But the Eagles' playcaller admitted: "I wasn't ready. In an ideal world I needed another week but when Jaysean went down we had no time to change our plans.
"I'd been helping the guys to prepare for the Worcester game all week so I knew the gameplan inside out.
"It was too late to rip things up and start again and we didn't really have another option. On reflection it did Darius the world of good easing back into the BBL with eight minutes. But did it help me? Yes and no. Let's just say I'm not very popular with certain members of staff right now."
Paige was the fourth Eagles player to suffer an ankle knock this season after Saah Nimley, Terry Martin and Flournoy all went down with the similar injuries.
And Newcastle's medical staff are considering whether a flurry of lower leg problems are more than simple coincidence.
"The question has been asked in terms of what we're doing in practice and the irony of the situation is that there are preventative measures in place," added Flournoy.
"We are conscious of the fact that a few of the guys have gone down with ankle injuries – including me – and we have looked at things very carefully.
"We're still waiting for the results of Jaysean's scans and we're just hoping it's not a long-term thing.
"Right now we're dealing with things on a day-to-day basis and I honestly don't know who will be available for the Giants clash on Friday."
Drew Lasker was due to arrive back on Tyneside late last nigh following his Commonwealth Games adventure with England.
And Defoe has responded well to his brief run-out against the Wolves following a month-long absence from the BBL.
Both players – along with Flournoy – face late fitness tests on Thursday.
And Newcastle's player-coach added: "It's like shuffling deck chairs on the Titanic right now! We're not sinking yet but it feels like every week we pick up a new injury just as it looks like the guys are getting used to their new roles and responsibilities.
"I don't expect to see Drew until Wednesday at the earliest and who knows how he'll react to a long flight back from the Gold Coast?
"Darius should be in contention to play more minutes against Manchester – it was always the intention to ease him back into that game.
"And that leaves me and Jaysean. I can't make a call on either of us at this stage.
"It's also an increasingly difficult situation in practice. We are down so many bodies that we've had to call in favours from guys at Team Northumbria and Gateshead College just so we can run some stuff in practice.
"We started this season with one of the deepest rosters in our history and it still hasn't been enough. But that's sport."
Tickets are on sale for this Friday night's game and can be purchased for a discount if you sign-up to our newsletter for an instant offer in your inbox: