| | | | | | | |
| --- | --- | --- | --- | --- | --- | --- |
| Worcester Wolves | 29 | 19 | 24 | 15 | 87 | Win |
| Eagles | 14 | 19 | 10 | 22 | 65 | Loss |
It was unlucky Friday the 13th for Esh Group Eagles Newcastle as once again their road game jinx hit them hard and they fell to another crushing away defeat in Worcester last night, writes Jeff King.
With London Lions winning comfortably at Leeds, the scrap for second place in The BBL is now well and truly on. Eagles travelled without Commonwealth Games absentee Drew Lasker which was balanced by Robert Gilchrist for Wolves in similar circumstances.
However, the biggest blow to Newcastle's hopes of picking up an away win came with the news that the league's leading scorer and Eagles talisman Jaysean Paige had picked up a bad ankle injury in training and was unable to take his place in the away side's line-up.
This meant an earlier than planned return to playing duties for Head Coach Fab Flournoy and his trusty Lieutenant Darius Defoe although it was obvious from the moment that both took the court from the bench that neither was anywhere close to 100% fit.
Jure Gunjina was the first Eagle on the scoresheet as he levelled the home side's Dallin Bachynski's opening bucket. Wolves though looked the smoother and a 7 – 0 run gave them an early lead that they never looked like giving up.
Saah Nimley and a triple from Kai Williams triple threatened to keep Newcastle in the game but a combination of missed shots from Flournoy's side, better ball movement and inside play from Wolves saw them gradually increasing their lead.
With Zarko Jukic's free-throw woes continuing, the Eagles were struggling to find any answers and even when Flournoy came on to court to help his side they still couldn't find any effective answers as they ended the first 29 – 14.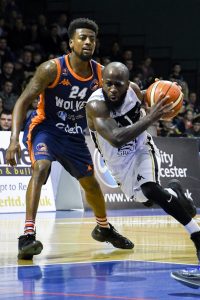 As the second opened it was Nimley that looked the only way the visitors could get back in to the game but Wolves gradually with more all-round scoring and power especially on the boards edged even further in front.
Newcastle's discipline started to cause themselves even more problems with the fouls racking up. Defoe didn't help his or his side's cause by picking up a foul followed by a technical to put him on four before half-time.
Wolves although not taking full advantage were still doing enough and went to the locker room with a 48 – 33 lead and Eagles knew with twenty minutes to go it was going to be a long, long, long way back.
Any hopes that Newcastle may have had of coming back was all but extinguished with the opening to the second half which saw Worcester come out the stronger. On the back of a 10 – 0 start which included Defoe fouling out of the game they firmly cemented a crucial win for their play-off hopes.
In truth the Eagles look dispirited as they continued to resort to long range efforts which weren't connecting. They could find nothing inside although Jamal Williams did at least try to find something there as he tried, along with his brother to give Nimley some support.
Wolves though found that ruthless streak they had lacked in the second quarter and a 24 – 10 third period saw them up by 29-points with merely the formality of the last ten minutes to play and for Newcastle to endure.
To their credit, Newcastle did win that final ten minutes as Wolves loosened the grip on the Eagles throats, but it was too little way too late and the final score-line reflected a night that Fab Flournoy and his players will want to put behind them very quickly.