Esh Group Eagles Newcastle's preparations for this weekend's vital double-header road trip at Bristol and Plymouth has been hampered by international call-ups, writes Jeff King. But, the players know that they must put that behind them and come-up with the formula to keep their 100% BBL Championship record complete.
One of those players that has been away for the early part of the week was veteran guard Drew Lasker who was at the preliminary Commonwealth Games squad get together for England, something he really enjoyed being part of.
"It was incredible. It was a great experience, great environment playing with the best National players in the country. Every day was intense, and it was great to be part of it."
But Lasker also knows that he must put that quickly behind him, get back in the swing with the things in The Eagles camp and prepare for what is always a tough road trip and he can prepare in the knowledge that last Friday he was back on court in the win over Sheffield after returning from injury.
"It was good to get back on court again and it was good to feel myself again. I didn't feel that I completely had my legs as it was my first game back and I felt like I was a step slow. But I was just happy to be out there on the floor instead of being on the side-lines clapping so it was nice."
It was a game The Eagles looked like they were coasting in the first-half before Sheffield came right back and almost shocked Lasker and his team-mates before Newcastle closed the game out.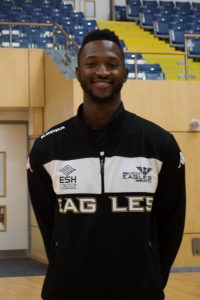 "For me it's just growing pains that we're going through having a young team who are trying to figure out how to close out games. That takes some time to become aware of how to do it as a team. We're aware that in games teams will come with runs against us and it's up to us to learn how to stop those runs being big runs and momentum changers."
"We have two tough games this weekend and need to get to grips with them early. This is probably our toughest road trip of the season. Being a new team and being aware of the league you can't always look at the standings and play and think according to that."
"You have to take in to consideration the length of the trip and two tough gyms to play in. The new guys aren't aware of how tough Bristol are. They play hard and their crowd always lifts them as they are so loud. Plus, they are always well organised and well drilled."
"Then you have to turn around less than 18 hours later and two hours further south and do it all again. So, it's a tough, tough road trip but we'll be ready for it."
Lasker, as is well documented, spent six seasons with Plymouth in two spells and even met his wife there so it's a bit like a homecoming for him.
"Yea, it's the longest and toughest road trip but it's also my favourite 'cos I'm looking forward to seeing family and friends. But I'll be focused on the game first and getting the win at both Bristol then Plymouth. I can say my hi's and good-byes after the game."
"We'll focus on going 2 – 0 this weekend and if we can get out of there, 2 – 0 that'll be massive for us as a team and keep everything rolling in the right direction."