Drew Lasker has pledged to do Newcastle proud as he prepares for the most exciting challenge of his basketball career.
The veteran Eagles guard flies out to Australia on Thursday as part of England's 12-man Commonwealth Games squad.
And Lasker has promised to make the most of an unexpected opportunity after grasping the chance to play international hoops with both hands.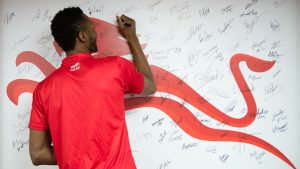 "I'm going to the Gold Coast determined to make my family, friends and adopted city of Newcastle proud," said the naturalised Texan.
"I never thought I'd have the opportunity to play basketball at this level and it is an honour for me to represent England.
"When I got the call that I'd made the final 12 it was an incredible feeling. I'm so excited."
England tip off their Commonwealth Games campaign with a mouthwatering clash against cross-border rivals Scotland.
And Andreas Kapoulas's roster must then find a way past Pool B rivals India and Cameroon in the race for a semi-final spot.
"Playing Scotland is a great way to start the tournament," added Lakser. "Both teams know each other inside out with the majority of the players coming from the BBL.
"It's a game to get the fans talking and should be the competitive clash both teams needs after their holding camps.
"After that we head into unknown territory. The next two weeks will be spent getting to know each other – and finding out all we can about India and Cameroon!"
England's route to the semi-finals is a tough one with the top two sides in Pool B not guaranteed a Final Fours spot.
The group winners and runners-up must face one of the four seeded teams from Group A to secure a semi-final place.
And even then England are likely to find themselves up against hosts Australia or joint favourites New Zealand in the last four.
"I'm just hoping that I can bring some of my big game experience to the table and use that when it matters most," added Lasker.
"Along with my former Newcastle team-mate Andy Thomson I'm one of the most experienced guys on the team.
"And I see myself as someone the younger guys can bounce off and lean on – especially in the pressure situations.
"You can't learn what it takes to win in those big games. It only comes with experience.
"Andy and I have that experience and that's what we'll be trying to pass on to the younger players."
Lasker will be joined Down Under by two familiar faces with Newcastle's sister club Team Northumbria well represented at the Commonwealths.
Northumbria University's head coach Chris Bunten will assist England playcaller Jose Maria 'Chema' Buceta in the women's tournament.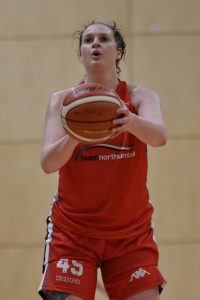 And TN's experienced forward Hannah Shaw will be pushing for a starting spot in a side seeded in the top four in Australia.
"I'll be looking to support Chris, Hannah and the women as much as I can," added Lasker. "One of the things I'm looking forward to most is the chance to support England across the board and watch as many sports as I can.
"If our schedule allows I will be there! I'm ready to soak up the whole experience – from the on-court battles to spending time in the athletes' village and supporting my fellow athletes.
"I always think it's fantastic that Team USA's athletes are always out in force backing their team-mates at the Olympics whatever the sport.
"We have a lot to pack in to a very short space of time but I see myself as a fan as much as a player."
England's men tip off their Commonwealth Games campaign against Scotland on April 5. The women face Canada on April 6.