The Women's British Basketball League (WBBL) has today confirmed the fixtures for its eighth season and the fourth for our Newcastle Eagles franchise.
On the back of their spectacular history-making 2021 Play-Offs Final finish, our Eagles head into the forthcoming season flying-high and with fans eager to return to the Vertu Motors Arena for the team's new regular Saturday night tip-offs.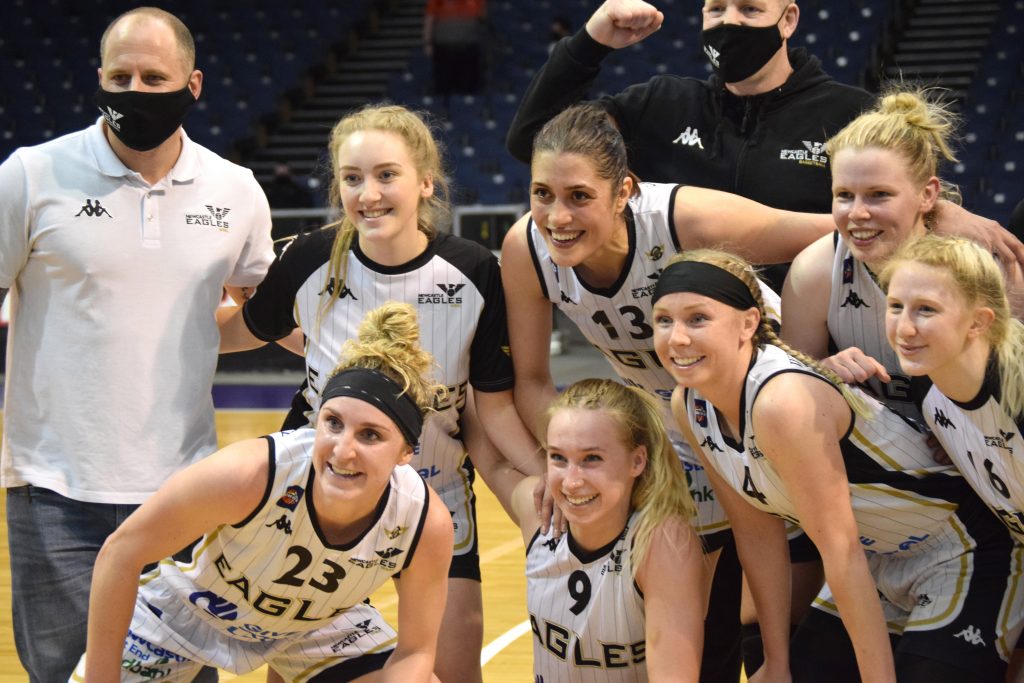 Following the recent announcement of the return of Sheffield Hatters to the WBBL, along with the addition of new franchise Gloucester City Queens, the league will be progressing with 13 teams, the largest number in its history promising 12 games home and away in an even more exciting and action packed season.
The 2021-22 season will commence on Friday 24 September 2021 for a spectacular opening weekend consisting of the WBBL Cup group stages.
Our Eagles will compete in the the Cup's Group A along with Caledonia Pride and Durham Palatinates. Each group's games will be hosted at one central venue, with each host venue yet to be confirmed.
The WBBL Championship campaign will then tip-off for our Eagles a week later with their first new Saturday evening home game at 7pm on 2 October 2021.
Take a look at the full list of the confirmed game dates for the season in the WBBL fixtures section.
Further down the road the first silverware final of the campaign will take place on Sunday 30 January 2022, at the Utilita Arena Birmingham with the WBBL Cup Final, followed by the WBBL Trophy Final on Sunday 20 March 2022, at Emirates Arena, Glasgow.
The Eagles will be raring to return to the Play-Offs Final after getting so close to the coveted trophy in May this year and the Play-Offs makes its return to The O2 in London on Sunday 15 May 2022.
All fixtures are subject to change as final preparations for the season continue.
The full competition formats for the new season are as follows:
WBBL Cup
Cup Group Stages will consist of three groups of three and one group of four (split geographically):
Group A – Caledonia Pride, Durham Palatinates, Newcastle Eagles
Group B – Manchester Met Mystics, Nottingham Wildcats, Sheffield Hatters
Group C – Cardiff Met Archers, Gloucester City Queens, Leicester Riders, Oaklands Wolves
Group D – Essex Rebels, London Lions, Sevenoaks Suns
Each team plays each other team in their group once.
Group Stages will be hosted as an Opening Weekend (24-26 September) to commence the season and each group's games will be hosted at a central venue of one hosting team.
The winners of each group will progress through to the Semi-Finals, which ties are assigned by as below:
Group A Winner vs Group C Winner
Group B Winner vs Group D Winner
Semi-Finals – 20-21 November 2021
Final – Sunday 30 January 2022, @ Utilita Arena Birmingham
WBBL Trophy
A straight knockout competition.
The teams who placed 1st-3rd in the 2020-21 WBBL Championship will receive a bye into the Quarter Finals. Those teams are:
Sevenoaks Suns
Leicester Riders
London Lions
The remaining ten teams will make up the First Round, with ties assigned by seeding (since Sheffield have re-entered this season and Gloucester have joined, for these purposes they will be noted as the '12th' and '13th' seed from 2020-21):
First Round
Nottingham Wildcats (4th) vs Gloucester City Queens (13th)
Manchester Met Mystics (5th) vs Sheffield Hatters (12th)
Essex Rebels (6th) vs Caledonia Pride (11th)
Newcastle Eagles (7th) vs Durham Palatinates (10th)
Oaklands Wolves (8th) vs Cardiff Met Archers (9th)
Quarter Finals – 05-06 February 2022
Semi-Finals– 05-06 March 2022
Final – Sunday 20 March 2022, @ Emirates Arena, Glasgow
Newcastle Eagles WBBL season tickets are on sale for the 2021-22 season from our box office at just £60 per person – reduced to £30 for BBL season ticket holders when they login – and include all home Championship, Cup and Trophy games, plus any potential Play-Offs Quarter-Finals.