A long overdue blog methinks but in all honesty there has been little to blog about or has there? No, I don't want to mislead you all, I haven't a lot, if any, of the information that I'm sure you're all craving but I have some opinions on some of the things that have been going on in and around our little world and thought perhaps it was time to share them.
Unfortunately I have to start with a couple of negatives which include a sad note. The extremely untimely death of ex-Leeds Force Centre Gazmend Sinani was a huge shock. In a season that was a struggle for Force, this amiable giant was one of the highlights for them.
In 15 games he averaged 15.3 points and a league leading 11 rebounds a game. It may well be that those numbers may have found him a job elsewhere this season. We'll now of course never know after his tragic car accident and all we can now do is send our best thoughts and wishes to his family and friends for a life cut short in such awful circumstances.
Which I guess moves me on to Leeds as a franchise and their demise. I'm afraid from what we saw last year it probably seemed inevitable to you all.
A change of coach on the eve of the season, possibly (Dan Routledge are you reading this?) the biggest number of players used in a season and those players seemingly on a yo-yo string, disastrous results and virtually no-one going to watch meant it was no surprise when the official announcement came.
It certainly wasn't a surprise to me at all as I'd already been told well before the end of the season that it was a certainty. It just seems such a shame after the previous season they'd had. I'm not privy to what went on behind the scenes but the loss of Matt Newby and Mark Mills does from my stand point seem to be something they couldn't replace.
But, as Fab often says, that's history now and we must look to the future and what it means for The BBL. Short-term pain but perhaps long-term gain may be the answer if the well informed person I was talking to is to be believed and believe you me I believe him.
The BBL may well struggle to replace Leeds this season but I am reliably informed that there are newish teams coming. Perhaps names we've seen before and perhaps some brand new ones but, all things being equal, they are coming. Almost certainly not in time for next season but then you never know!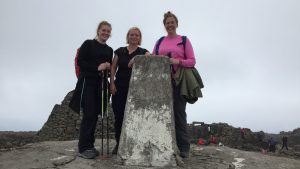 At this point I want to change tact as I've just remembered something that I need to put in that's not on my bullet point list I'm working from! How about the Eagles staff then? Let's give it up for those that climbed to the highest point in The British Isles for our organisation and in the new arena.
What a spectacular effort and well done to all. A magnificent achievement and one they all should be proud of as should the two or three of you who are reading this! We may not have had the greatest season on court but we never stand still off it as this success clearly demonstrates.
Okay, back on track. Hasn't there been some interesting things going on already in the close season even if some of it has little or is very tenuously connected with us? Sheffield have stuck first already confirming Tuck, Marsden and Alexander as coming back. The first two were probably nailed on but even though he had a good season, Alexander is perhaps slightly surprising?
Over at Cheshire it's on PG out with Bailey returning to France but Ashton Khan returning to The BBL in an interesting move. Bristol have lost Leslee Smith after a solid couple of BBL seasons and Leicester, more of them later, have lost two and retained two so far. There's probably others but that's what I know so far.
I think the coaching situations tough are far more fascinating. Was it a surprise that PJ left Wolves? Considering his influence there it was possibly a bit of a surprise but, it had been rumoured in the last couple of off seasons so perhaps it wasn't.
Then of course before that announcement we had what I thought was surprising news about Gavin resigning at Plymouth. Clearly he's got other irons in the fire but the strong rumour linking both bits of news was that PJ will arrive in the South West?
Plymouth were due to announce by the end of June and today is the 29th so I guess its watch this space. It wouldn't surprise me if PJ did become a Raider but equally it wouldn't if he didn't! If he doesn't make that move I hope his experience and knowledge is not lost to British basketball. We need guys like him around the sport IMHO.
Oh, and when I'm on that theme wasn't that a great interview and a very interesting one that Simon Rushworth did with Gary Stronach? Great to hear from Gary who we see regularly at our games and who is someone that seems refreshed and ready to return to the game by all accounts.
Again, I think with his level of knowledge, experience and common sense approach he's someone again IMHO that British basketball would benefit from having around the sport going forward. Oh, and I'm not quite finished on the Plymouth angle yet!
But let's move on to Leicester. First of all I send my very, very belated congratulations to Kevin, Russell, Robbie P and all their players, staff and volunteers on another sensational season where they once again proved the benchmark for all the rest.
Sad to see Robertson and Bernandini in particular go but a heck of a way for them to go out! I think Tyler's departure was slightly more surprising especially given what Leicester are now confirmed to be doing next season.
Champions League!!! Good on them for showing that ambition and I hope they're ready for what looks a real challenge. In life I'm all for setting challenging goals and targets and clearly this is one. But, knowing Leicester and in particular their backroom powerbase they'll have considered it carefully and weighed up the pros and cons.
It's ambitious and it's bold and I for one applaud them for it. I sincerely hope that they are competitive and successful as it's a move that may well not just benefit them but hopefully British basketball as well. We all need to put rivalries aside with this particular venture and wish them the very best of British luck.
Riders have already re-recruited Trayvonn Wright and Pierre Hampton as the start of their "European" roster and we know the quality they possess. I for one am expecting one or two more really explosive signings for them as they stack up for next season and the challenges it will bring.
To my mind this is going to make them even stronger than they were last season and when you consider what they did in The BBL last season that might not be good news for us and the rest of The BBL.
I guess some might say the European adventure may put additional pressure on them and disrupt and affect their BBL performance. Not me and not with Robbie P in charge are my thoughts on that and especially as I've already said I expect them to have some roster next season.
Which brings us to the final few nonsense's I'm going to impart and it's about us although with a slight Plymouth slant on my first musing. Did anyone see the Whatsbev post about Fab going to Plymouth?!?!?! I'll let you formulate your own thoughts on that one.
I even though had an ex-BBL player e-mail me asking if it was true! Now, despite having more than one foot in the backroom I confess I don't always know everything that's going on but I can categorically advise you all FROM WHAT I KNOW, Fab ain't going anywhere and certainly not to Plymouth, Dave F would never speak to him again!
But, like I say, I don't always know everything and yes, believe it or not, I have seen Fab's position with us amazingly questioned. True, we didn't win anything last season and by our standards were very poor and even the season before when we won The Cup we fell away at the end so Paul B would be right to want to talk things over with Fab as well as Dave and Ian but in all honesty could you really see Fab elsewhere in The BBL? I can't!
But, what about us. Whatever you hear and whatever you're told, unless it's announced here and by here I mean the website and not my rambling blog, then it's all conjecture and rumour.
I can tell you that the recruiting process has started in so much that we've started looking and talking BUT nothing, absolutely nothing has been agreed or even mooted as yet and that's a fact and as anyone that knows me should realise I only really deal in facts!
We know what happened last season and we know what others may or may not be doing and we know what we feel we must do but at the moment we're working behind the scenes in the way we always do and let's be fair it's proved pretty successful in the past.
And, what's that expression? Oh yes, In Fab We Trust! Don't see anything at the moment to alter that thinking unless someone somewhere is hiding something from me and not telling.
Well, it's been a long one. Especially considering I had nothing really to say! I'll end now by saying that I recommend you take a trip down/past the new Arena and see how that's coming on. Each day there seems more to see and very exciting it is too.
Whatever will be will be but there's no doubting at all that our future is right there being built before your eyes and it looks a pretty impressive and bright one to me.