This morning the draw for the Quarter-Finals of the 2019 WBBL Cup took place to decide who plays who from the remaining eight teams including our Newcastle Eagles following their exciting win on Saturday afternoon.
We'll have home court advantage at Sport Central when the Sevenoaks Suns visit looking to complete their silverware set with the WBBL Cup having won the WBBL Championship, Trophy and Play-Offs in recent seasons. The game will take place on Sunday 9 December with a 5pm tip-off. (UPDATED: 1/11/2018)
By his own admission Eagles head coach Chris Bunten's side faced a tough test against the Baking Abbey London Lions on Saturday to progress to the quarters while also looking to bounce back from their Championship loss just two weeks prior.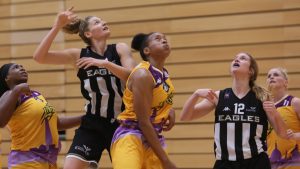 "Saturdays game was a really good test for us against a very tough Barking Abbey team, they balance a ton of European experience with some young GB stars. We always knew it was going to be a very physical game and I am very happy with how we executed the game plan," said Coach Bunten.
"We are slowly showing much better offensive continuity and good reads. We also looked after the ball a lot better handing the amount of turnovers fro our previous outing. We had some great performances with five players scoring in double figures as well as some very great contributions form everyone.
"We still have plenty to work in but it is great to see we are all in the same page and moving in the right direction."
Our Eagles are now just two wins away from the final at the Arena Birmingham on Sunday 27 January in the first showpiece event of the season, which will also feature the men's final in one huge day of Cup basketball.
"Drawing Sevenoaks is great. With all their accomplishments last season they will be the heavy favourites. It will be an interesting game, so we will start working on the game plan and study some film.
"They have two Team Northumbria Alumni who are the club's two franchise players," he added. "I know the team are really excited about this match-up"
Current WBBL Cup holders Nottingham will play Manchester, with the Mystics having an unbeaten start to the season and the Wildcats carrying a loss.
Here's the full draw for the games which will all be played on or after the weekend on Saturday 24 and Sunday 25 November:
2019 WBBL Cup Quarter-Finals
Newcastle Eagles vs Sevenoaks Suns
Oaklands Wolves vs Leicester Riders
Caledonia vs Westfield Health Sheffield Hatters
Nottingham Wildcats vs Manchester Mystics
The WBBL Cup quarter-finals are single leg games with the winner progressing to the semi-finals.
Tickets for our game are on sale now: