Newcastle Eagles WBBL have swooped to retain two of British basketball's most exciting young talents.
Millie Oates and Mollie Arnold both enjoyed court time off the bench in a black and white vest last season in their rookie campaign for the Eagles.
And head coach Chris Bunten will expect big things from both players just 48 hours after confirming the signing of fellow Brits Abby Lowe and Molly Taylor.
"Millie already has three or four seasons of WBBL basketball under her belt and she's getting better every season," said Newcastle's playcaller.
"She has no fear and she's an incredibly hard worker.
"I love her attitude and whether she's playing six minutes or 16 minutes she always comes ready to play and to make a difference.
"She understands the game so well and I have no doubt she will improve.
"Mollie made her WBBL last season and it was a big step up in quality for her.
"But she handled things really well and benefitted from training week in, week out with the senior players we have here.
"Both Millie and Mollie will be looking for more court time this season but I'm building an exceptionally deep roster and minutes will be hard to come by for everyone.
"I'm hoping that the extra competition for places and court time will mean everyone raises their game and that I'm left facing some pretty tough decisions in the next few weeks."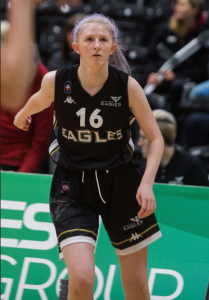 Newcastle's latest signings follow hot on the heels of a WBBL statement appealing for Government support to reflect the latest rulings on indoor sport.
Although Bunten and his roster are preparing for an autumn start as planned it seems increasingly likely that elite women's basketball in the UK may have to wait until 2021 for the green light to play in front of fans.
The WBBL statement read: "Following the Government announcement on September 22 that fans will not be allowed back to sporting events, we are currently assessing the impact this will have on professional basketball in the UK.
"The UK is a great sporting nation and the positive impact that sport has on communities and on physical and mental health can be seen at all levels from grassroots through to elite levels.
"As such, it is no exaggeration to say that the impact of this decision will be deeply felt by all 11 WBBL clubs and the communities they operate in.
"We recognise that the Government is taking these measures in the interests of the nation's health and we fully support them in that.
"However, to remove the possibility of such a vital source of income weeks before we were due to start our season means we have no option but to call on the Government for immediate support at this crucial time.
"The viability of our league, the only professional women's basketball league in the UK, is predicated on the ticket income of fans who show their support each week.
"Without this support we are in danger of losing clubs who work in the heart of their communities, as well as the current and future generations of talented sportspeople."
Newcastle Eagles MD Paul Blake echoed the WBBL statement – which followed a similar plea from BBL chiefs 24 hours earlier – by conceding that professional basketball without supporters is unsustainable in the long term.
"I've said it for some time that we need fans at BBL games to make it work," he added. "This is a very difficult time for everyone and we will continue to seek the latest advice and guidance."
Bunten added: "It's business as usual for me and the players until we're told otherwise. We are planning to start the league soon and remain hopeful that will happen."