So, it's two defeats in a row for Esh Group Eagles Newcastle after their 92 – 80 Friday night defeat at Glasgow Rocks. For a team and a franchise with such a storied past that almost spells a crisis in the ranks, writes Jeff King. One thing is certain, Head Coach Fab Flournoy and his coaching staff now have a job on their hands to turn the fortunes around quickly.
The next two games for The Eagles are on home territory at Northumbria University Sport Central and are as crucial as they could be with Surrey Scorchers up first in a BBL Trophy game and then a week later Leicester Riders come to town in what will be a blockbuster of a game with Leicester having only lost once in the league.
NEXT BBL HOME GAME
Before that though, Eagles veteran guard Drew Lasker knows that they must analyse the two losses and come up with a formula to get the side back to the side they were at the beginning of the season when they looked as if they could sweep all before them. Lasker knows there's work to do.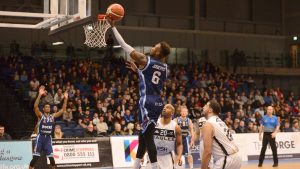 "I think in the game at Rocks on Friday we didn't take the fight to them. Glasgow came out with a lot of energy and we kind of waited and we waited too long. By the time we got in to the game we were on the back foot and were just chasing it and left it too late."
"On the surface we had eleven fit guys ready to play whilst they were down a point guard and only really had seven or eight ready and we felt it was a game where we could have run them off the floor, but it was the opposite. This was a game where it's going to be hard to get over it."
"We have to be committed, all eleven of us, at both ends of the court"
"Plymouth was different. There was the long travel, we were down two starters and a couple of guys weren't 100% so we were battling circumstances but the loss at Glasgow we had no excuses and should have been better."
"We have to regroup. Fab made a great comment in the locker room saying it was about our commitment and I agree with that. We have to be committed, all eleven of us, at both ends of the court and we're missing a bit of that at the moment."
"We're lacking consistency too and need to find a consistent five that are on the same page. At the moment there always seems to be one or another missing a rotation or not on that same page and we have to address that."
"These two losses have hurt but have also altered our position massively and now we have no wriggle room to let any more go past us. We simply have to work hard and must turn it around, we have no choice in that matter."
Perhaps two home games after tough road trips is part of that healing and improvement process that Newcastle need to find quickly so as not to let things spiral out of control.
"There are no ifs and buts about it, we've got to get both of these coming games. We have the Christmas break coming up after those two games and it's a long break before we play again. Some of the guys are going away so we need to be right for going away and in the right place for coming back."
"We simply can't look past them. They're both at home and we need to make sure we use that advantage and get things back to go in to the break in the right way."
Our Eagles are in action against Surrey Scorchers in the BBL Trophy this coming Friday night at Sport Central with a 7:30pm tip-off. Tickets are still on sale and can be purchased with a special discount if you sign-up to our newsletter below: